Lexar Hades DDR4 3600 32GB Testing »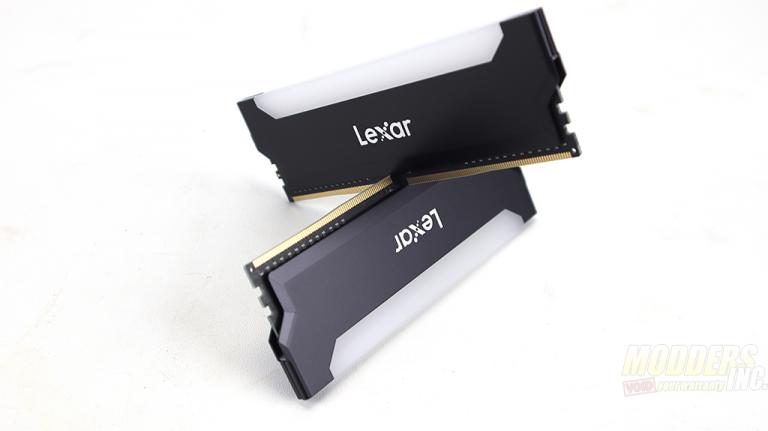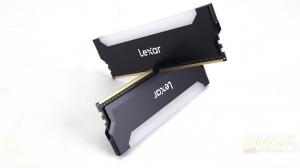 Are you looking to get more memory for your gaming PC?  You are not alone.  Nowadays, 16 GB of RAM is barely enough to satisfy some of the most demanding and intensive games out there. It is effortless to pick up more memory from your favorite outlets, even with the current chip shortage.  It all comes down to what you are looking for.  Speed? Capacity? Performance? At an affordable price, of course.  Lexar has been manufacturing storage chips for average computing for many years, and now we can see a push toward the gaming and computer enthusiasts markets.  Today I will be taking a look at the latest RAM modules by Lexar, Hades.  Hades is an RGB-type DDR4 ram that comes in different capacities and module kits, 8GB, 16GB,16GB kit (8GBx2 modules), 32GB kit (16GBx2 modules).  You can also find these modules in two Speed types, 3600 and 3200 Mbps.  Our sample comes as a 32GB Kit with a speed of modules of 3600Mbps.
Packaging of the Lexar Hades RGB DDR4 32GB Kit
The packaging of Hades is simple but very informative.  On both sides of the thin package, you can see the memory modules and their specifications.  The kit consists of two 16GB modules that total up to 32GB.  The operating speed of these modules is 3600MBps. It is also worth mentioning that this kid supports Intel XMP 2.0 and Ryzen technologies.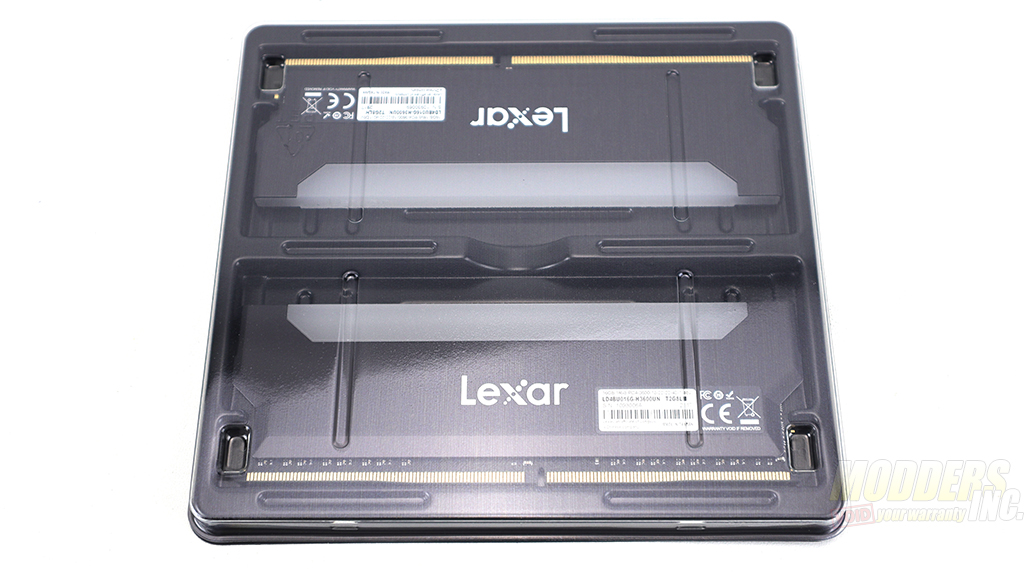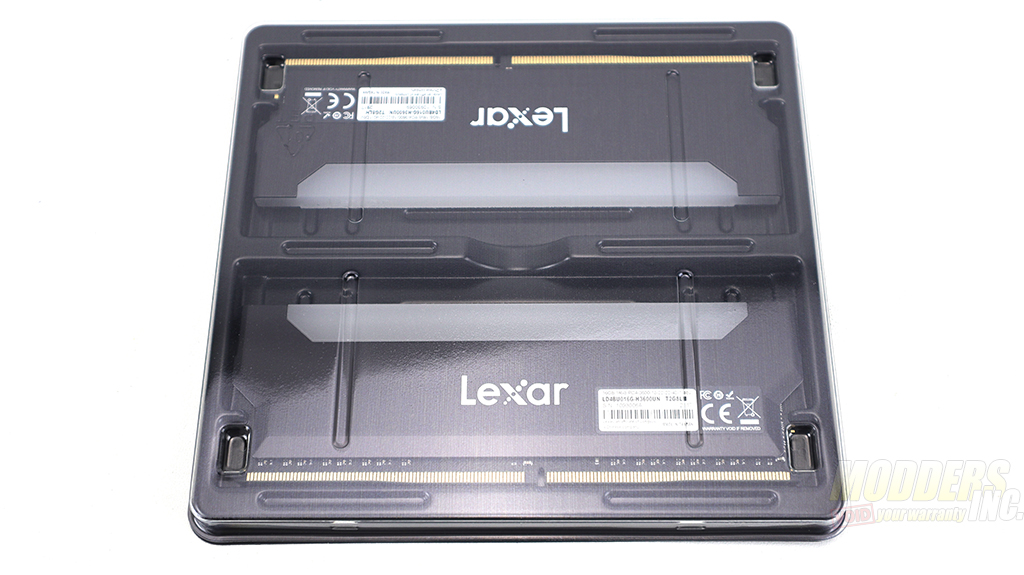 The internal packaging of Hades is standard to pretty much any memory kit on the market.  The plastic case holds the RAM in place, and the plastic cover keeps everything in place while shipping.
Specifications
Capacity
8GB, 16GB, 16GB Kit (8GB x 2),  32GB Kit(16GB x 2)
Memory Type
DDR4
Interface
288 Pin
Speed
3600Mbps / 3200Mbps
Standard
JEDEC / XMP 2.0
CAS Latency
CL22 / CL18-22-22-42 (3600)
CL19 / CL16-18-18-38 (3200)
Voltage
1.2V / 1.35V
Operating Temperature

 

 

0° C to 85°C (Surface)
Storage Temperature

 

 

-55°C to 100°C
Module Size
137.8 mm x 45.6 mm x 6.2 mm (with heat spreader)
Application
Gaming / Content Creating
A Closer Look at the Lexar Hades RGB DDR4 32GB Kit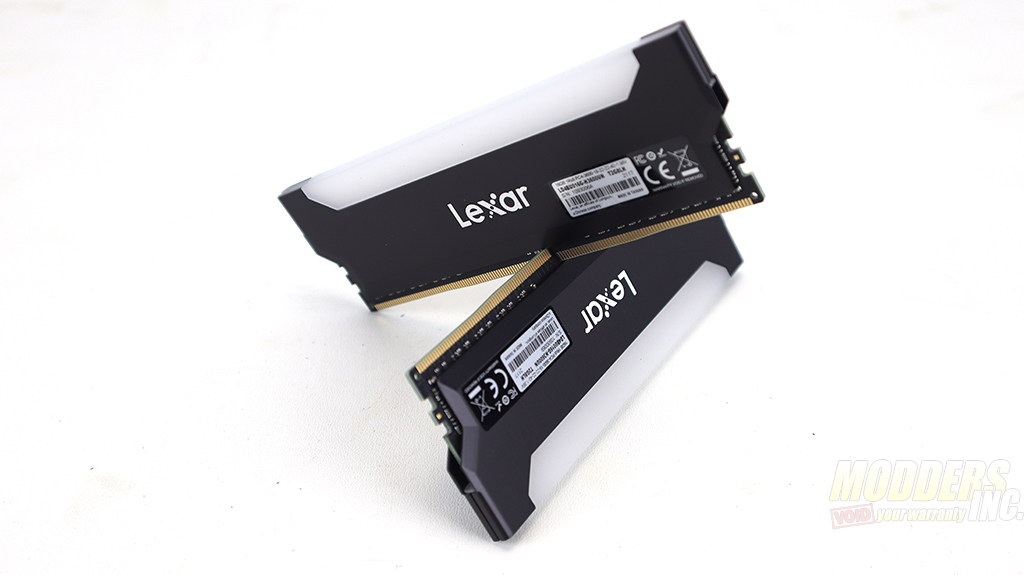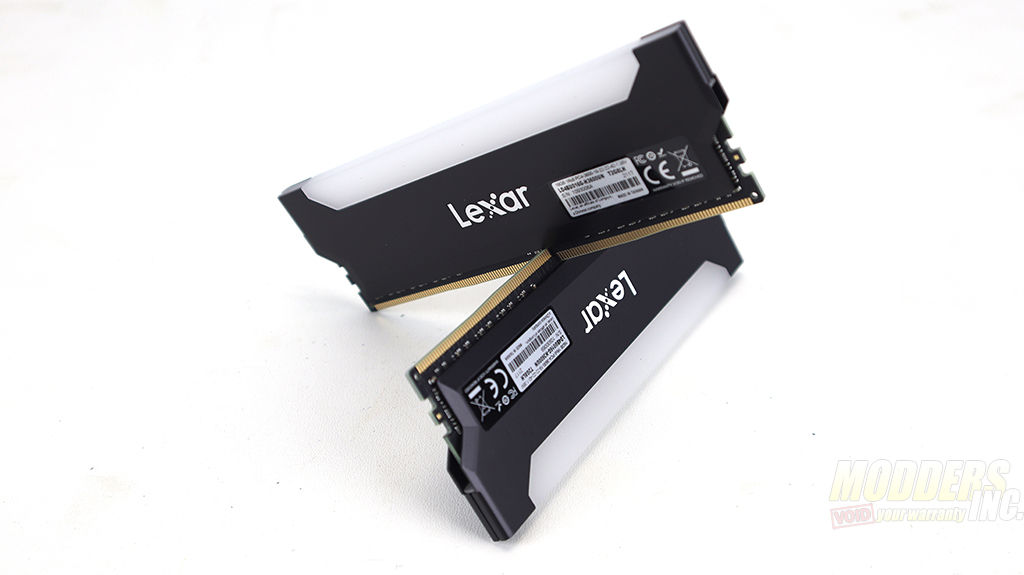 The Lexar Hades comes in a standard DDR4 form with a set of heat sinks on each side of the module and a 288 pin interface.  The modules have 137.8 mm x 45.6 mm x 6.2 mm dimensions and should have no issues being installed in most motherboards.  To amplify and soften the micro-LED glow, Lexar uses translucent white LED covers.
Both heatsink sides of the RAM module are held together via double-sided non-conductive electrical tape.  With a little force, you can take these modules apart in no time.  Micro LEDs are placed on one side of the module, and the DDR4 RAM chips are placed on the opposite side.
The Chips found on these modules are Spectek (Division of Micron) and ENE Technology.  ENE 6K5830UA0 chip is an MCU chip that is responsible for the LED operations and customization.  The Spectek 062E chip is a DDR4 RAM chip that operates at 3600Mbps frequency and has a capacity of 2048MB.  The latency of this kit is CL22 / CL18-22-22-42 (3600).  It is also worth mentioning that these modules feature a cache-less design.