CPU Reviews
AMD R5 1600X 6-Core and R5 1500X 4-Core AM4 CPU Review
Test System and Benchmarks »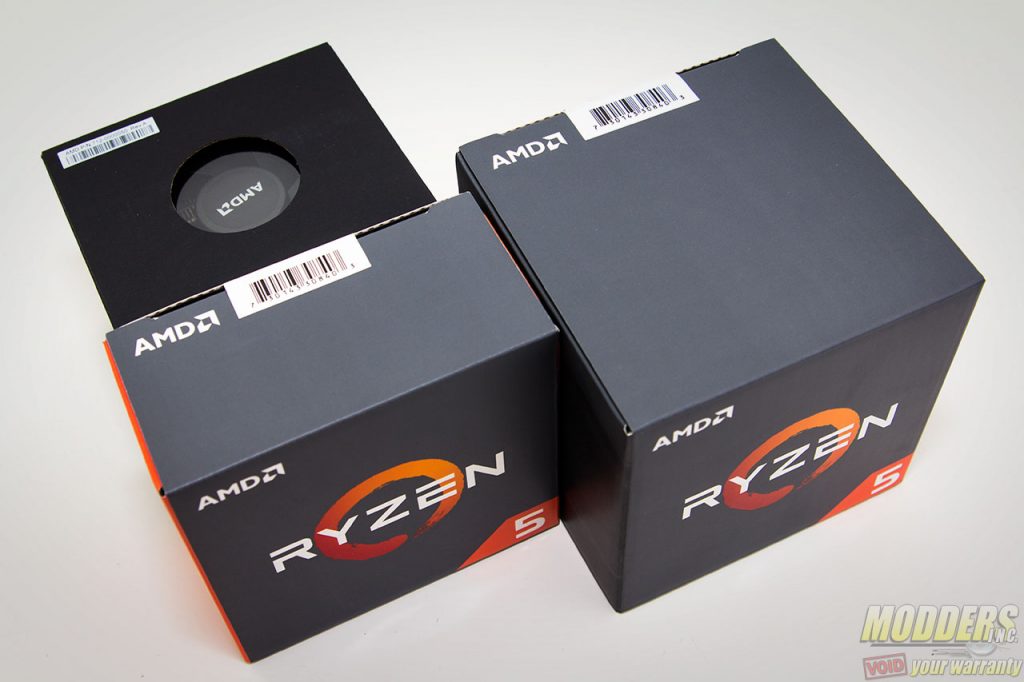 The sub-$250 CPU price point is the sweet spot where most system builders look at for their next CPU choice. In this area, creators, gamers and casual system builders intersect and overlap with their computing needs. Intel's 4-core/4-threaded i5 processors have been unchallenged in this price point for some time now but AMD plans to disrupt that dominance with the release of their own 5-series CPUs available in quad-core or hexa-core varieties. Unlike Intel's i5, AMD's 5-series CPUs support simultaneous multi-threading (SMT), a feature only reserved for Intel i7 CPUs (Intel calls it Hyper-Threading) and the entire Ryzen 5 CPU line is priced to disrupt as well.
The flagship in the Ryzen 5 series is the CPU R5 1600X: a six-core, 12-threaded CPU with a 3.6GHz base and 4.0GHz boost. This processor is priced directly against Intel's latest generation Intel Core i5-7600K at $249. A non-XFR 6-core chip called the Ryzen 5 1600 is next at $219 with a base clock of 3.2GHz and a boost clock of 3.6GHz. For the quad-core Ryzen 5's there is the R5 1500X for $189 which starts at 3.5GHz and has a 3.7GHz boost. Lastly, the R5 1400 for $169 brings up the rear, starting at 3.2GHz and boosts up to 3.4GHz. All of these CPUs are unlocked for overclocking and all CPUs have SMT.
The Ryzen 5 CPU reviewer package came in a larger black box and although it is not made of solid wood like the Ryzen 7 reviewer package, it contains two CPUs inside from the Ryzen 5 line as well as bundled heatsinks.
The Ryzen 5 1600X is actually in the smaller box since it does not come with a cooler, while the Ryzen 5 1500X has a square packaging since it is bundled with the Wraith Spire heatsink. AMD included a Wraith MAX RGB LED CPU Cooler in a separate box for testing as well. This heatsink is bundled with the Ryzen 7 1700 CPU only and not available separately for now.
The Wraith MAX looks similar in size to the original Wraith cooler for FX-series processors. It has a downward blowing 80mm fan on top of a four-heatpipe heatsink assembly. It runs quieter than the original Wraith however and it has an RGB LED ring and a white LED logo. Two cables are bundled with it: one is a 4-pin RGB LED cable for plugging in onto an existing RGB LED controller such as a modern motherboard and the other is a USB header plug which can be used if the user does not have a new motherboard equipped with an RGB LED header.
The Ryzen 1600 and Ryzen 1500X will come bundled with a Wraith Spire cooler and it is slightly smaller than the Wraith MAX but it is larger than Intel stock coolers.It uses push-pins instead of latches so users will need to remove the mounting hardware and backplate assembly first for their motherboard before installing the Spire. At the center is a pre-applied thermal compound on a copper core, surrounded by machined aluminum with pathways for airflow.
Once out of the packaging, the actual small box containing the processors and the Ryzen 5 sticker all look similar so one has to look at the labels on the CPU itself.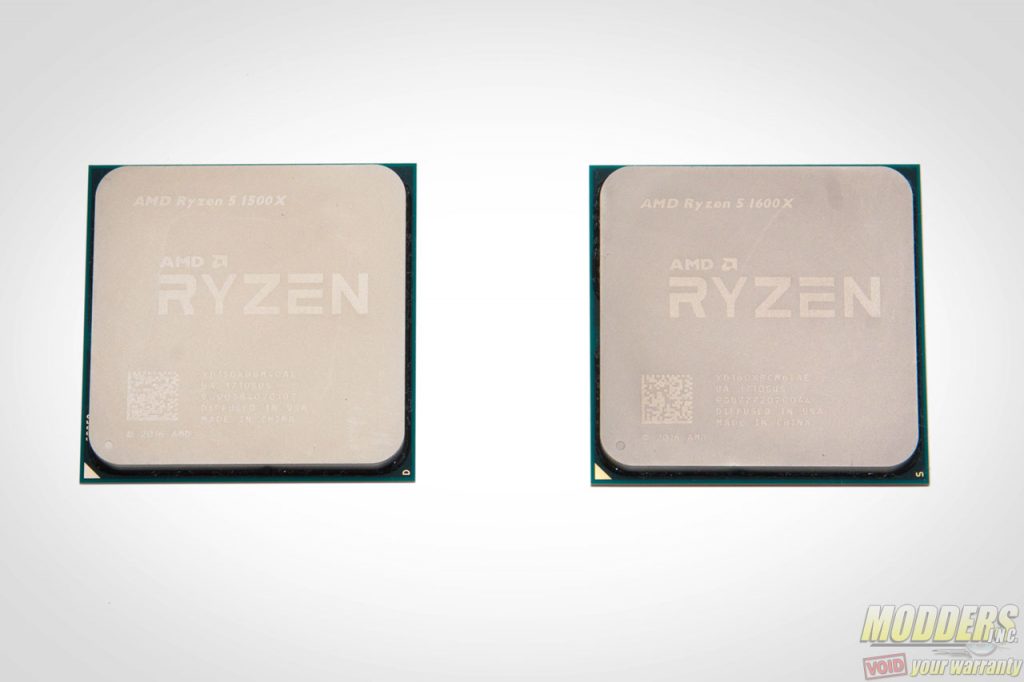 Much of what is new in Ryzen has been discussed in our Ryzen 7 1800X review, so feel free to peruse that before continuing on with this one if you are unfamiliar with AMD Ryzen. There are several bits of information that have come to light ever since then which relate to Ryzen's performance. Like most newly launched CPUs, there were some initial hiccups getting validated memory but more motherboard manufacturers and memory manufacturers are releasing Ryzen-specific updates or products that will ensure compatibility. Most importantly, since it has come to light that Ryzen's infinity fabric bandwidth (interconnect link on the modules) is directly affected by RAM speed so having a faster memory kit helps the performance.
This also presents a unique advantage for AMD's platform compared to Intel's. AMD has stated that their 5-series CPUs are better paired with B350 chipsets, in terms of best value, although they are still compatible with other AM4 motherboard chipsets including X370. All Ryzen CPUs are fully unlocked even on B350 chipsets so it can be overclocked and the memory can be adjusted further for performance as well. Intel's equivalent chipset is the B250, with motherboards offered along the same price range ($75~120) as the AMD B350 chipset but are limited to 2400MHz DDR4 RAM when a 7th generation Intel CPU is installed, as well as 2133MHz when a 6th generation Intel CPU is installed. Currently, the price difference between a 2133MHz 2x8GB memory kit and a 3200MHz 2x8GB memory kit can is around $15~20.