CPU Reviews
AMD Ryzen 3 1300X and Ryzen 3 1200 AM4 CPU Review
« AMD Ryzen 3 1300X and Ryzen 3 1200 AM4  CPU
Test System and Benchmarks
| | |
| --- | --- |
| Processor | AMD R3 1300X, R3 1200, R5 1600X, R5 1500X, FX-6350, FX-8350, Intel Core i3-6100 |
| CPU Cooler | AMD Wraith Stealth (Ryzen 3), Stock Intel (i3-6100), Wraith Max (FX and Ryzen 5) |
| Power Supply | Corsair HX850W 80 Plus Gold PSU |
| Memory | Corsair Vengeance LP 2x8GB @ 2666MHz CL16, Mushkin Stealth 2x4GB DDR3 @ 2133MHz CL11 (FX-8350) |
| Storage | OCZ Agility 4 256GB SSD (OS) |
| Graphics | Gigabyte GTX 960 Windforce 3x OC |
| Motherboard(s) | ASRock AB350 Gaming K4 (3.0), Aorus Z270X-Gaming 5 (F8), MSI B250M-Mortar, ASUS M5A99FX EVO R2.0 (2501) |
| Operating System | Windows 10 Pro x64 (1704) |
Price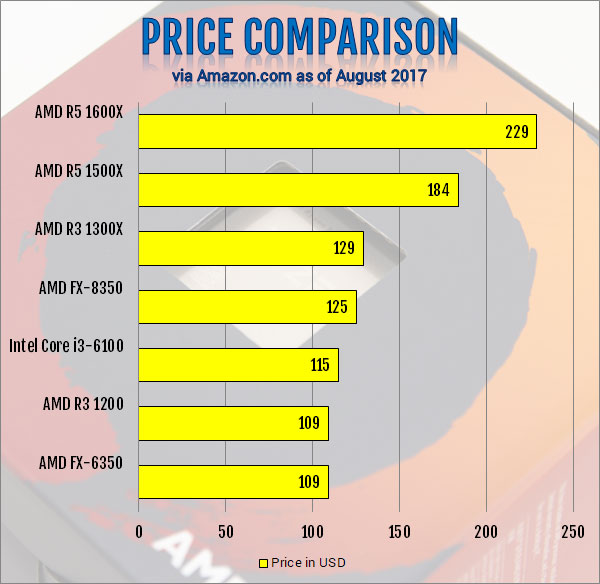 The new Ryzen 3 directly replaces the FX-6350 and FX-8350 within the same price point, the latter two priced with their bundled Wraith cooler as well. They are still available for $25 less without the cooler. The i3-6100 is the previous generation Skylake i3. Although older than the current generation Kaby Lake i3-7100, it is still similarly priced (since Intel does not really drop prices even when the new generation comes out) and should still pose quite the challenge to the Ryzen 3's, especially in single thread applications.
| | | | | |
| --- | --- | --- | --- | --- |
| CPU | Cores/Threads | Clock Speed (Turbo) | L3 | TDP |
| Intel i3-6100 | 2/4 | 3.7 GHz | 3MB | 51W |
| AMD FX-6350 | 6/6 | 3.9 (4.2) GHz | 8MB | 125W |
| AMD FX-8350 | 8/8 | 4.0 (4.2) GHz | 8MB | 125W |
| AMD Ryzen 5 1600X | 6/12 | 3.6 (4.0) + 100 XFR | 16MB | 95W |
| AMD Ryzen 5 1500X | 4/8 | 3.2 (3.7) + 200 XFR | 16MB | 65W |
| AMD Ryzen 3 1300X | 4/4 | 3.5 (3.7) + 200 XFR | 8MB | 65W |
| AMD Ryzen 3 1200 | 4/4 | 3.1 (3.4) + 50 XFR | 8MB | 65W |
For those running an i3-6100 or on an FX platform, these benchmarks should give an overview how much advantage moving to the new platform provides and if it offers considerable value.
CPU and Memory Benchmarks
The AIDA64 suite has various benchmarks for CPU, FPU and memory testing: CPU Queen is an integer benchmark that tests branch prediction and misprediction penalties. CPU PhotoWorxx tests the SIMD integer arithmetic execution units of the CPU and the memory subsystem. CPU ZLib is a compression benchmark that tests the combined CPU and memory performance. CPU AES is a multi-core encryption benchmark that uses Advanced Encryption Standard data encryption. CPU Hash is an integer benchmark that measures performance using SHA1 hashing algorithm.
Using AIDA64 as well, memory and cache performance is benchmarked as well as FPU. FPU Mandel measures double precision FP, FPU SinJulia measures extended precision floating point.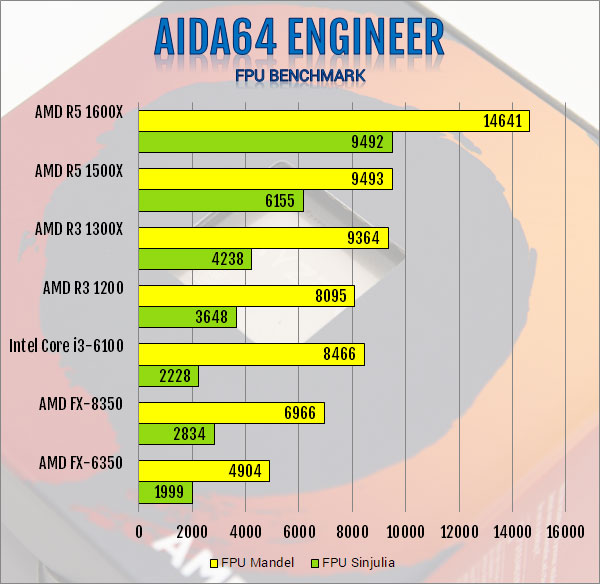 MAXON's Cinebench R15 runs two sets of benchmarks, a processor test for the CPU and an OpenGL test for the graphics processor. The 3D rendering workload is based on Maxon's Cinema 4D, a program utilized by movie production studios world wide for special effects so it is a semi-synthetic test closer to real-world 3D graphics benchmarking.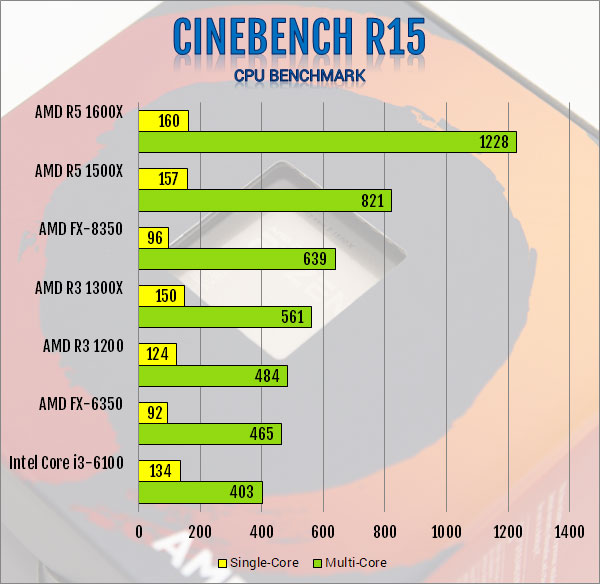 Multimedia Benchmarks
x264 is a popular free software library for encoding video streams into the H.264/MPEG-4 AVC format. x264 FHD measures how efficient a system is in encoding H.264 video and produces results in frames-per-second. H.265/HEVC video encoding is the future of video able to compress significantly larger resolution videos including 4K and make streaming feasible. The downside is that hardware support is still few and far between so processing requirement is steeper than current H.264/AVC standards. x.265 is an open-source implementation of the H.265 standard and x.265 HD benchmark tests the CPU's ability to process an HEVC video.
Handbrake is free open-source video transcoder that can convert various video file formats to compatible video files for other typical media viewing applications such as in an iPhone or Android tablet. A 52:55 1.1GB H.264 MKV file was used converted to the built-in iPod Preset (5G Support), then manually timed. The results are in seconds and the lower number is the better result.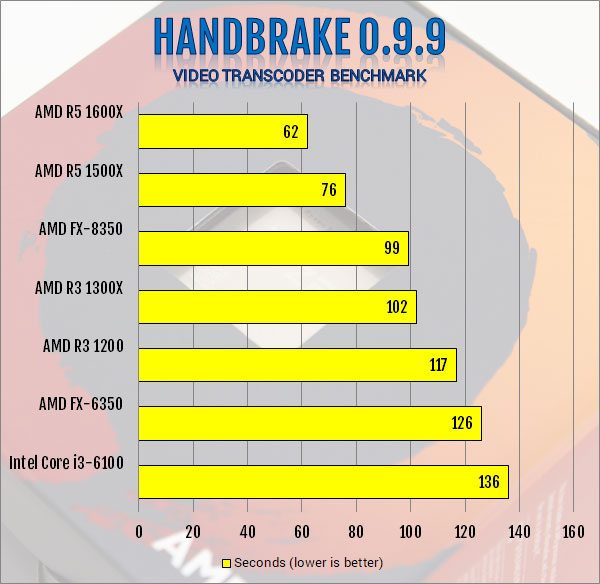 The Ryzen CPUs shine on multimedia tasks.
Compression Benchmarks
7-zip is an open source (GNU) compression program utilizing LZMA method as the default. WinRAR on the other hand is a Windows version of a popular compression software created by Eugene Roshal in 1993, widely used for its flexibility. Both have built in benchmarks that measure the system's compression and decompression capability.
Having a larger core count advantage is obvious here for the FX and the Ryzen 5 CPUs.
Gaming Benchmarks
Futuremark's 3DMark is a semi-synthetic gaming benchmark that calculates both graphics and CPU-bound physics in a controlled series of tests and provides scores that can be compared with other gaming platforms. Unigine Heaven is a synthetic benchmark that is completely GPU bound for testing possible PCI-E graphics performance inconsistencies.
It is interesting to see the aging FX CPUs still clinging on on the synthetic Physics score and holds well against the Ryzen 3's. For the purely GPU-centric loads such as Unigine Heaven there is virtually no difference detected in performance, but the lower min-frames are very noticeable on the older CPUs with real-life games.
Temperature and Power Consumption:
AMD has "fixed" the temperature readings of Ryzen with the latest Ryzen Master software, now measuring the true junction temperature. Tested with the silent Wraith Stealth fan included, the temperatures barely reached the idle readings from the pre-update software. Although the Wraith Stealth is not as capable as the larger Wraith MAX RGB cooler used on the R7 and R5 CPUs in this graph, it still does a decent job of keeping temperatures in check.
Overclocking
Overclocking is a mixed bag with Ryzens. While it is not thermally limited, Ryzen CPUs including the Ryzen 3s cap out at around 3.8 to 4GHz. The advantage is that unlike Intel's i3s, all Ryzen CPUs are fully unlocked on any B350 or X370 motherboard. More importantly, the memory can be pushed further than what is standard JEDEC spec. Paired with the latest AGESA 1.0.0.6 BIOS or newer, users can expect  performance headroom up to 3200MHz DDR4 or higher.
Intel's B250 motherboards however, cannot adjust the memory beyond the 2400MHz limitation imposed by Intel. One major advantage that Intel has over the Ryzens is that strong single-threaded performance. That should be obvious considering how much of a headstart they had, but the good news is that AMD has quickly closed that gap and it appears they will continue to do so for the foreseeable future under the leadership of CEO Dr. Lisa Su.
The Wraith Stealth coolers do a decent job keeping temperatures in check but it has to be cranked up to max fan speed when overclocking. The Ryzen 3 1300X even at stock is already a lot of work for the Wraith Stealth on silent fan speed preset that it has to be set to Standard or full-speed for truly comfortable temperatures.
Final Thoughts:
I don't need to tell you that AMD is back in a big way. The Ryzen 7 and Ryzen 5 are extremely impressive and they even have an HEDT offering now with the Ryzen Threadripper. The Ryzen 3 follows suit, showing a significant leap in performance compared to previous generation FX and Athlon CPUs. It is also priced competitively, undercutting Intel's i3 offerings.
The real strength of the Ryzen 3 processors, just like the Ryzen 5 is in combination with the B350 platform. This provides users with a very affordable and more importantly, upgradeable path. This is something that is ingrained in AMD's identity as a company and it is nice to see that they have not abandoned that value-for-performance approach.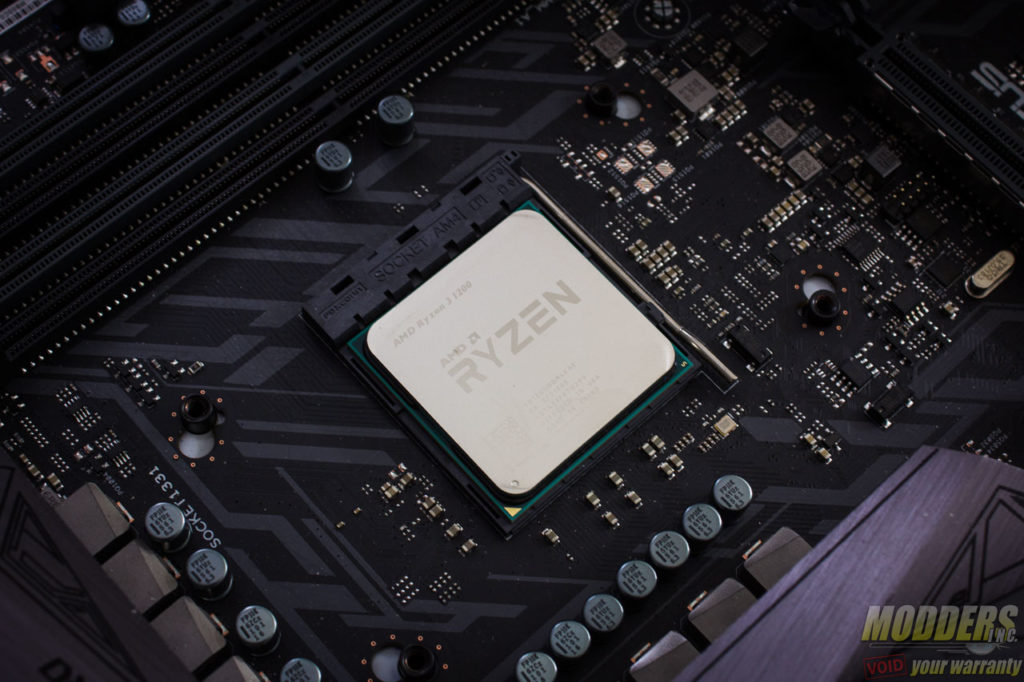 There is also the value addition of the Wraith Stealth coolers which should not be ignored. AMD hit the ball out of the park with their Wraith and Wraith MAX but they also did well with the Wraith Stealth since it is perfect for Ryzen 3's. It operates silently in PWM mode and the installation is very sturdy, using spring-loaded screws instead of flimsy push-pins that Intel used before ditching the heatsink entirely. It also helps that the Ryzen 3, like the Ryzen 5 and 7 are very efficient and thermally optimal that it does not require a considerable cooling solution to tame, or worse, require delidding.