New Android-powered mySmart All-in-One combines the touchscreen usability of smartphones with full-size capabilities for productivity and entertainment
AOC announces the mySmart All-in-One, including the 22-inch A2272PW4T and the 24-inch A2472PW4T. The immersive touch-controlled models deliver excellent picture quality and solid computational power in a space-saving, standalone All-in-One solution. The AOC mySmart All-in-Ones offer full-sized displays with 8GB of onboard storage and an SDHC card slot for additional memory.
Both models of the mySmart All-in-One are powered by Android 4.2 Ice Cream Sandwich and come equipped with built-in Wi-Fi, USB 2.0 ports, HDMI display input, built-in HD webcam and microphone, and two 2W stereo speakers. Running on a 1.6Ghz NVIDIA T33 Quad Core processor, mySmart also sports an ADS IPS display panel that ensures consistent color and brightness regardless of viewing angle. The dual touch touchscreen allows for tap, pinch and swipe functionality, bringing the easy navigation of touchscreen tablets and smartphones to a sleek, space-saving Android-powered All-in-One.
"The mySmart All-in-One delivers technology that empowers consumers to stay connected to the things that matter in today's constantly evolving digital world," said Steve Young, AOC Channel Marketing Manager. "The mySmart line extends AOC's longstanding tradition of providing award-winning technology that combines an intuitive, user-friendly experience with visually appealing yet functional design at a competitive price point."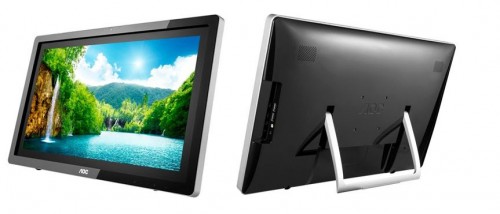 Whether you're surfing the web, working from home or watching a movie, the AOC mySmart All-in-Ones have the power to get the job done with ample storage, immersive touch technology and access to the entire Google Play library of applications and games to customize your mySmart experience. Sync all of your accounts like Gmail, Facebook, Twitter and more to effortlessly interact with your world. With mySmart's portable design, you can explore extensive entertainment, productivity and educational apps to browse and download music, magazines, books, movies, television programs and over 1 million Android applications from any room in the house. You can also instantly transform the mySmart into a touch monitor by connecting it to your PC by HDMI cable.
The mySmart All-in-One's built-in front-facing camera and echo-cancelling microphone mean you're always ready for face-to-face video calls on Skype, MSN and Google+ Hangouts. The internal two 2W stereo speakers ensure premium sound quality, so you never miss a word.
The mySmart All-in-One's touch interface also includes an on-screen keyboard, with the option to connect an external USB keyboard and mouse for serious typing tasks. The mySmart All-in-One takes things a step further with the added bonus of Bluetooth functionality for connecting wireless accessories, including mice, mobile keyboards, speakers and more. Both mySmart models come in a stylish black and silver design that also includes intelligent tilt adjustability from 15° to 57°.
The AOC A2272PW4T and A2472PW4T are now available at national CE retailers for $299.99 MSRP and $399.99 MSRP, respectively, and are backed by AOC's three-year warranty as well as the EASE exchange program.
Key Features:A2472PW4T
Screen size- 24" (23.6″ viewable image size)

1920×1080 Resolution

Android 4.2 Ice Cream Sandwich

NVIDIA T33 Quad Core 1.6Ghz

System memory- LPDDR3 2GB

Storage memory- 8GB eMMC

50M:1 dynamic contrast ratio

802.11 b/g/n, Built-in Wi-Fi

Bluetooth

VGA, HDMI, 4 x USB 2.0, SDHC Card Reader slot

720p HD Front Camera w/ mic

Multi-User Account

Google Play App Store
Key Features: A2272PWHT         
Screen size- 22" (21.5″ viewable image size)

1920×1080 Resolution

Android 4.2 Ice Cream Sandwich

NVIDIA T33 Quad Core 1.6Ghz  

System memory- LPDDR3 2GB

Storage memory- 8GB eMMC   

50M:1 dynamic contrast ratio

802.11 b/g/n, Built-in Wi-Fi

Bluetooth

VGA, HDMI, 4 x USB 2.0, SDHC Card Reader slot

720p HD Front Camera w/ mic

Multi-User Account

Google Play App Store