« Packaging
|
UEFI BIOS, Gigabyte App Center and Bundled Software »
A Closer Look at the Z390 Aorus Pro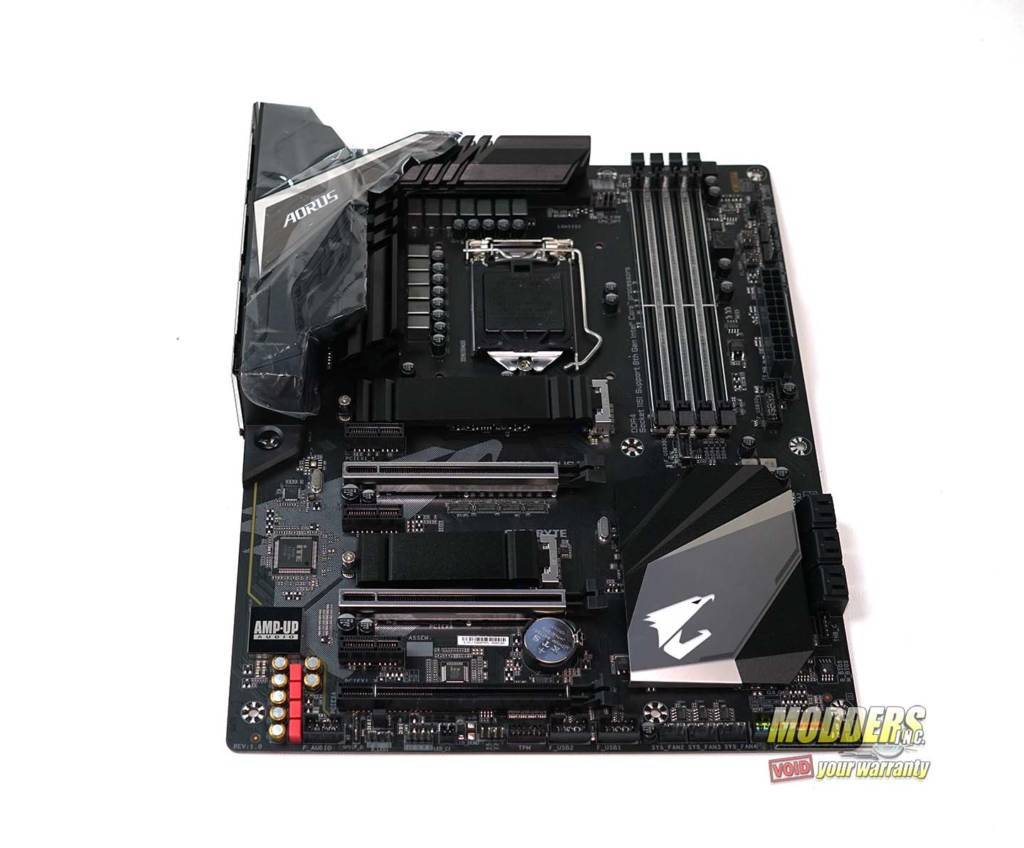 Ever since the inception of Aorus motherboards with the Z270 chipset, Gigabyte has put out beautiful boards. The Z390 Aorus Pro is no exception. Not that the G1 Gaming boards didn't look good, but the is something about the Falcon head that says quality to me. One thing I love about the Z390 line up is all the boards use the same components from the elite to the extreme. The difference being that from the top down, each tier has a few features removed. Where in the past, the cheaper boards used cheaper components.
Over the last few generations, Gigabyte has gone for a more neutral color scheme. This actually seems to be a trend in the industry. I'm not complaining though. As much as I loved the G1 Gaming line up, I'm not a fan of red in my builds. So, the black, gray and white colors of the Z390 Aorus Pro will fit in almost any build, color wise that is.
The Aorus Z390 Pro uses the same LGA 1151 socket Intel has been using for their consumer platform since the 6th generation and Z170 chipsets launched. However, the Z390 chipset is only compatible with 8th and 9th generation processors. So, if you decided you want a new board, but want to stay away from the 9900k and its FX 9590 levels of heat production, you can keep your 8th generation processor and still use the Z390 Aorus Pro or any other Z390 board for that matter.
The Z390 Aorus Pro, like all other consumer boards, has four DIMM slots that support up to 64 GB of DDR4 2666 MHz in dual channel mode. It has support for XMP, or Extreme Memory Profiles, as well as Support for overclocking up to 4266 MHz and beyond. This, of course, depends on the memory you're using. Gigabyte has validated several brands on this Z390 Aorus Pro and the Aorus line up in general. Some of these brands include G. Skill, Corsair, Patriot, HyperX, their own Aorus brand and many more. Check the Gigabyte website for more compatible brands. The Z390 Aorus Pro also has support for both non-ECC unbuffered DIMMs and ECC un-buffered DIMMs. So, you could use this board in a home server and have the benefit of ECC memory.
Since the first Aorus motherboard, I've loved the design of the I/O cover. I think the cover on the Z390 Pro is my favorite so, that I've personally owned that is and I love how they integrated the RGB lighting on the I/O cover. As I've said before, RGB lighting can be a good thing when it's done right.
I can't count how many times I've built a PC, go to pack up the tools and accessories just to find the I/O shield sitting under a box or somewhere other than where its supposed to be, in the case. This is part of the reason all my PCs run on a test bench. So, I really hope the integrated I/O shield on the Z390 Aorus Pro becomes the standard for all motherboard going forward. It is just one less thing you need to worry about as PC builders.
Previous generation Aorus boards, as well as their old G1 Gaming boards all, kept the PS/2 port on the I/O. The Z390 Aorus Pro is the first Gigabyte board I've seen in a while without a PS/2 port and yellow USB ports on the I/O. Instead, the Aorus Pro has 4 USB 2.0 ports with the Ps/2 ports and yellow DAC UP USB ports usually are. Next, there is a single HDMI port alongside the 2 USB 3.1 Gen2 Type-A, a single USB 3.1 Gen2 Type-C and 3 USB 3.1 Gen1. Gigabyte opted for only a single RJ45 Intel GbE LAN on the Aorus Pro. Past generations have had two. I think this is the one thing I miss from my previous generation Aorus board. The Intel GbE LAN features cFosSpeed, a network traffic management application which helps to improve network latency and maintain low ping times to deliver better responsiveness in crowded LAN environments, such as a LAN party. Last, the I/O has a SPDIF optical port and 5 3.5 mm jacks for 2/4/5.1/7.1-channel high definition audio.
The Z390 Aorus Pro features an advanced thermal design with multi-cut heatsinks. The mosfet heatsinks are mounted to the board with screws. They use 1.5 mm thick thermal pads and have a heat pipe that connects the two heatsinks.
Z390 AORUS PRO motherboard uses an 12+1 phases digital CPU power design which includes both digital PWM Controller and DrMOS. The combination of the digital controller and the 8+4 pin CPU power connection deliver plenty of power to the board's components. This allows you to get the absolute best performance and the highest possible overclocks with the new 9th generation Core I9 9900k and other 9th gen processors. Keep in mind that the Z390 chipset is also compatible with the 8th gen processors as well. So, if you're running an 8700k on an Aorus Z370 Gaming 5, you could benefit from an upgrade to the Z390 Aorus Pro. Due to its improved power delivery, you could get better performance out of your 8th gen processor.
The Z390 Aorus Pro features Intel's new Z390 chipset, as its in the boards name. There isn't a huge difference between the previous Z370 and the Z390 chipsets. Both chipsets have a TDP of 6 watts, have 24 PCIe gen 3 lanes and support dual channel memory. Both chipsets support up to 14 USB ports. However, it's the type of ports that are different. The Z390 chipset supports up to 14 USB 2.0 ports, up to 6 can be USB 3.1 Gen2 or 10 USB 3.1 Gen1. On the Z370 chipset, it supports only USB 3.0 or 2.0. Also, the Z390 chipset has added support for gigabit speeds over WIFI, not just LAN.
Gigabyte is boasting their Z390 Aorus boards are designed for 5.0 GHz on all cores. We'll see if that's true later in the review. They say its in part to the larger CPU power deliver plane, compared to the size of a traditional power plane. Another reason is the 2X copper PCB on their Aorus boards. The 2x copper PCB is equal to two ounces of pure copper. GIGABYTE's 2x Copper PCBs design provides sufficient power trace paths between components to handle higher than average power loads and to remove heat from the critical CPU power delivery area. This is essential to ensure the motherboard is able to handle the increased power loading that is necessary when overclocking. In total, there are four layers of copper in the PCB. Two of which are the 2x copper layers. The single layers are .035 mm in thickness and the 2x layers are .070 mm thick.
In May of 2017, Gigabyte first teased their thermal guards for their M.2 slots. We first saw the thermal guard on their higher-end boards. At first, they added one thermal guard on the top M.2 slot. They had such success with the thermal guards, that they now offer them on their more budget oriented boards, and on multiple slots. The Z390 Aorus Pro has two M.2 slots. Both of these M.2 slots feature Gigabyte's thermal guards.  The thermal guard is essentially just a heatsink, with a thermal pad designed to keep your M.2 SSDs cool, and they do work. More on that later. Both M.2 slots support PCIe Gen3 x4 SSDs. X2 NVME and SATA M.2 SSDs are also supported The top slot up to type 22110 and the bottom, 2280. The Z390 Aorus Pro also has Intel Optane support. This includes Optane SSDs like the 900p as well as optane modules. An Optane module can come is handy if you're using a SATA M.2 or a traditional hard drive as your boot drive. Optane memory is designed to work as a cache memory bridge between RAM and storage, allowing for faster data transfer between the memory, storage, and processor.
In addition to the dual M.2 slots, the Z390 Aorus Pro also has six SATA 6 ports for connecting hard drives, disk drives, 2.5″ SSDs and anything else requiring a SATA cable. As for other connections, the Z390 Aorus Pro has the basicas such as the 24 pin ATX main power connection. There is the standard 8-pin 12 volt CPU power connection and an additional 4-pin, 12 volt CPU power connection as well. As for fan headers, there are a total of 8 4-pin fan headers. One is for the CPU fan, one water cooling fan header, for a pump, 4 system fan headers and 2 for either water cooling pumps or system fans. The Z390 Aorus Pro has the standard front panel connector layout that Gigabyte has used for years. It also comes with their "G Connector" that allows you to plug the front panel connectors into on clip that plugs it. It's definitely a nice accessory to have. Especially if you have trouble with the front panel connections.
The Z390 chipset can support up to 14 USB ports with 10 being USB 3.1 Gen1 or 6 being USB 3.1 Gen2. So, the Z390 Aorus Pro has plenty of USB connectivity going back to revision 2.0. On the board, there are 2 USB 2.0 headers and both front USB 3.0 and 3.1 headers. The front headers are designed for the front panel USB ports on your case. But, they can also be used for USB expansion cards. Personally, I don't use a case and will probably never leave my Praxis wet bench. So, I have plenty of USB expansion cards hooked up. In fact, I have the chipset maxed out for USB ports.
Motherboard manufacturers have really stepped up their onboard audio in recent years. Gigabyte is no exception to this rule. In fact, I had recently reviewed an add in sound card. In that review , I compared the onboard audio on the Z370 Gaming 7 to the Sound Blaster AE-5. Obviously, the sound card offered better sound. But I was very surprised at how well the onboard audio tested using Rightmark Audio Analyzer, as well as the overall quality of the sound. THe Z390 Aorus Pro uses the ALC1220 120dB(A) SNR HD Audio with Smart Headphone Amp. This Smart Headphone Amp automatically detects the impedance of your headphones or headset. This will help to prevent issues such as low volume and distortion.  The new VB series audio controller will stream your voice clearly to both front/rear microphone SNR up to 110/114dB(A).
The AORUS motherboards use the combination of Hi-Fi grade WIMA FKP2 capacitors and high-end audio capacitors. These high-end audio capacitors are perfect for high-grade audio equipment, The nichicon capacitors use state of the art technology to provide rich sound in the bass and clearer high frequencies. In addition, the WIMA FKP2 capacitors are  used widely in premium grade Hi-Fi systems. The addition of this to the exclusive AOURS AMP-UP Audio technology makes for the best possible onboard audio solution that will even please many audiophiles. I can honestly say that with each generation that has passed, Gigabyte has gradually improved their onboard audio.
The Z390 Pro supports both Nvidia SLI and AMD CrossfireX technology. There are three PCIe X16 slots on the Z390 Aorus Pro and three PCIe X1 slots as well. The Top X16 slot runs at PCIeX16. The second X16 slots runs at PCIeX8. Since it shares bandwidth with the top X16 slot, when the second slot is populated, both it and the top slot both run in X8. The third and final X16 slot runs in PCIeX4 . All PCIe slots meet the PCI Express 3.0 standard.
The last few generations of Aorus boards featured an addressable, hard plastic LED accent strip. They were swappable and you could 3D-print custom strips.  On the Z390 Aorus Pro, this accent strip has been removed. Instead, the Z390 Aorus Pro has two RGB LED headers and two addressable LED headers. Personally, I like this set up better. The 3D printable accent strips were a cool feature and a good concept. Just a concept that didn't really take off.  I prefer the idea of the addressable strips. Not only does it make adding LEDs an option, but it gives you more customization over your build. With the accent strips, sure, you could remove them. However, this would leave your board looking like it were missing something. One feature Gigabyte has on many of their boards that I love is dual BIOS. I was very happy to see the Z390 Aorus Pro kept the dual BIOS feature. This is great for those of us who constantly play with overclocking. So many times in the past, I've bricked the BIOS . I've even had to RMA boards to have the BIOS chip replaced. However, with the Z390 you simply switch to the other BIOS. This can eliminate down time which can delay important projects.