« Introduction
|
A Closer Look at the Z390 Aorus Pro »
 Packaging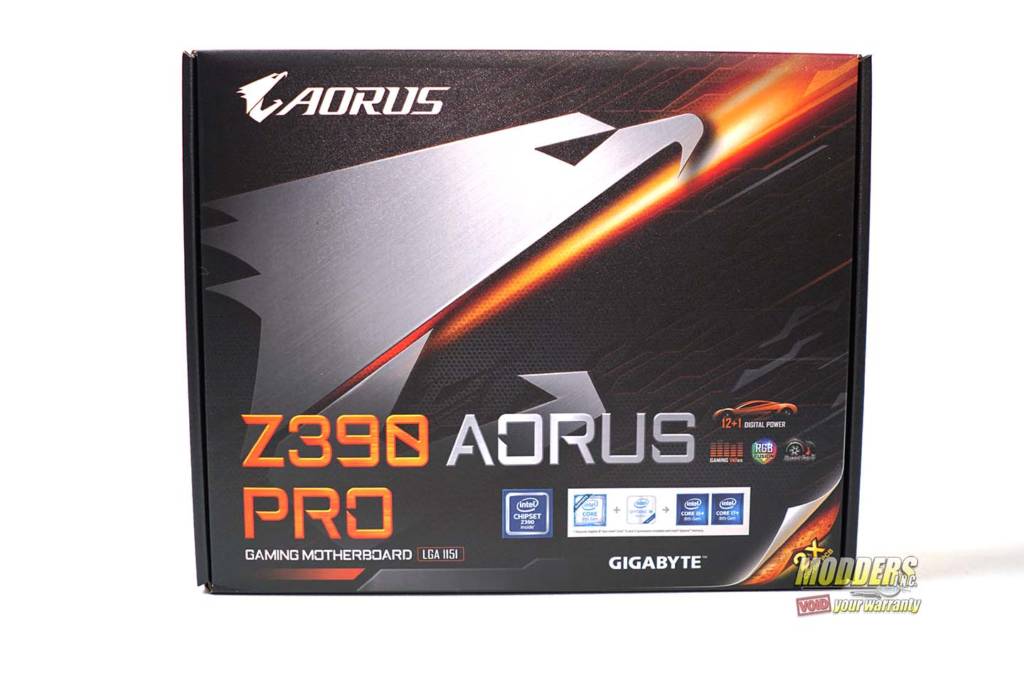 The packaging for the Z390 line up looks much like the packaging for the Z370 series. This isn't a bad thing as I am a big of the Aorus Falcon head logo and its featured prominently on the front of the box. Right above is another Aorus logo. Below is the Z390 Aorus Pro branding as well as several Intel logos such as The Z390 Chipset, Core Processors and Optane logos. The front also makes mention of the 12+1 Digital Power of the Z390 Aorus Pro.
Like always, there is a ton of information on the rear of the box. There is an image of the Z390 Aorus Pro on the top left corner. Just below that is a diagram of the IO on the board, followed by a list of specifications. Across the top are the Aorus logo, the Z390 Aorus Pro branding, and several Intel logos. These include the Z390 chipset and Optane logos to name a couple. The rest of the back of the box depicts several of the main features of the Z390 Aorus Pro. Some of these features are the 12+1 phase power delivery, the Z390 Aorus Pros advanced thermal design, dual thermal guards for the M.2 slots and RGB Fusion support plus several more.
The very top of the box has a few key features listed in several different languages, 18 to be exact. The is also an Aorus logo next to the list. The left side of the box has the Aorus falcon head logo followed by the Z390 Aorus Pro branding and several Intel badges. The right side is essentially the same. One difference being the Aorus logo is replaced with the UPC code, model and serial numbers. The bottom of the box is identical to the left side.
When you open the box, the motherboard will be set in a cardboard tray and placed in an anti-static bag. Underneath the tray is all the accessories that come with the Z390 Aorus Pro. These include a Gigabyte G Connector, SATA cables, user manual, temperature probes, RGB connectors and my personal favorite, an Aorus case badge. There is also a driver disk and a multi-language installation booklet.