Asetek Allowed US Patent Claims on Graphics Liquid Cooling
Asetek, the world's leading supplier of computer liquid cooling solutions, today announced that the U.S. Patent and Trademark Office (USPTO) has allowed a patent on the company's thermal interposer liquid cooling system designed for cooling graphic processing units (GPUs). Liquid cooling the GPU enables lower noise, lower temperatures, and enhanced performance over traditional air cooling.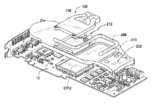 "As seen in the recently announced AMD Radeon R9 295X2, the graphics cooling market is one that we see as having tremendous growth potential for our desktop business," said André Sloth Eriksen, Founder and CEO of Asetek. "We continue to see increasing interest from GPU and graphics card manufacturers due to increased power use and demands for lower acoustics. Given this interest, it is possible that the GPU cooling business could rival our CPU cooling business in the coming years."
Asetek has been developing liquid cooling solutions for graphics cards for more than 10 years using their patented sealed all-in-one liquid cooling technology. Factory filled and sealed for maximum reliability and ease-of-use, Asetek's liquid coolers have been thoroughly tested and certified to operate without maintenance for over 50,000 hours.
PRESS RELEASE by Cristian_25H Tuesday, July 1st 2014
via Asetek Allowed US Patent Claims on Graphics Liquid Cooling | techPowerUp.