Great news for those who want to overclock on a Non-Z platform, ASRock enables Non-Z overclocking on some of their 100-series boards allowing users to set their DDR4 beyond the 2133MHz JEDEC floor. This feature is available on ASRock UEFI and on some H170, Q170, B150 and H110 chipsets but ASRock promises that more motherboards from their lineup will be adding support for it.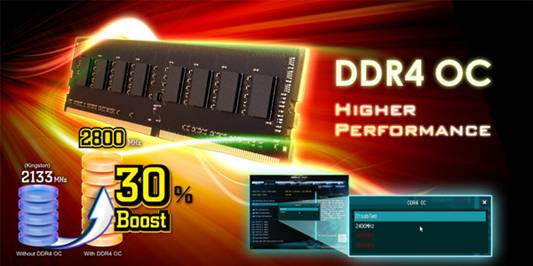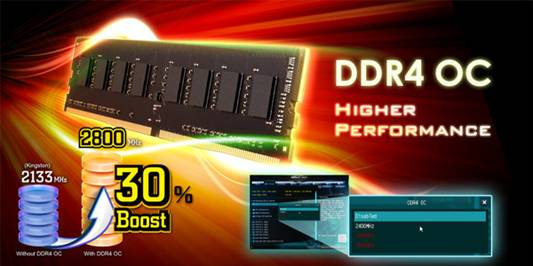 Non-Z motherboards that support DDR4 Non-Z OC (More coming):
| | | | |
| --- | --- | --- | --- |
| H170 | Q170 | B150 | H110 |
| H170 Performance | Q170M vPro | B150M Pro4 | H110M Combo-G |
| H170M Pro4 | | B150M Pro4S | H110M-HDV |
| H170M Pro4S | | B150 Combo | H110M-HDS |
| H170 Combo | | B150M Combo-G | H110M-I |
| H170A-X1/3.1 | | B150A-X1 | H110M-DGS |
| H170A-X1 | | B150M-HDS | |
| | | B150M-HDV | |
ASRock Pulls It Off Again with DDR4 OC and DDR4 Non-Z OC on Intel 100 Series
TAIPEI, Taiwan, – Last time ASRock dumbfounded the whole overclocking community by cracking the limitations of Intel 8 series chipsets, granting users the power to overclock their CPUs on even H87 or B85 non-Z motherboards. Recently they've pulled off two more crazy features which allow overclockers to automatically overclock their DDR4 memory modules not only on Intel's Z170 chipset motherboards, but also on B150, H170 and H110 as well!
It all starts with an Easter egg feature named DDR4 OC, which only appears in the UEFI of ASRock's Z170 motherboards if the user has installed certain memory modules, such as Kingston or Samsung DDR4 DIMMs. It unlocks the hidden power of your memory sticks, unleashing the memory frequency from 2133MHz to max. 2800MHz, providing up to a 30% boost!
But what about all of those non-Z motherboards? Shouldn't they be entitled for a little bit of overclocking excitement despite the fact that Intel prohibits this by implementing hardware limitations? ASRock's answer is yes! And they've actually worked sorcery to break the chipset limitations, so here you have DDR4 Non-Z OC as well, the automatic DDR4 overclocking feature for B150, H170, H110 motherboards that can improve the performance of your memory.