« Intro | Page 3 »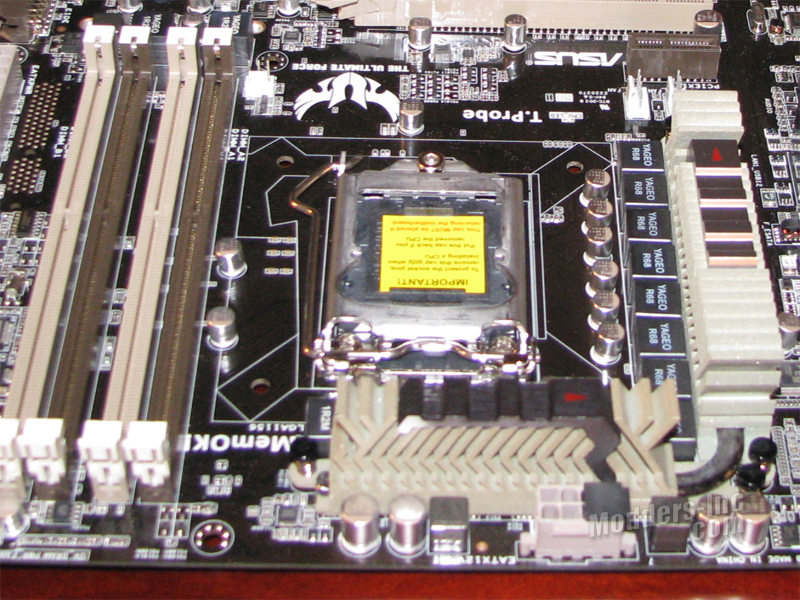 Taking a closer look at the Asus Sabertooth 55i motherboard, one will likely notice the 14 MOSFETs used in the 12+2 Phase power design that Asus has implemented on the Sabertooth. We can also see in the above photos that the MOSFETs are cooled by two large ceramic coated heatsinks which utilizes Asus's CeraMIX Heatsink Coating Tech. The idea behind the CeraMIX Coating is much like dimpled heatsink fins. The irregular surface increases the overall heat dissipating surface area which in turn allows more heat to be removed.
  Looking at the upper left photo, we can see that the Asus Sabertooth 55i motherboard has 4 DDR3 DIMM slots. The motherboard supports DDR3 memory modules that feature data transfer rates of 2000/1800/1600/1333/1066 MHz. The motherboard supports either 1GB, 2GB, or 4GB unbuffered and non-ECC DDR3 modules. 
  I have read a few comments here and there which seem to lead users to confusion on if the board will utilize more than one DDR3-1600 module per channel. The note quoted from the manual that they keep referring to is.
Due to Intel spec definition, X.M.P. DIMMs and DDR3-1600 are supported for one DIMM per channel only.
  A few pages past where the above note is found. There are two more notes that pertain to DDR3-1600 modules.
According to Intel spec definition, DDR3-1600 is supported for one DIMM per channel only. Asus exclusively provides two DDR3-1600 DIMM support for each memory channel.
According to Intel CPU spec, CPUs with a core frequency of 2.66G support the maximum DIMM frequency of up to DDR3-1333. To use DIMMs of a higher frequency with a 2.66G CPU, enableDRAM O.C. Profile feature in the bios.
  Although these notes are stating what limitations are present, Asus clearly states in the second note that they provide support for two DDR3-1600 modules per channel. For those with a 2.66G CPU to use DIMMS with a higher frequency than DDR3-1333, you simply need to enable the DRAM O.C. Profile via the bios.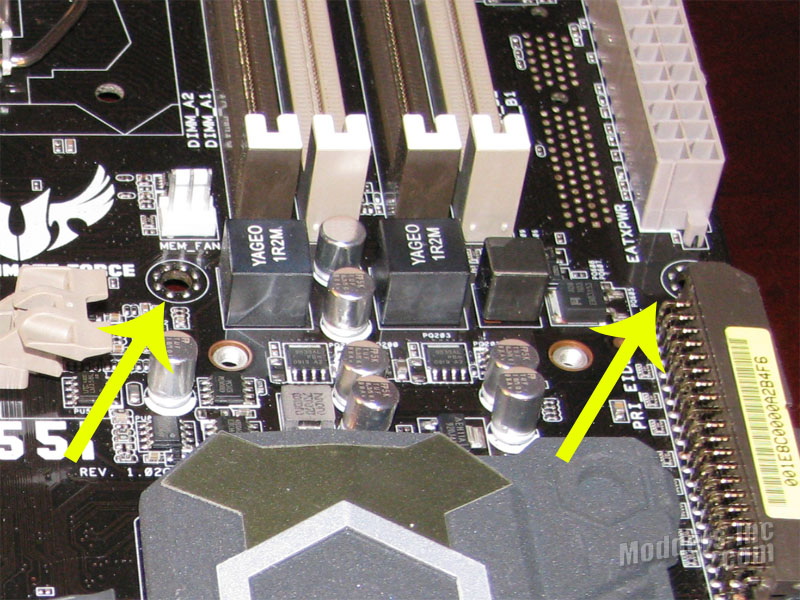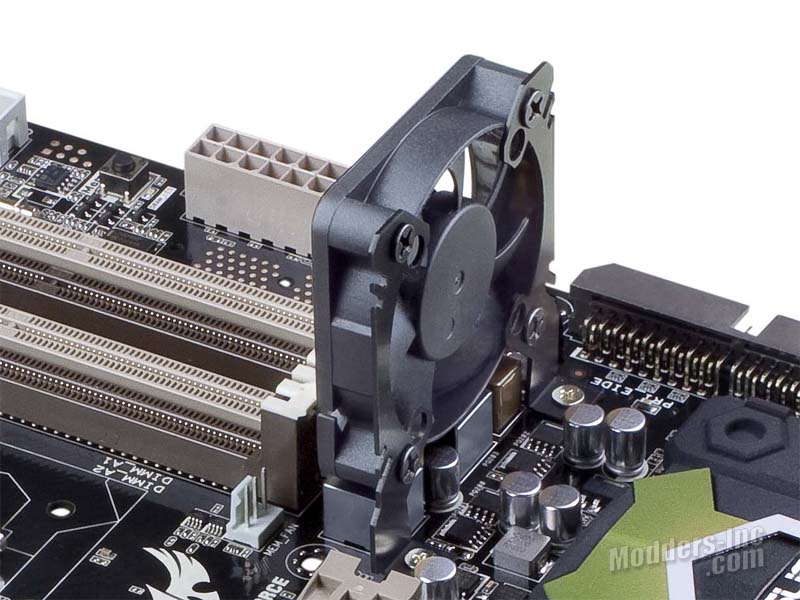 Just below the four DIMM slots you will find two additional mounting holes. These are to be used with the CoolMem Fan Frame that is provided by Asus. The frame encloses 40mm or 50mm fans and fits them directly below the memory modules. This is an alternative to some of the over the module style fan coolers that are available and would really only be a benefit if you planned on doing some serious overvolting of the memory modules.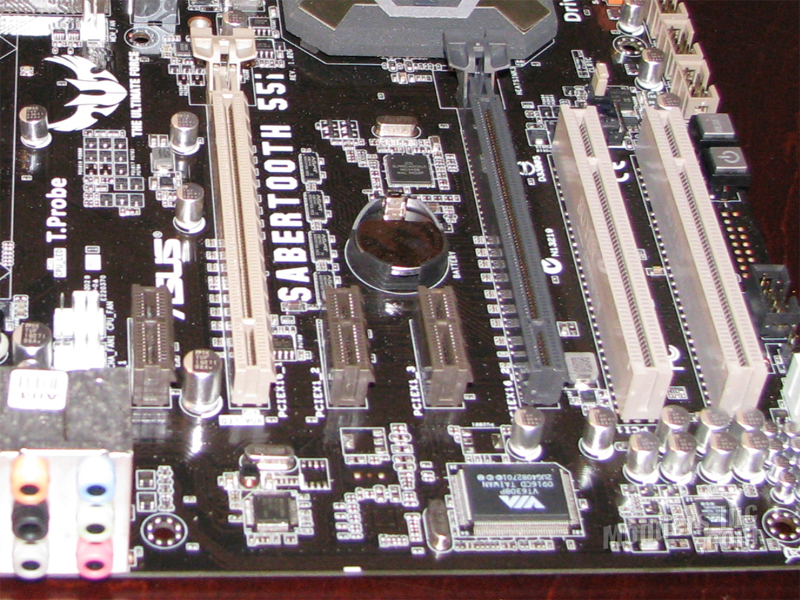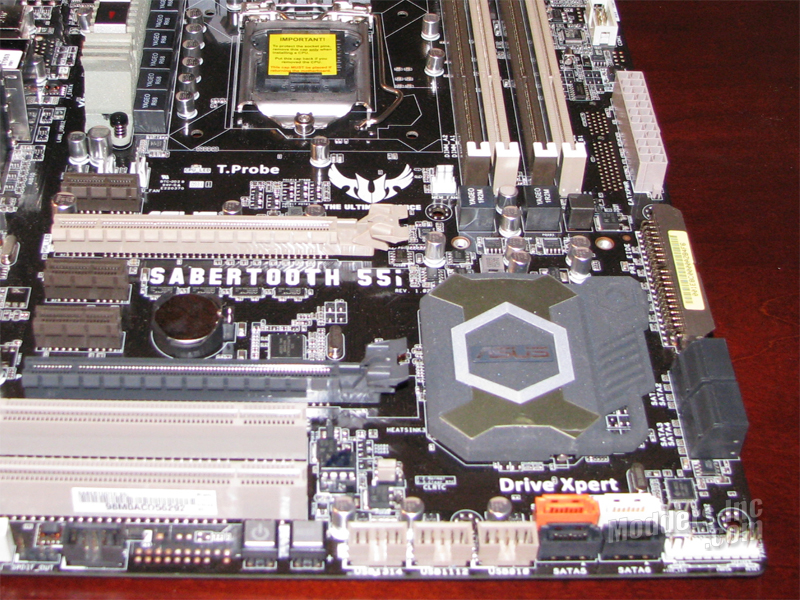 The Asus Sabertooth 55i motherboard has three PCI-E 2.0 x1 slots, two PCI-E 2.0 x16 slots, and two PCI slots. The Beige PCI-E 2.0 x 16 slot operates at x16 in a single card configuration or at x8 in a dual card configuration while the Black PCI-E 2.0 x 16 slot operates at x8. Located just to the right of the expansion slots we see the large ceramic coated heatsink for the P55 chipset. Located along the right edge of the Sabertooth 55i motherboard you will find the standard ATX 24-pinpower connector, IDE connector, and four forward facing SATA connectors. Along the lower edge of the board we have the standard Asus Q-Connector header, two more SATA connectors, plus two Drive Expert SATA connectors (Orange and White) to allow you to take advantage of the quick raid setup provided by Drive Expert. To the left of those we have the USB, 1394, Audio connectors along with a LED illuminated Power and Reset switches.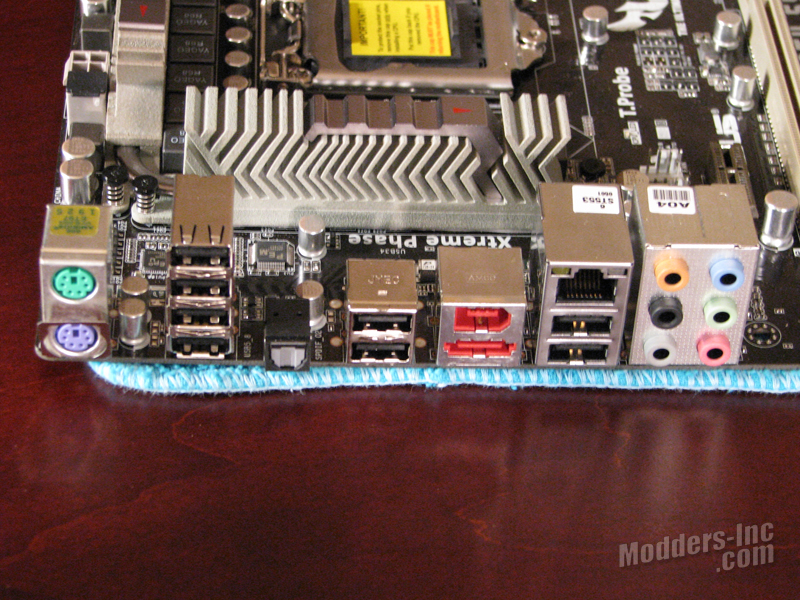 The rear I/O is fairly well laid out like the rest of the board. From Left to right we have the PS2 Mouse/Keyboard connectors (does anyone really use these now-a-days?), four USB ports, 1 SPDIF, two more USB ports, E-SATA and Firewire ports, two more USB ports, LAN port, and the Audio out which supports 10 channel sound courtesy of VIA.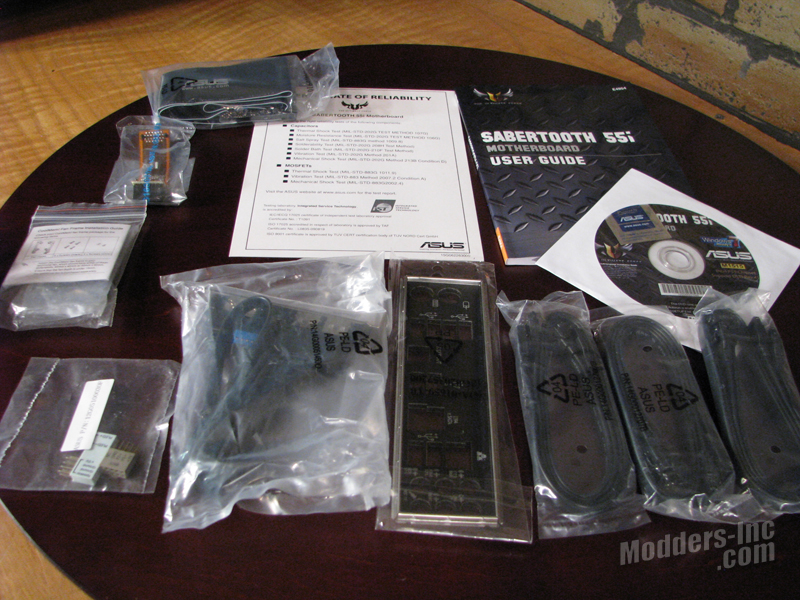 Included with the Asus Sabertooth 55i motherboard is 1 x Ultra DMA 133/100/66 cable, 1 x Asus SLI bridge connector, 1 x CoolMem Fan Frame, 1 x 2-in-1 Asus Q-Connector kit,  1 x User Manual, 1 x 2-port USB 2.0 and 1-port E SATA module, 1 x Asus Q-Shield, 1 x Support DVD, and 3 x 2 pack of Serial ATA 3.0 Gb/s cables.