Page 2 »
We are going to take a look at one of Thermaltakes newer gaming case, the V9. The V9 is a mid-tower case that is built mostly of steel with a plastic top and front panel. Normally when you hear "Gaming Case", you know that its going to be designed to offer optimal cooling. The V9 chassis uses one 230mm top exhaust fan, one 120mm rear exhaust fan, and one 120mm front intake fan. The front drive bay covers are vented along with both side panels. The potential for great cooling is there, but how is the follow through?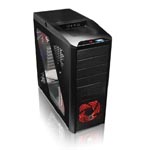 Sponsor: Thermaltake
[hr]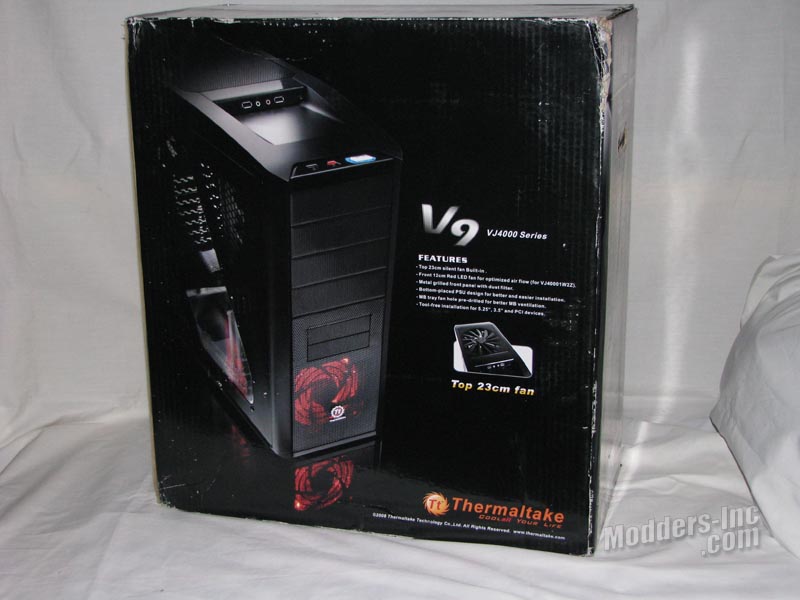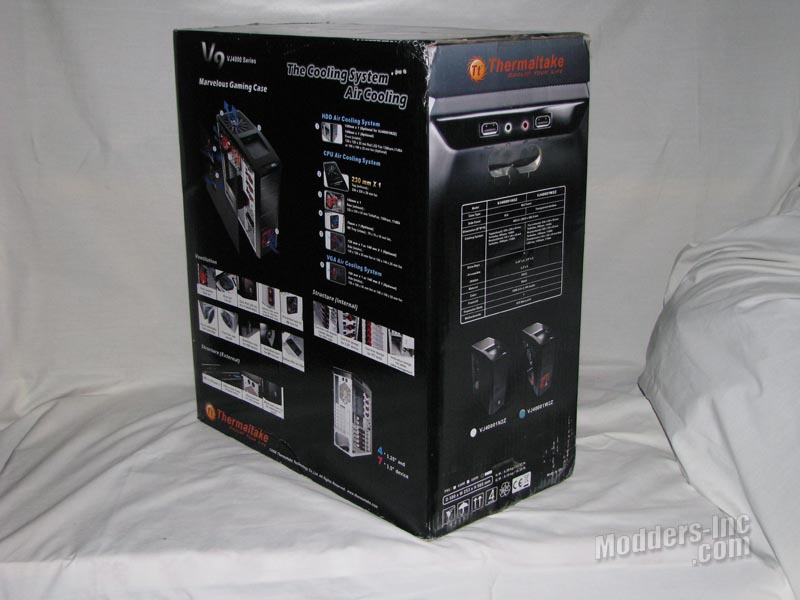 The Thermaltake V9 comes packed in a black box with tons of pictures showing you what lies inside. On the front you will find a large high res shot of the V9 along with the main features. The rear is covered with smaller images highlighting specific areas of the case, with brief descriptions, and on the side are the main specifications of the V9.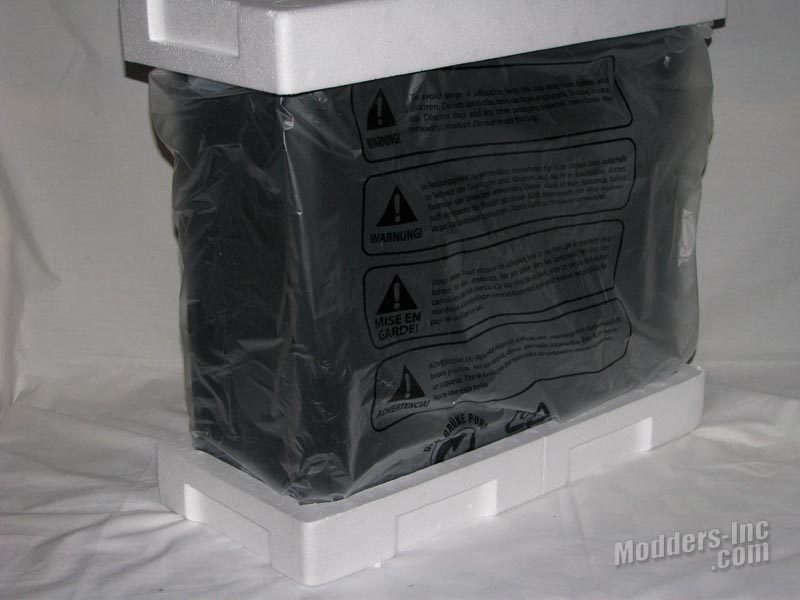 The Thermaltake V9 is packed inside a clear bag to protect it from finger prints and minor scratches. The case sits in two large Styrofoam end caps to keep it centered in the box during shipping. This is pretty much the standard packaging for just about all chassis. When I removed the V9 from the box, I did find a few plastic pieces laying in the bottom of the bag. Although it wasn't prominent what was damaged, I knew something would show up. After looking over the case good, I was able to find where the plastic pieces came from. We will go over that a little later on in the Observation area.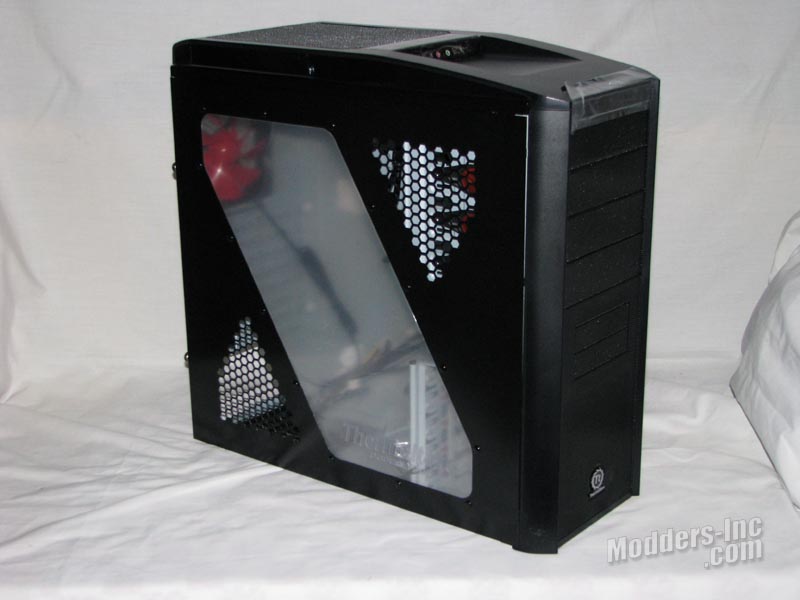 The Thermaltake V9 is a Mid-Tower case that is constructed of 0.8 mm SCC steel. The front panel and top panel are both made of plastic with mesh inserts for cooling. Both side panels are well ventilated to offer optimal cooling for your hardware. After looking this thing over, it kind of reminds me of the Cooler Master CM690 in areas (meshed front panel, motherboard fan, and internal layout).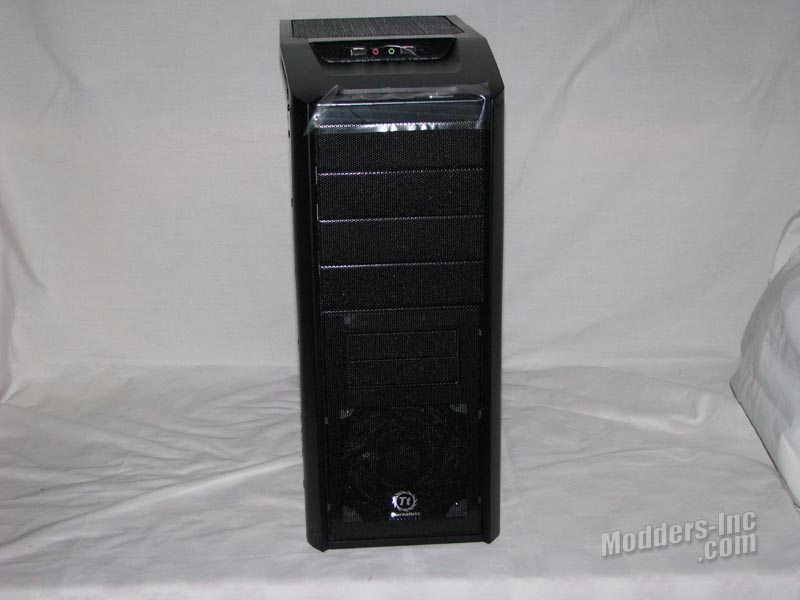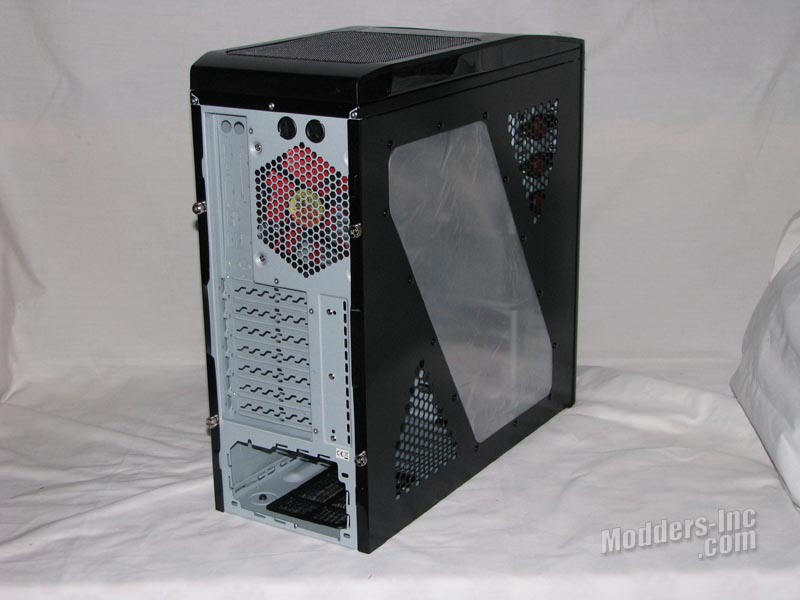 From the front angle we can see that the center section is completely lined with mesh. The front 120 mm intake fan is filtered as well as the drive bay covers. The front panel will need to be removed to access these filters for cleaning. Looking at the rear of the case, we can see that it utilizes a lower mounted PSU design, and has a 120 mm rear exhaust fan that is included.
Features:
Case

Top 23cm silent fan Built-in
Metal grilled front panel
Bottom-placed PSU design for better and easier installation
MB tray fan hole pre-drilled for better MB ventilation
Tool-free installation for 5.25", 3.5" and PCI devices

Ventilation

Rear fan x 1 (120 x 120 x 25 mm TurboFan)
Built-in 230 mm silent fan on Top x 1 (230 x 230 x 20 mm)
120 mm Red LED fan in front
Easily detachable front dust filter
Front fan cage design
Ventilation hole for HDD device
Bottom PSU fan filter
Pre-drilled hole for MB tray fan
Ventilation hole for MB tray fan

Structure – Internal

Tool-free & 90-degree rotated design for HDD cage
Tool-free design for 5.25" device
Tool-free design for PCI slots
Innovative design for better cable management
4 5.25" and 7 3.5" device

Structure – External

USB x 2, HD Audio x 1
Easy access Power & Reset button
Reserved hole for LCS system
Specifications:
Case Type:
Mid Tower
Material:
0.8 mm SECC
Front Bezel Material:

Plastic

Color:
Black
Side Panel:
Transparent Window
Motherboard Support:
12″ x 9.6″ (ATX), 9.6″ x 9.6″ (Micro ATX)
Motherboard Tray:
N/A
5.25″ Drive Bay:
4
Ext. 3.5″ Drive Bay:
2
Int. 3.5″ Drive Bay:
5
Expansion Slots:
7
Front I/O Ports:
USB 2.0 x 2, HD Audio
Cooling System:

   Front Intake:
   Front (Optional):
   Rear (Exhaust):
   Top (Exhaust):

 

120 x 120 x 25 mm Red LED fan, 1300rpm, 17dBA
140 x 140 x 25 mm
120 x 120 x 25 mm TurboFan, 1300rpm, 17dBA
230 x 230 x 20 mm Silent fan, 800rpm, 15dBA

Liquid Cooling Capable:
Yes
Power Supply Supported:
Standard ATX PSII
Dimension (H*W*D):
18.19 x 8.19 x 19.10 in 
462.0 x 208.0 x 485.0 mm
Net Weight:
13.87 lb, 6.29 kg
Warranty:
3 Years