« Introduction | Bundled Software »
A Closer Look at the ASUS Z97-A Motherboard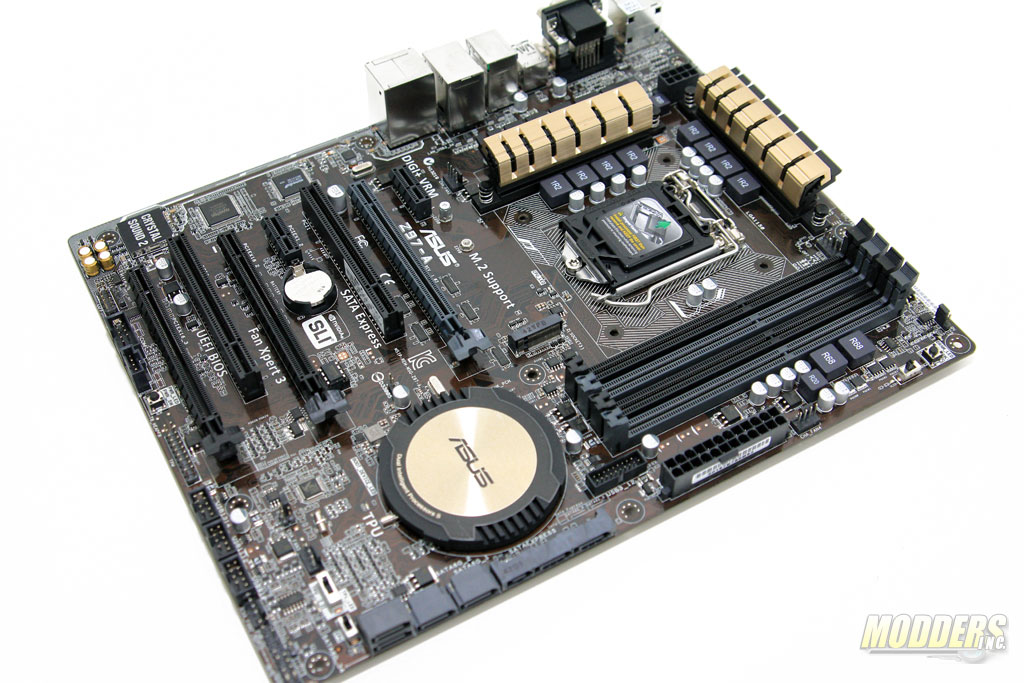 The Z97-A is a standard ATX form factor motherboard measuring 305x 244 mm on a 4-layer brown PCB. The voltage regular heatsinks are two separate units for the row of MOSFETs at the top and left side. This heatsinks are held in place by spring-loaded push-pins instead of screws. The resistance is very strong with the spring so contact with the thermal pad and heatsink over the components is good.
As with all ASUS motherboards, the ASUS Z97-A power delivery is a digital design with a DIGI+ VRM EPU controller underneath the heatsink labeled ASP1252 with four drivers and eight pairs of NXP 6030DLB/4030DLA LF-PAKs . There are also two phases for the memory with two pairs of NXP 6030DLB/4030DLA LF-PAKs controlled by a Richtek 8120 instead of a DIGI+ controller unlike the higher end ASUS motherboards. This means that memory overclocking will not be available through ASUS AI Suite, only through the UEFI. There also won't be phase controls for the DRAM in the UEFI. The chokes are 1.2uF ferrite inductors while all the capacitors used are solid Japanese capacitors with a 5K rating at 105C. Compared to other motherboards with a 2000-hour rating at 105C (which last 200,000 hours at 65C typical), the 5K @ 105C rating translates to 500,000 hours at 65C.
The CPU socket is an LGA1150 supporting current Intel Haswell processors such as the Core i7-4770K but also supports upcoming Haswell refresh processors when they become available. Power supply connectors are located on the right side edge for the 24-pin and right beside the top VR heatsink for the 8-pin. Four DIMM slots are available supporting up to 3400MHz of DDR3 (setting available in the UEFI).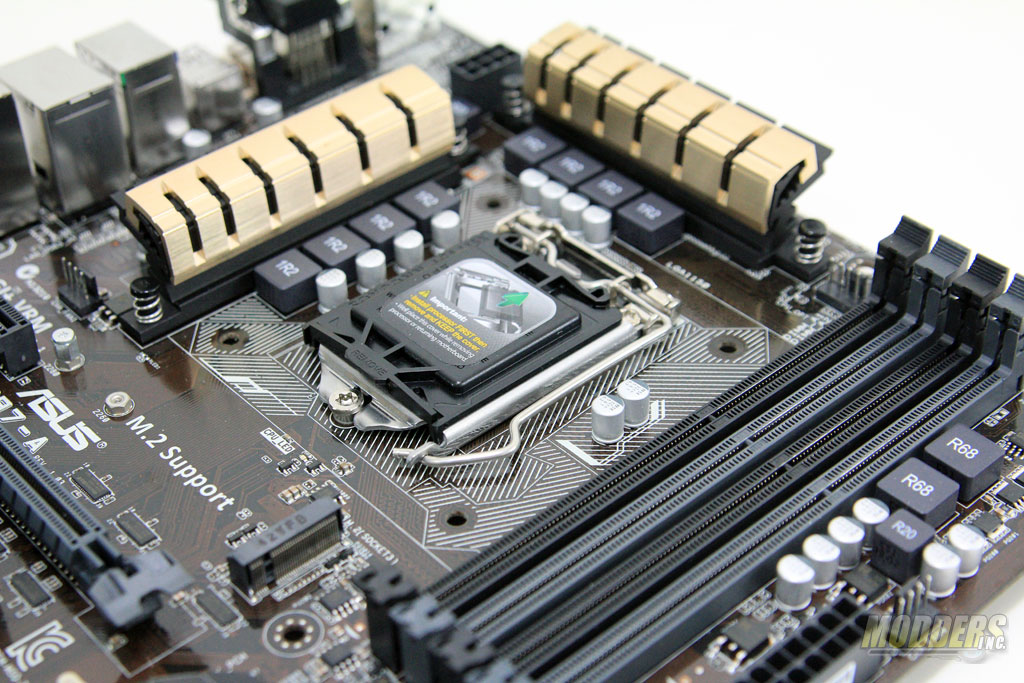 Five PWM fan headers are available and laid out very well with one channel fan for the rear exhaust in tower-style cases and all other fan headers closer to the front so they are easily accessible for front and top fans. The CPU fan header supports fans up to 1A and has a mirror "CPU_OPT" fan header for attaching a secondary fan. Fan header locations are highlighted below in BLUE: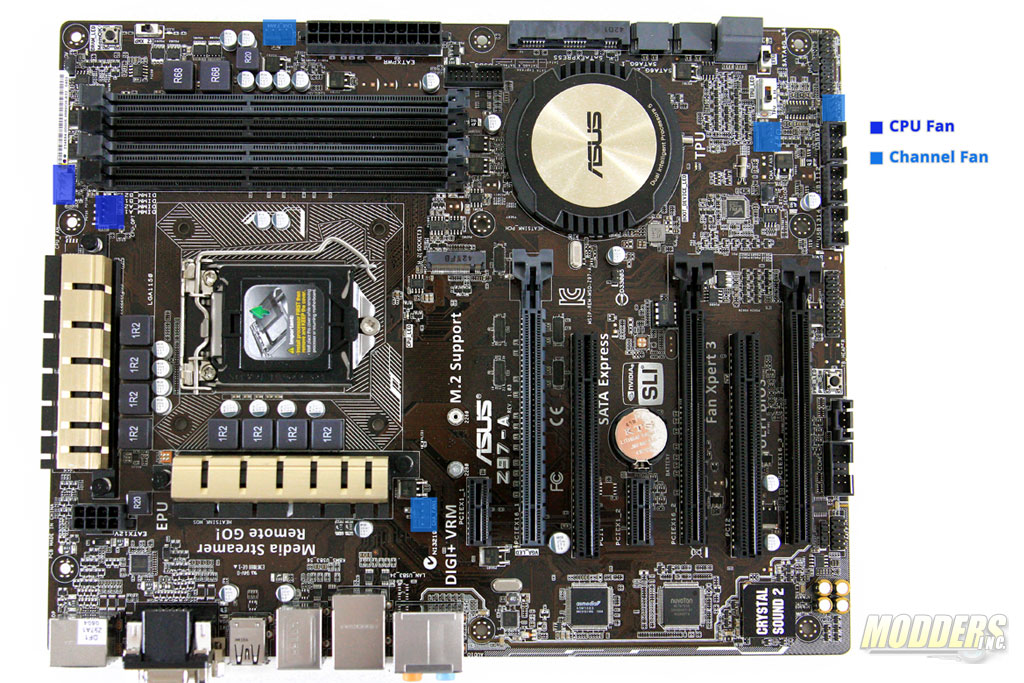 Some of the unique features of the Z97-A are highlighted below for convenience: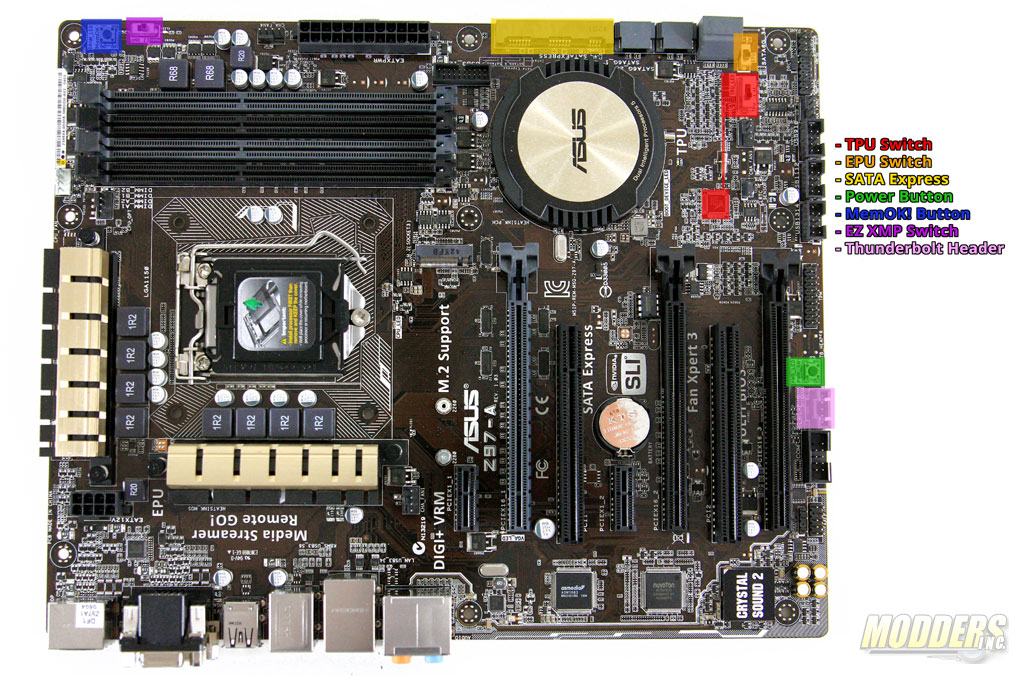 RED – TPU Switch – A switch that enables the TPU auto-overclock function. Two options are available when moved out of the default position: Ratio boost and CPU BCLK boost + Ratio boost. Typical use is to move into position before turning on the system but if the switch is toggled on a running system, the change will happen after the next boot.
ORANGE – EPU Switch– A power consumption moderator, ASUS' EPU manages power profiles based on the system.
YELLOW – SATA Express– Unlike most motherboards that only offer M.2 ports for up to 10Gb/s storage, ASUS outfits their motherboards including the Z98-A with out-of-the-box SATA Express support, switching two PCI-e lanes when a SATA Express device is used.
GREEN – Power-on Button– Onboard button for powering on or waking the system with an LED indicator for standby power.
BLUE – MemOK!– Hold down the MemOK! button or a few seconds until the MemOK! LED indicator starts flashing to activate. This feature is useful for pesky memory configurations that refuse to boot or for when troubleshooting.
VIOLET – EZ-XMP– A simple switch that enables memory module XMP function without entering the UEFI.
PINK – Thunderbolt Header– If 10Gb/s SATA Express and M.2 ports weren't enough, the ASUS Z98-A is Thunderbolt upgradeable with the use of a PCI-Express add-on card and the Thunderbolt header available on the Z97-A.
Along the right edge is a 19-pin USB 3.0 header (directly below the 24-pin power connector) and six angled SATA 3 (6Gb/s) ports provided natively by the Intel Z97 chipset. The top two SATA ports are positioned side by side with an additional connector for SATA Express usage. Each of the SATA ports can be used by themselves or together for the 10Gb/s SATA Express. Extra storage in the form of an M.2 slot is also available right below the CPU socket. This slot uses up two PCI-E x1 lanes (aided with an ASMedia 1440 switch) so both physical PCI-E x1 slots will be disabled when using an SSD in this slot.
At the lower right hand corner you will find the front panel connectors and a row of USB 2.0 ports. Like the fan header positions, a cluster of USB headers in the front makes it very accessible and cleaner looking when plugging in USB 2.0 outlets compared to having it further at the back. Beside the USB headers is a Trusted Platform Module header for digital signage and security uses and right beside that is an onboard power switch with a standby power LED. Right beside the 5-pin Thunderbolt header is a COM port header provided by a BCD Semiconductor 232GE chip.
Expansion slot distribution is as follows, in order from top to bottom: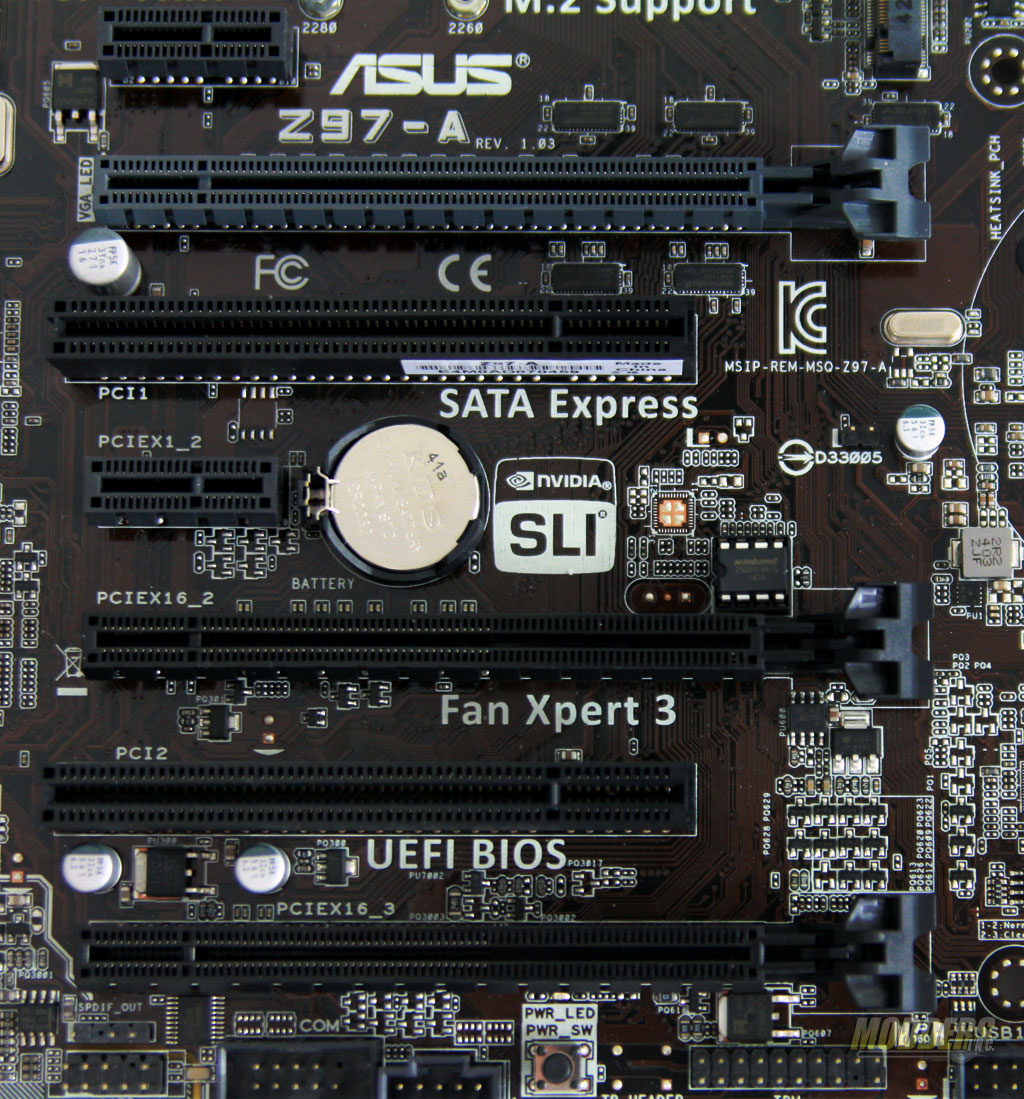 PCI-E 2.0 x1 slot (shared with M.2 port)
PCI-E 3.0 x16 slot (16x when populated by itself, 8x when more graphics cards are installed)
PCI slot
PCI-E 2.0 x1 slot (shared with M.2 port)
PCI-E 3.0 x16 slot (8x mode)
PCI slot
PCI-E 2.0 x16 slot
Up to two AMD Radeon or NVIDIA GeForce video cards in dual-CrossFireX or dual-SLI mode is supported in 8x/8x PCI-E 3.0 configuration.
The audio codec is a Realtek ALC892 with EMI shielding and five audio ports for 7.1 audio with mic-in (lime, pink, light blue, black, and orange) and an optical SPDIF out port. The entire audio subsystem is isolated from the rest of the mainboard PCB and is equipped with Japanese Nichicon audio capacitors and Texas Instruments RC4580 Operational amplifier.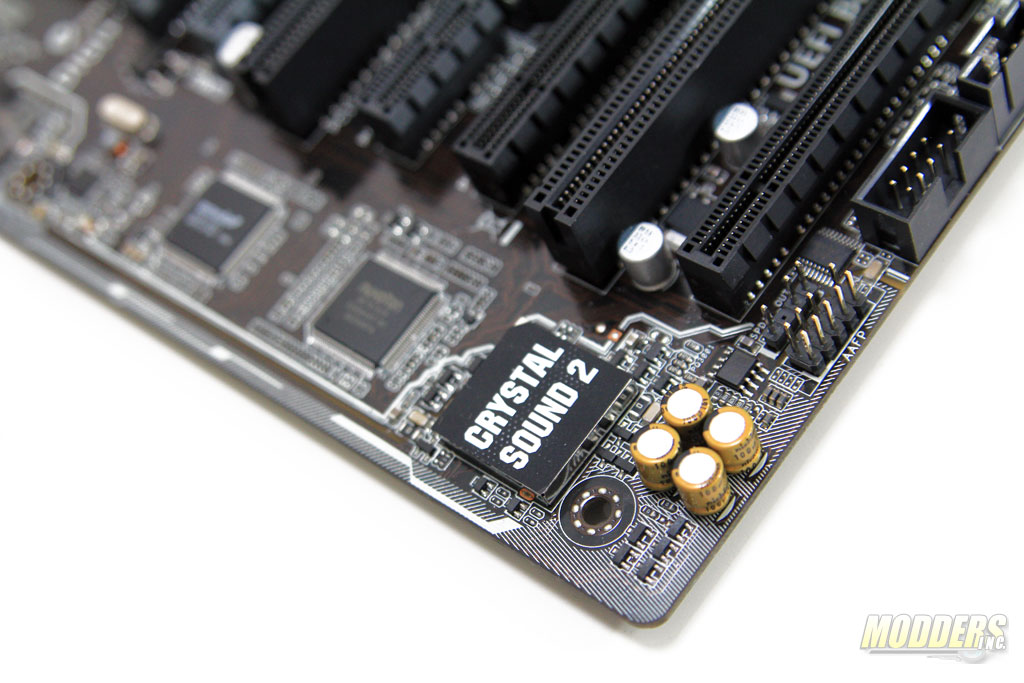 The big chip above the audio codec is the Nuvoton NCT6791D Super I/O responsible for hardware monitoring functions, fan speed control and legacy PS/2 port for mouse and keyboard. The ASMedia chip above it is an ASM1083 bridge which takes one Intel Z97 provided PCI-E lane and provides PCI connectivity.

The rear IO's Gigabit Ethernet connectivity is provided by an Intel i218V controller. As for the display outputs, ASUS provides a flexible 4-way option for the integrated Intel HD4600  graphics with the help of an ASMedia ASM1442 TMDS level shift IC. You have an older VGA/D-Sub/RGB which  support up to 1920×1600 @ 60Hz maximum resolution, a dual-link DVI port supporting a maximum resolution of 1920×1200 @ 60Hz, a DisplayPort that can output up to 4096×2160 @ 24Hz/3840×2160 @ 60Hz  and an HDMI port that can also output 4K resolution up to 4096×2160 @ 24Hz or 2560×1600 @ 60Hz. Up to three displays can be used at the same time.