« Motherboard Overview | UEFI Overview and Overclocking »
Bundled Software

The ASUS Z97-A bundled software spans two DVD discs containing applications and drivers. Each driver or utility is sectioned so that it is easier to sort through and find out which ones should be installed. The main disc setup page also shows whether the driver or software has already been installed or not. The Google tab is for installing the Google Chrome web browser while the Security tab installs a trial version of Norton Security Essentials.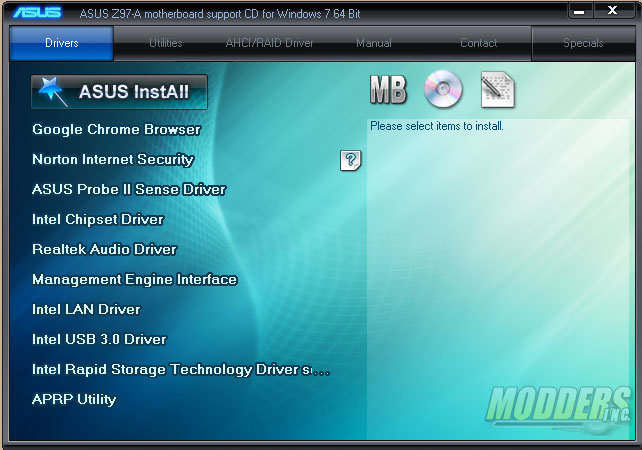 ASUS AI Suite III

Bundled with the driver disc is AI Suite III, ASUS' one-stop all-in-one software that provides extensive control and tweaking to the Z97-A directly from a Windows 7 or 8 desktop. It is called a suite because it is essentially a collection of software that can be installed individually (most of them) but when installed together can be easily accessed via a single program interface.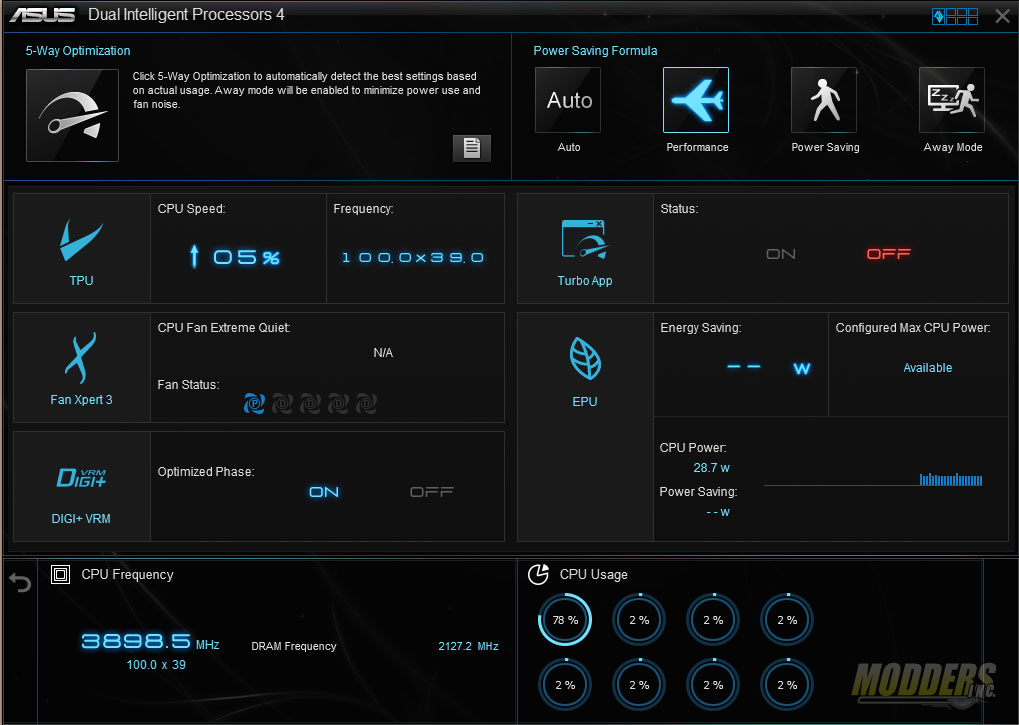 It is comprised mainly of four core programs which is constant on all ASUS motherboards that can run AI Suite III with some smaller satellite apps which provides enhanced or unique functionality.  Located at the bottom of the AI Suite III program are persistent monitoring values showing CPU-frequency, voltages, CPU and MB temperatures and fan speeds. These are segmented corresponding the four programs at the top tab which makes using the AI Suite III intuitive and really easy to understand for beginners.
The TPU program or TurboV as it used to be called, provides overclocking functionality, allowing users to adjust BCLK frequency, core ratio, CPU cache ratio, change voltages and overclock using CPU strap.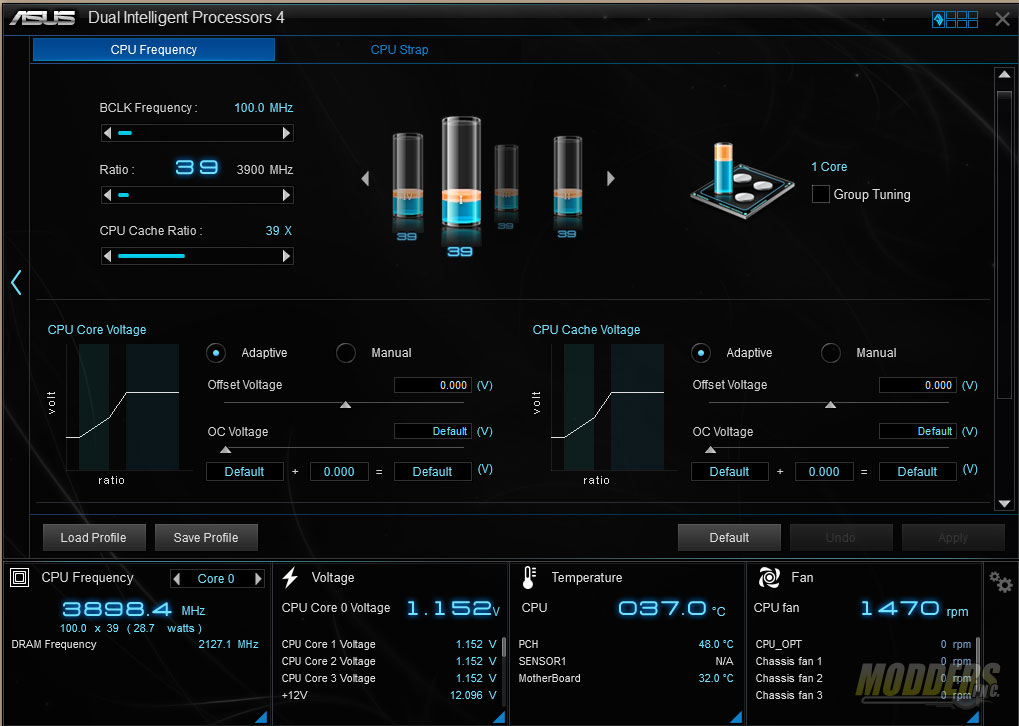 The EPU section handles the power management features, basically a beefed up, motherboard-specific version of what Windows provides under the screen saver power settings. Four presets can be tweaked: Auto, High Performance, Max Power Saving, and Away Mode.  Users can adjust Vcore downgrade (except in High Performance mode for obvious reasons), assign a fan profile, configure max CPU power (except in High Performance and Auto Mode), mute audio (Away mode only), and set timers for display shut-off and sleep.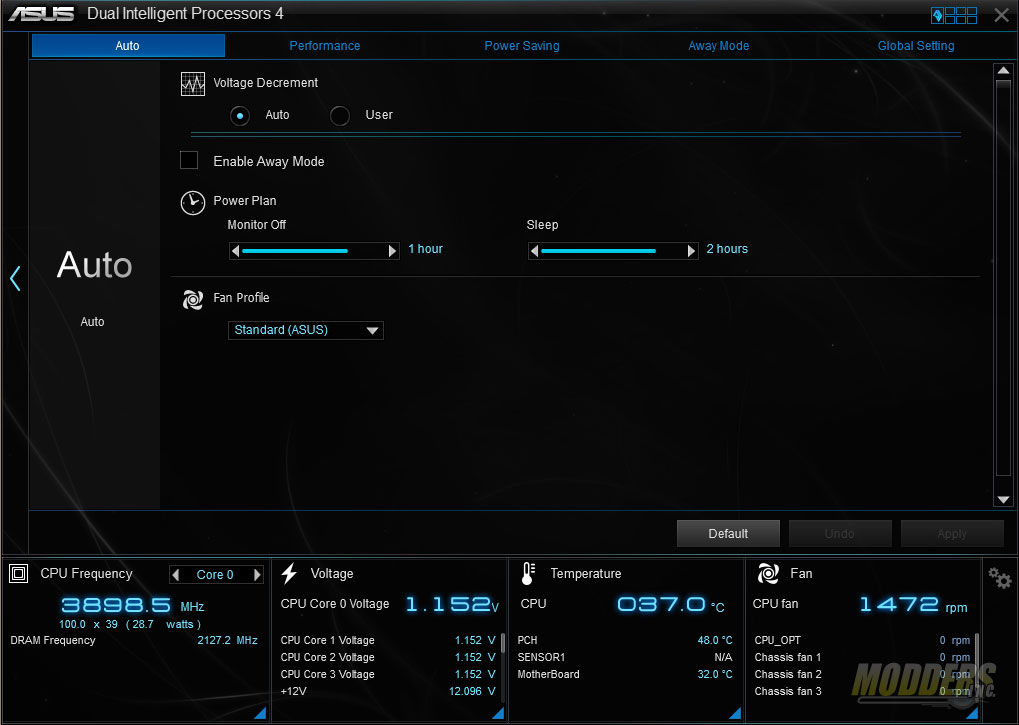 DIGI+ Power control on the AI Suite is basically the same as the one on the UEFI with graphical versions of the load-line calibration controls, current capabilities, phase control, and thermal control.  Only CPU controls are available on the Z97-A since the memory does not come with its own DIGI+ VRM controller like in high-end ASUS motherboards.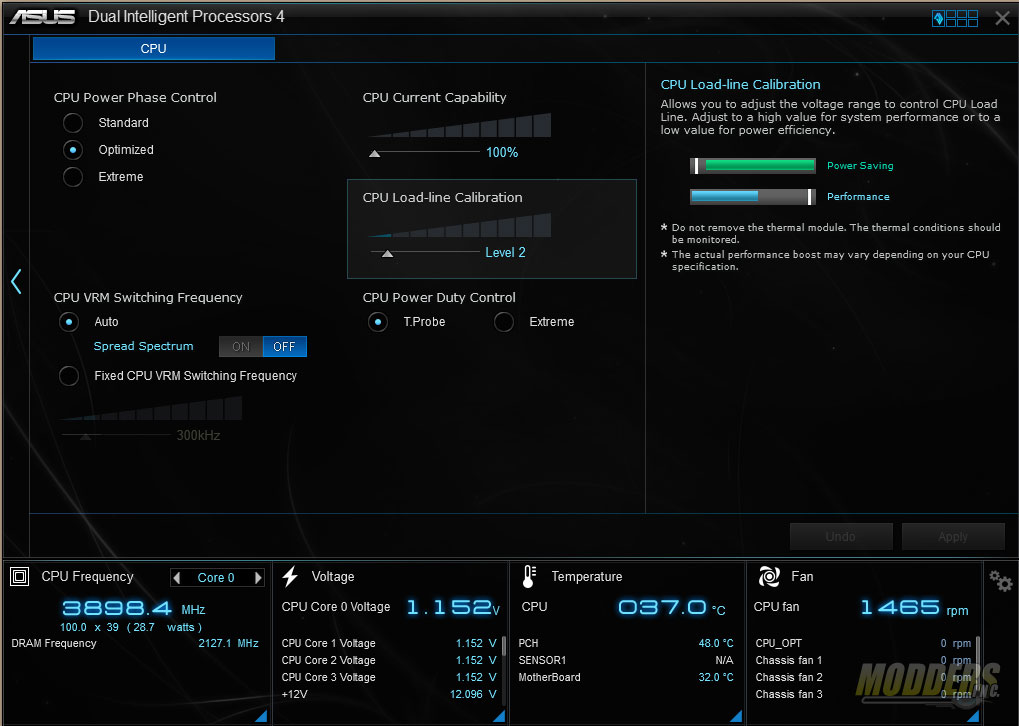 The fourth program is the Fan Xpert III which benchmarks all attached fans and assigns adjustable presets classified as Silent, Standard, Turbo and Full Speed.  The benchmark works not just for 4-pin PWM fans but for 3-pin fans as well and can determine the optimal controllable range for the fan attached. Spin-up and Spin-down time is also provided so users can gauge how to adjust the fan graph in Smart Mode. RPM mode allows users to set a constant speed within the controllable fan range. Users can also customize the fan performance depending on the case and fan position in that case which shows the incredible flexibility of this program and the ASUS z97-A fan control.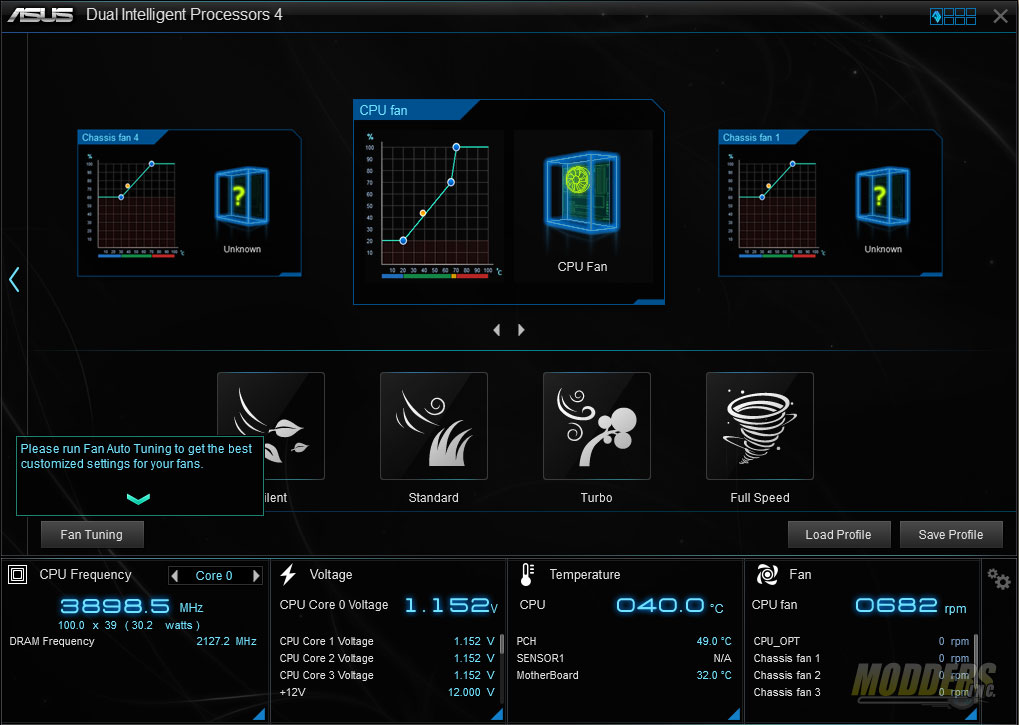 These four programs are the pillars of what ASUS calls the "4-way optimization" which can be triggered by pressing the button on the first main screen.  Optimization essentially automatically overclocks your ASUS Z97-A customized to your need, starting with CPU with ratio and BLCK options, then LLC controls, finishing off with power and thermal controls.
The latest addition to AI Suite is the Turbo App which allows users to customize system performance by tailoring specific program's process priority, network priority and audio settings. This is a new and unique system personalization system for users who want complete control over how their system runs. This is the new 5th way to optimize hence the 5-way Optimization on the marketing materials.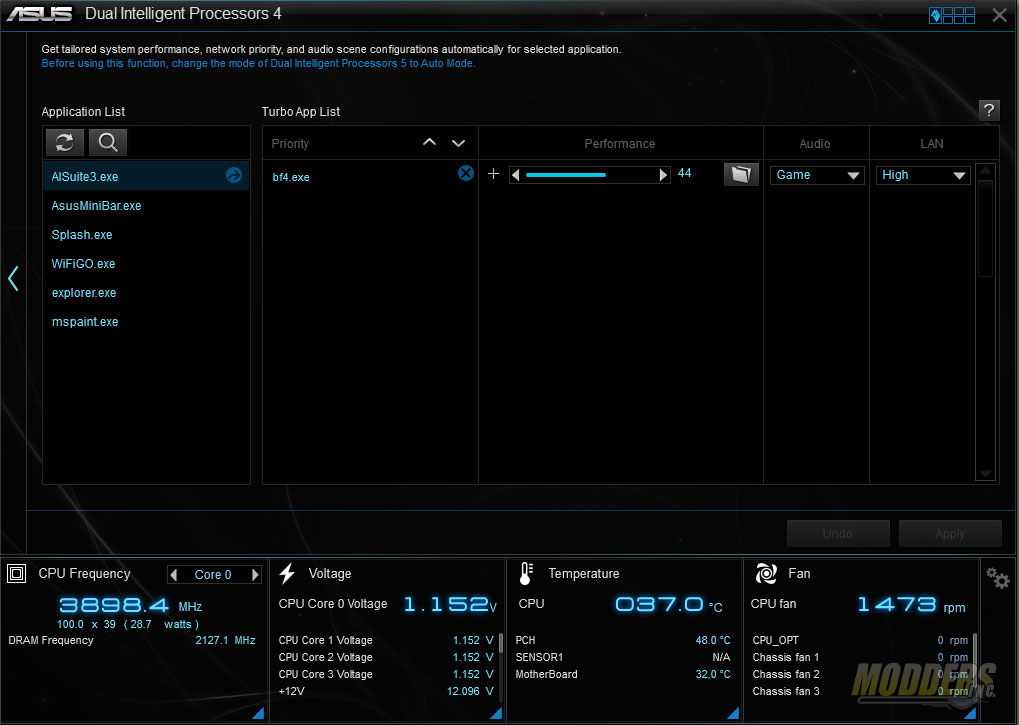 There is also a new Turbo LAN program that integrates the optimization system, allowing users to monitor and fully customize network usage. Whether using Voice over IP applications, Gaming, Media Streaming or file pirati…err file sharing applications such as Bittorent programs, Turbo LAN can individually set priority and negotiate connections ideal for each specific scenario. It is quite a brilliant implementation that also lets users to manage bandwidth and set allowances.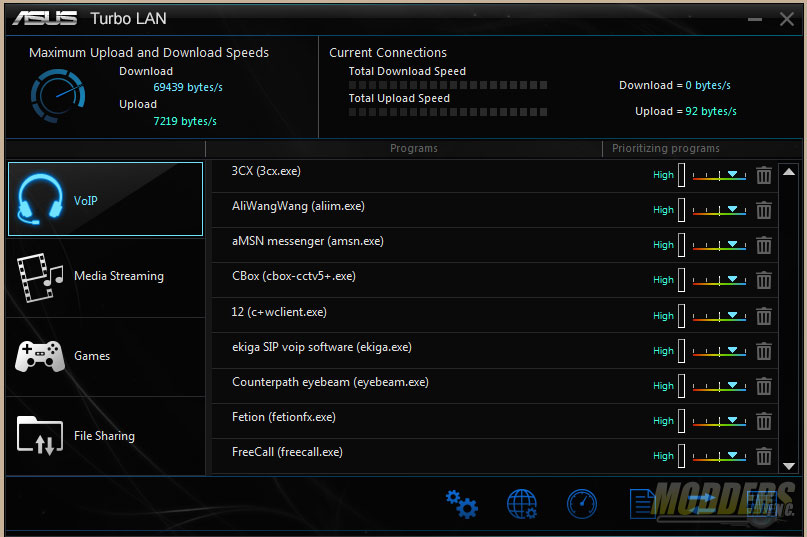 A familiar satellite app for the AI Suite, USB 3.0 Boost provides extended transfer rates in Turbo mode. It on any USB 3.0 device however after I tested it with a USB 3.0 thumb drive and a Vertex 4 SSD on a Vantec NexStar enclosure, running faster than standard USB 3.0 rates. The software automatically detects whether the device plugged in is compatible or not. Users can also opt to switch to a normal mode with the standard Intel chipset USB 3.0 speeds.
ASUS Web Storage
Users can sign up for ASUS web storage for 5GB of online cloud storage. It is similar in function to DropBox or Google Drive but the advantage of ASUS WebStorage is that it can integrate with your ASUS components such as ASUS MediaStreamer, RemoteGo and CloudGo. It sits the tray and can sync silently with the operational folder.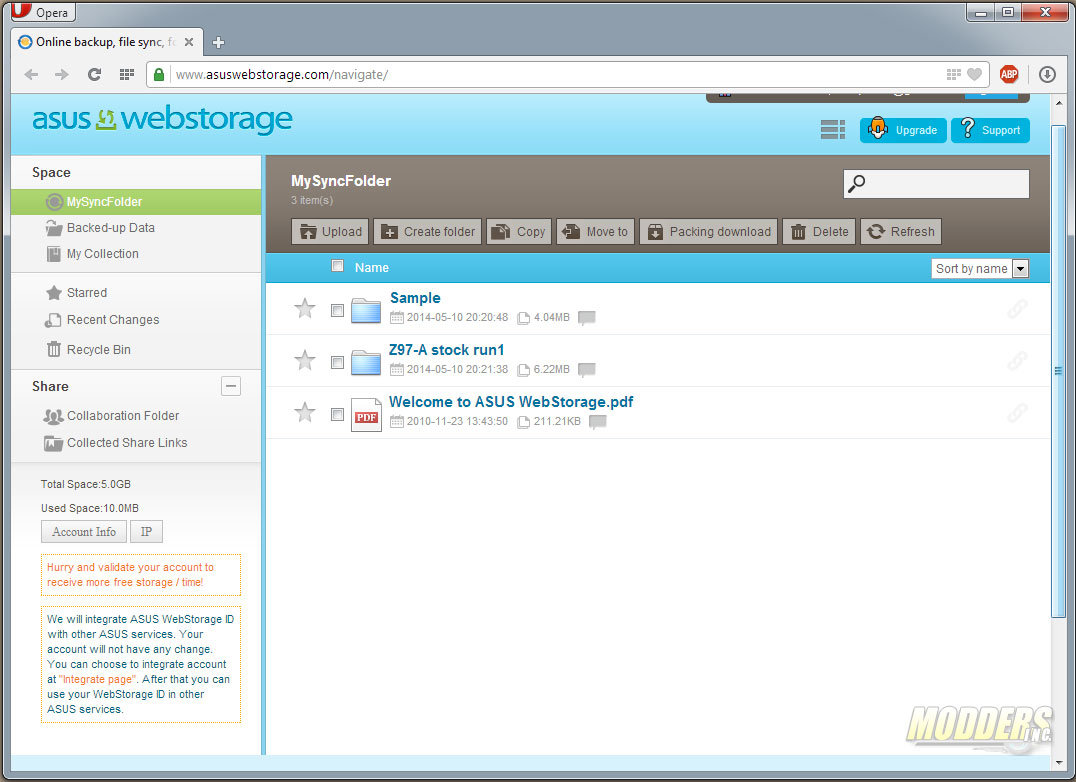 ASUS  RemoteGo
RemoteGo is a desktop application hub for accessing ASUS network features available to the Z97-A. Users who signed up for ASUS Webstorage can access their online contents, remotely access the system with the RemoteGo Android or iOS App or transfer files between systems even tablets within the network. CloudGo not only provides access to ASUS Web Storage but other online storage clouds are also manageable here such as Google Drive, DropBox, etc.
ASUS Media Streamer
As part of ASUS' interactive home cloud, the new Media Streamer (formerly DLNA media hub) can pipe multimedia through other network computers, DLNA devices or playback on tablets and phones with the Media Streamer App.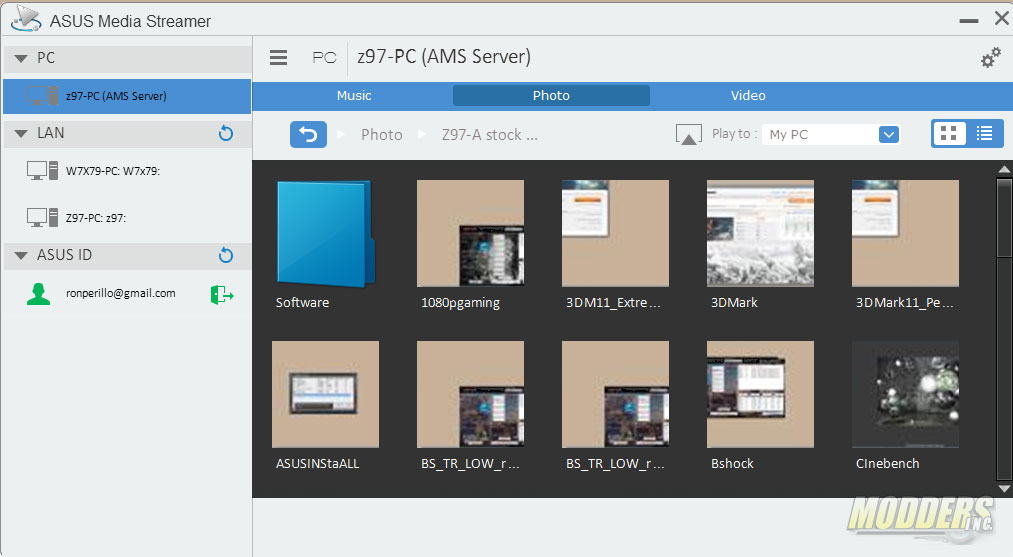 ASUS Push Notice
A handy new feature for users who can't stay apart from their system is the Push Notice function which keeps users up to date on their system status on their mobile device. Think of it as a baby monitor for your previous Z97-A motherboard that informs about the temperature, fan, voltage and even has an internal messaging system.  Alarms and reminders are forwarded to the user's mobile device but unfortunately, there is no remote shut off function in case the system needs to be turned off or restarted.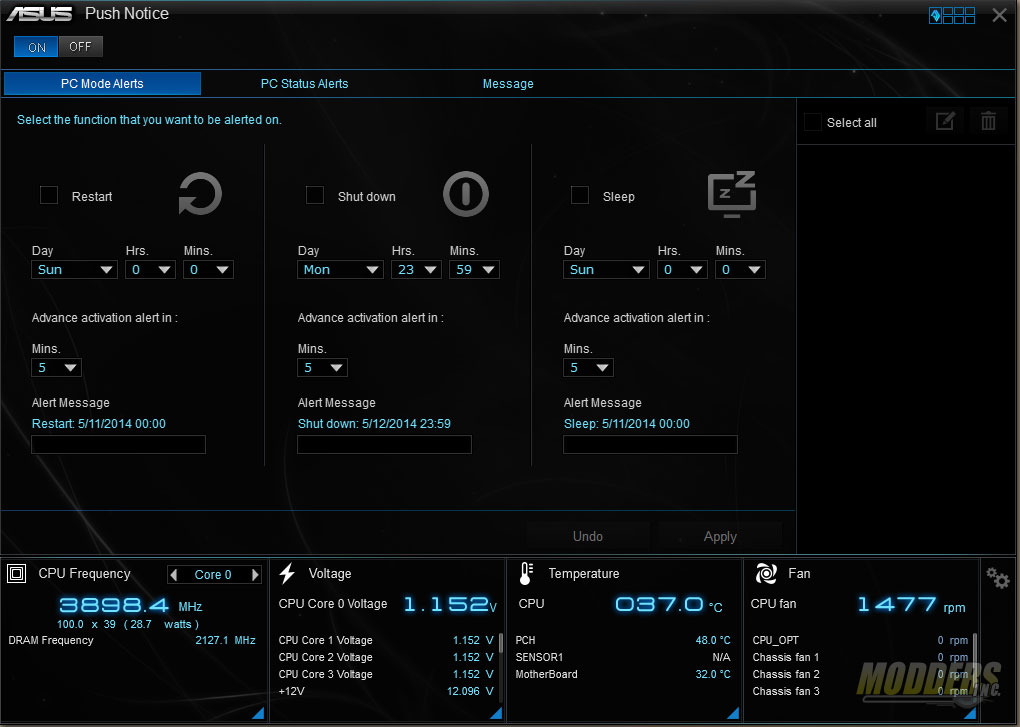 ASUS Realtek HD Audio Manager
This software provides sound device management for the Realtek ALC892 codec including output and recording devices with optional sound effects, room correction, profile management and DTS features.