« Sub-System Benchmarks (Audio, Storage, Network, Gaming)
Final Thoughts about the ASUS Z97-A Motherboard

***UPDATE***5/12/2014 – 7:00PM EST. I made a mistake and did not check my e-mails properly and missed a critical BIOS update before launch which fixed the issues I had encountered in the overclocking page. The numbers will be re-benched with the new BIOS and the results will be updated by tomorrow. Sorry for any inconvenience. –Ron
***UPDATE***5/14/2014 – 05:00 AM EST. Auto-OC experience and results with 0702 BIOS posted in the UEFI section. Also added TPU OC with integrated video, and other EZ Tuning profile results.

***UPDATE***5/14/2014 – 11:00 PM EST. Benchmark Results updated.
While a motherboard targeted for the value segment is rarely (if ever) described as overwhelming, the Z97-A is the exception to the rule. It is feature rich in ways that are not often thought of when it comes to motherboard since most of its unique capabilities are software based. I can hear the collective groan already from readers ("bundled software! bah") but lumping in ASUS software with other motherboard software is unfair for AI Suite is in a league all its own. Sure, most motherboard software is an afterthought with shoddy implementation, bad grammar and typos, non-intuitive interface, etc. The complain list goes on and on. AI Suite on the other hand seamless works with the Z97-A and is laid out in a very straightforward manner. It does not interfere with the system operation at all and motherboard control is precise.
The revised UEFI is also a welcome change which makes better use of the layout than ASUS original UEFI design. It was just as responsive as the original although I did experience slowdowns when I plugged in a thumb drive while the UEFI is loaded (so I could take screenshots). The persistent hardware monitor on the side and the improved Q-Fan control are simple yet very effective changes. I did not have much luck with the EZ Tuning OC wizard however with the system just ending in black screen with the PCI-E LED indicator. Luckily, the AI Suite TPU works perfectly fine for Auto Core ratio tuning but like the EZ Tuning OC wizard, it ended up resulting in a black screen when using the BCLK controls as well. These are a few minor things that can be resolved easily since it is software based and I have a feeling it has to do with the TPU not adjusting ratio properly to maintain PCIe clocks.  After updating with 0702 BIOS EZ tuning is working perfectly fine as well as AI Suite TPU Auto-OC, even with integrated video which OC'd the HD4600 graphics as well. The only hiccup was that BCLK auto-OC with our Gigabyte GTX770 video card did not recover by itself after the reboot automatically but after a forced reset, it resumes the TPU auto-OC process and recovers to give an impressive result. It is also surprisingly fast even when factoring in the built-in stress test.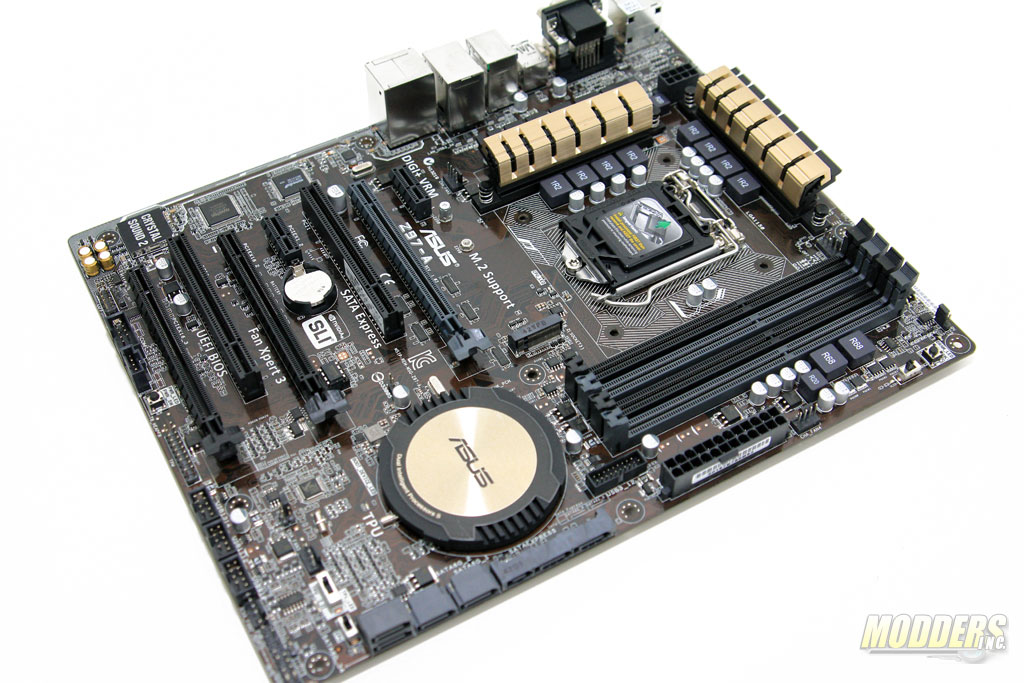 Unique to ASUS motherboards is the inclusion of SATA-Express support, a rumoured feature a few months ago but Intel decided not to support it officially on the Z97 release. While other motherboard manufacturers rely on 3rd party adapters, ASUS SATA-Express is integrated out of the box. The Z97-A also comes with Thunderbolt support although unlike SATA-Express, requires a separate PCI-E Thunderbolt card from ASUS. Thunderbolt was for Apple after all so you can't expect the add-on card to be low-priced and bundled for free on a value motherboard.
Layout-wise, the ASUS Z97-A's placement of fans is extremely convenient for those using a tower-style case (which is the majority of people buying a Z97-A). With the exception of one channel fan for the rear exhaust, all other fan headers are closer towards the front for front intake fans. These are all also 4-pin PWM so precise control is available especially with AI Suite's Fan Xpert III profiles. There are two legacy PCI slots for those loyal to their soundcard or PCI device (eventually those drivers will stop coming out for newer Windows OS though). There are also two PCI-E 2.0 x1 slots although they cannot be used when an SSD is on the M.2 slot. Thankfully, a third full-size (x4) PCI-E 2.0 slot is available at the bottom.
In terms of price, the Z97-A is a little above typical value oriented motherboards and knocking on the mainstream segment pricing. It certainly can justify that with the excellent build quality, SATA Express support and a ton of ASUS exclusive feature set. The only compromise I see is the use of a Realtek ALC892 codec and not using DIGI+ controller on the memory which is not a bad trade off. Sure it is not an ALC1150 but it does have DTS support and memory power cannot be controlled or overclocked via AI Suite but it can be overclocked via UEFI. The Gigabit controller used is an Intel i218V LAN and power delivery is good. The audio subsystem is also designed quite well with isolated channels and high-quality components. The software bundled on top of all that with actual useable features for improves user experience, earns the ASUS Z97-A a Modders-Inc "Must Have" award.
[sc:must_have_award ]