Motherboard Overview »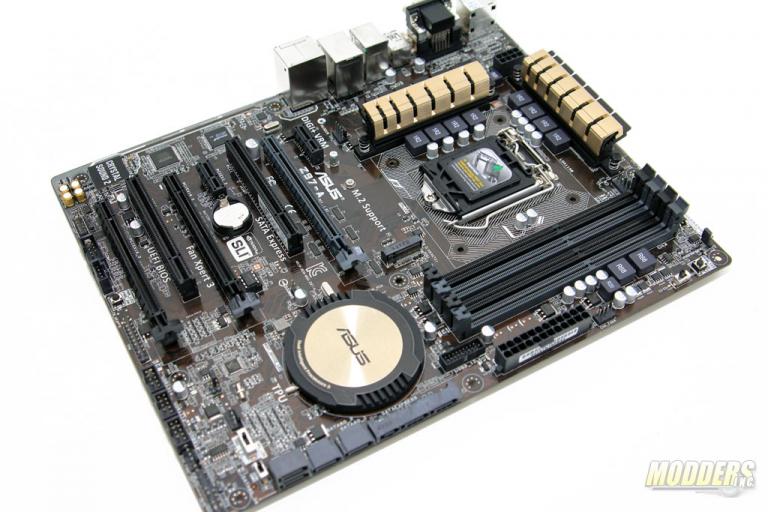 It was a mystery to me why most budget and value oriented motherboards looked awful but then I realized that good looking motherboards are actually rare. Not that it truly matters and it is the performance that counts but to say that looks do not factor in to our motherboard buying decisions is a lie. It would also be nice if value oriented motherboards provided extras beyond the standard fare but when budget is an issue, options are usually limited. In the end of the day, if you don't have money then you will most likely have to settle for an ugly motherboard with barely any features.
While ASUS does not typically add any obvious extras on their budget and mainstream models in the form of extra SATA ports or USB 3.0 ports they instead opts to focus on usability features and component quality. The same is true for the new Z97-A, a value offering for the latest Intel 9-series , which have just as much new software additions as it has new hardware capabilities.
The ASUS Z97 segment boards maintains the gold color-scheme with an updated more modern, sexier look. Worthy of a Lannister compared to the previous model which had the type of gaudy gold only rappers from the 80s and 90s, Persian night-club owners, the Kardashians and Donald Trump could appreciate. The color is now a lighter champagne gold reserved as accents on a black and gray color scheme (or in the case of the Z97-A, a brown, gray, taupe, gold color scheme). The Z97-A is ASUS' budget offering for the latest Intel 9-series line but you would not have guessed it just by looking at it.
***UPDATE***5/12/2014 – 7:00PM EST. I made a mistake and did not check my e-mails properly and missed a critical BIOS update before launch which fixed the issues I had encountered in the overclocking page. The numbers will be re-benched with the new BIOS and the results will be updated by tomorrow. Sorry for any inconvenience. –Ron
***UPDATE***5/14/2014 – 05:00 AM EST. Auto-OC experience and results with 0702 BIOS posted in the UEFI section. Also added TPU OC with integrated video, and other EZ Tuning profile results. 
***UPDATE***5/14/2014 – 11:00 PM EST. Benchmark Results updated.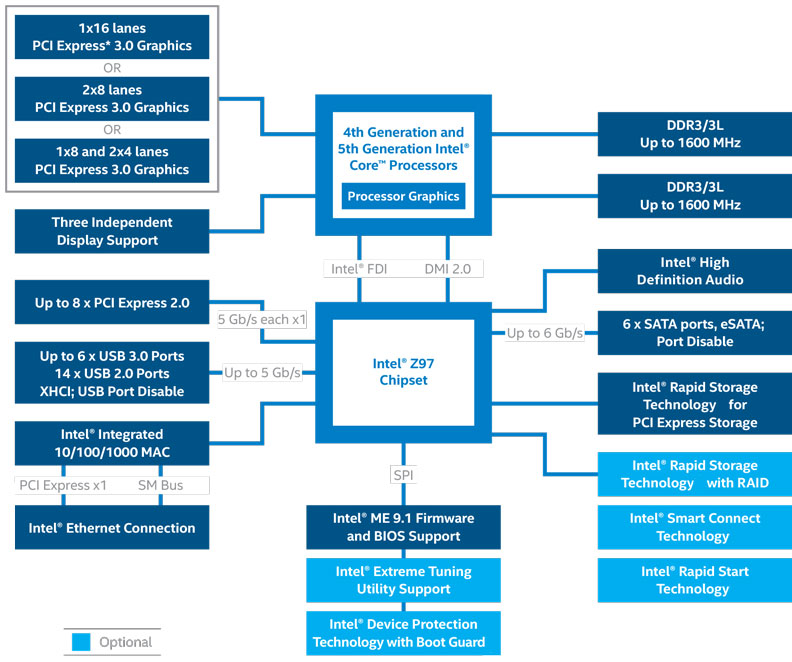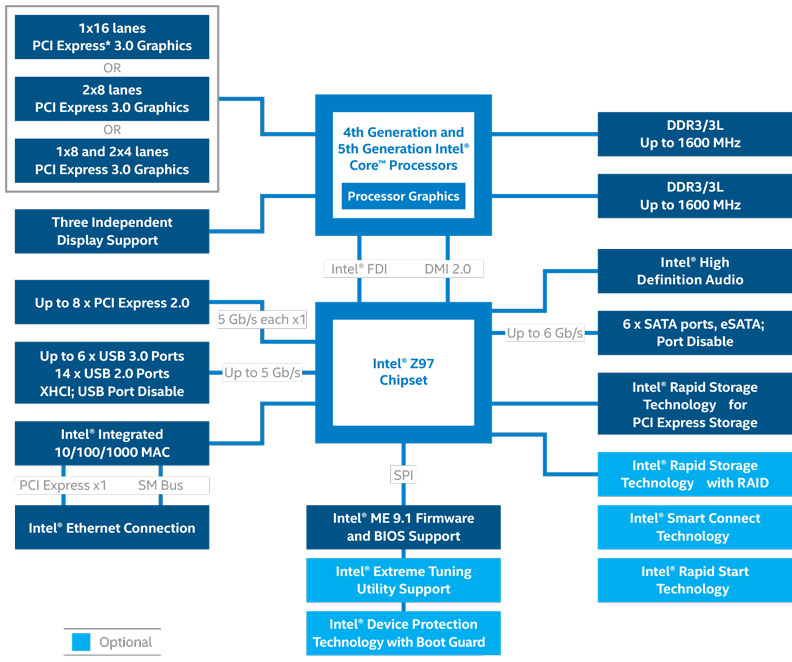 | | | |
| --- | --- | --- |
| Key Feature Differentiation | Z87 | Z97 |
| Processor Support | LGA1150 | LGA1150 |
| Firmware Sku Support | 1.5M | 1.5M |
| Graphics Support | 1×16 or 2×8 or 1×8 + 2×4 | 1×16 or 2×8 or 1×8 + 2×4 |
| Independent Displays | 3 | 3 |
| Mem/DIMMs per Channel | 2/2 | 2/2 |
| CPU Overclocking | YES | YES |
| Intel Rapid Storage Technology | YES (v12) | YES (v13) |
| Dynamic Storagecelerator | YES | YES |
| Intel Device Protection with Boot Guard | NO | YES |
| Intel Smart Response Technology | YES | YES |
| Small Business Advantage | NO | NO |
| USB total (Maximum USB3.0) | 14(6) | 14(6) |
| IO Port Flexibility | YES | YES |
| Total SATA (Max # of 6Gb/s) | 6(6) | 6(6) |
| Maximum PCI Express* 2.0 (5GT/s) | 8 | 8 |
| PCI Express M.2 Support | NO | 1×2 |
Review Sample Provided by: ASUS
Product Name: Z97-A Motherboard
MSRP: $149 USD
Product was given in exchange for work done to produce this review.
The box follows the new gold and black color scheme of the ASUS 2014-release segment motherboards with the unique board features showcased in print on the front and back. Inside are two compartments separated by a white cardboard containing the Z97-A motherboard itself protected inside an anti-static bag on the top while all the rest of the accessories are relegated in the bottom compartment.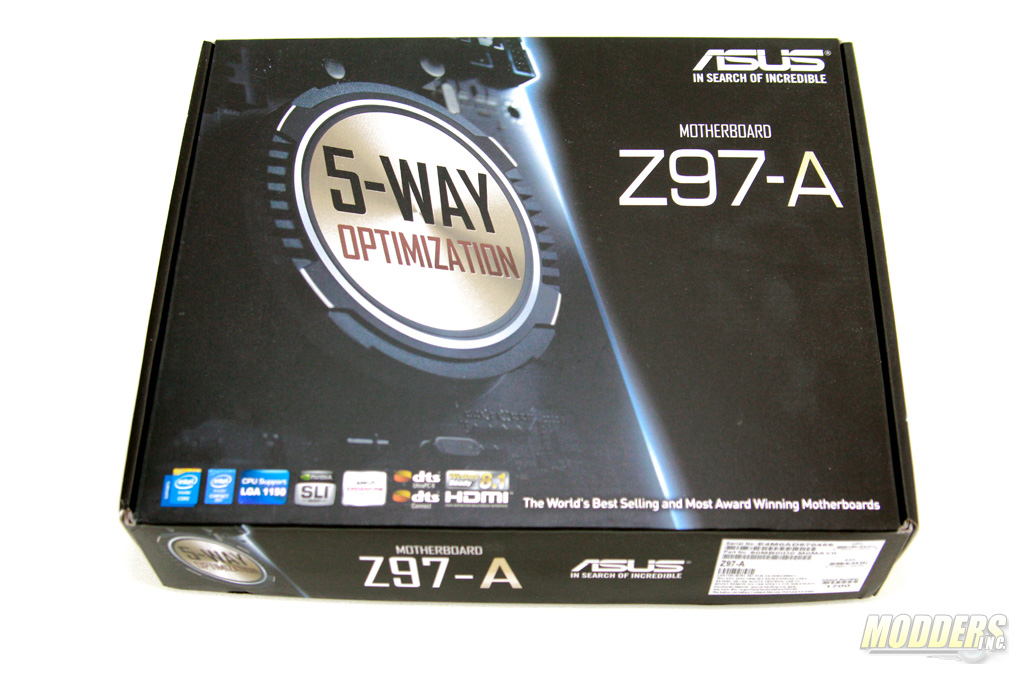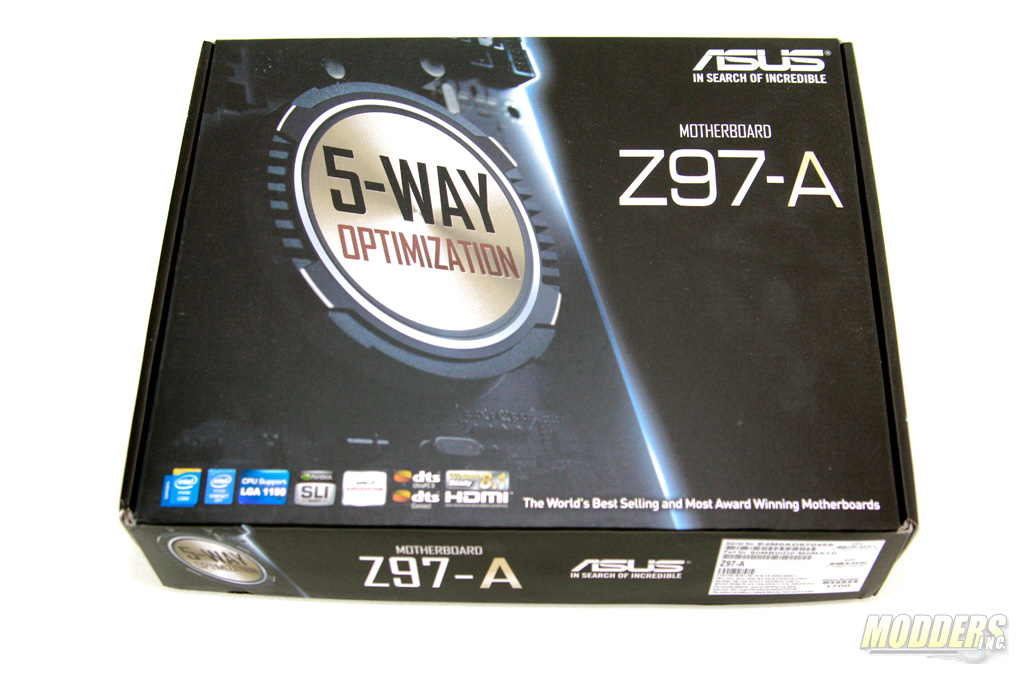 Two pairs of SATA cables are included, two of which have a 90 degree connector while the other two are straight on both ends. Like all motherboards, an IO shield as well as a user's guide with a driver disc is also included. Unique to ASUS boards however is the inclusion of a small packet containing the Q-connector kit, two pieces of labeled cable-end adapters for convenient front panel connector installation. There is also an SLI cable included for dual-SLI use.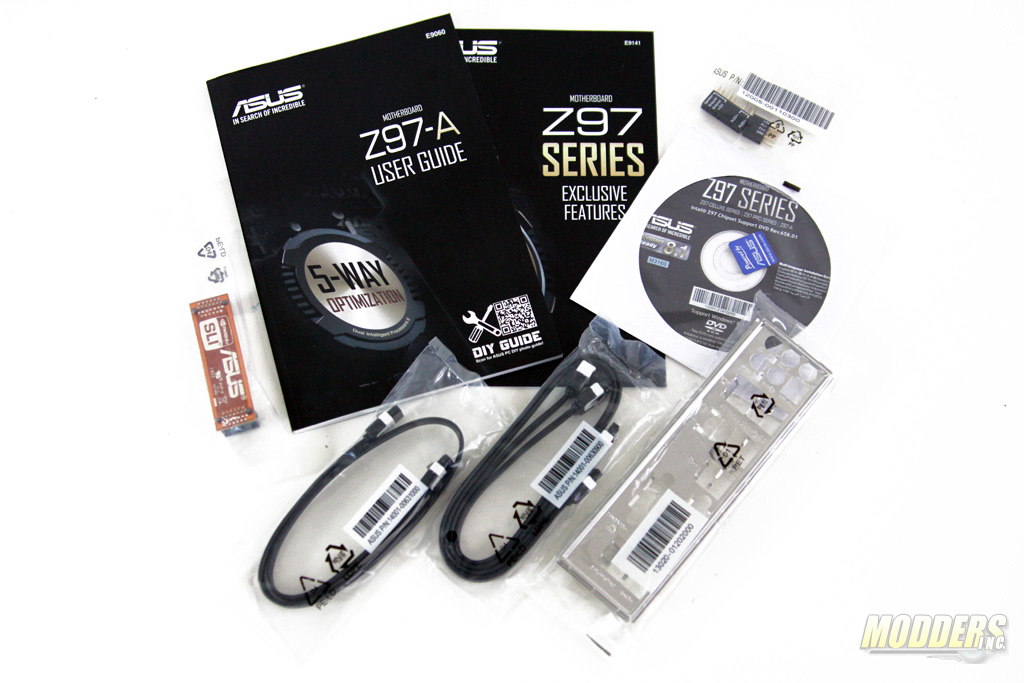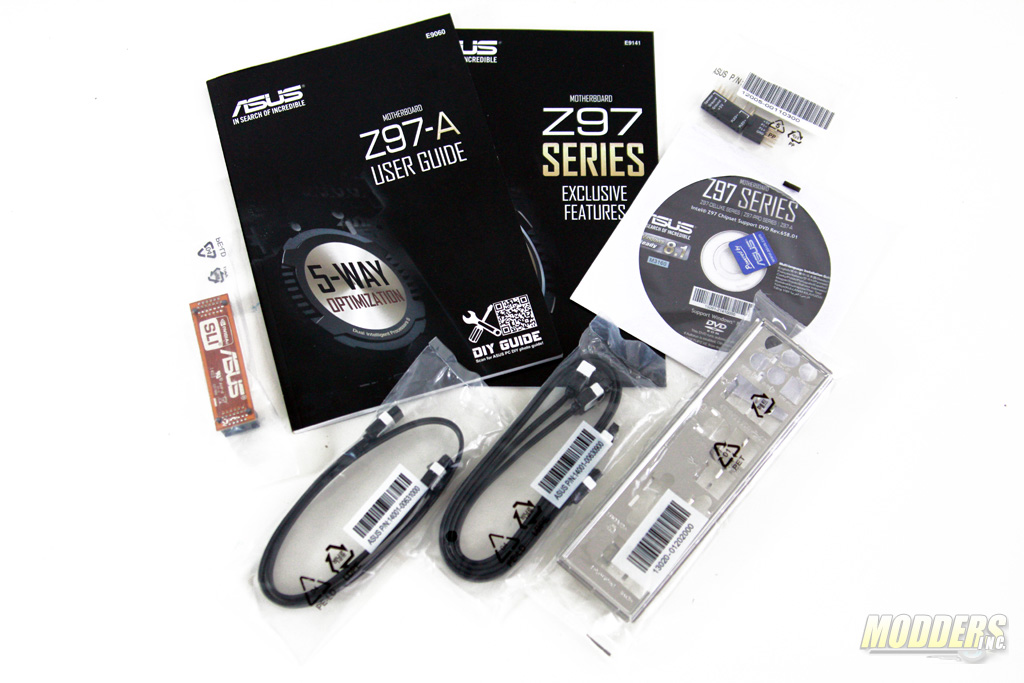 Specifications:
CPU
Intel® Socket 1150 for the 5th/New 4th/4th Generation Core™ i7/Core™ i5/Core™ i3/Pentium®/Celeron® Processors
Supports Intel® 22 nm CPU
Supports Intel® Turbo Boost Technology 2.0
* The Intel® Turbo Boost Technology 2.0 support depends on the CPU types.
* Refer to www.asus.com for CPU support list
Chipset
Intel Z97 Express Chipset
Memory
4 x DIMM, Max. 32GB, DDR3 3200(O.C.)/3100(O.C.)/3000(O.C.)/2933(O.C.)/2800(O.C.)/2666(O.C.)/2600(O.C.)/2400(O.C.)/2200(O.C.)/2133(O.C.)/2000(O.C.)/1866(O.C.)/1600/1333 MHz Non-ECC, Un-buffered Memory
Dual Channel Memory Architecture
Supports Intel® Extreme Memory Profile (XMP)
* Hyper DIMM support is subject to the physical characteristics of individual CPUs.
* Refer to www.asus.com for the Memory QVL (Qualified Vendors Lists).
Graphic

Integrated Graphics Processor- Intel® HD Graphics support
Multi-VGA output support : HDMI/DVI-D/RGB/DisplayPort ports
– Supports HDMI with max. resolution 4096 x 2160 @ 24 Hz / 2560 x 1600 @ 60 Hz
– Supports DVI-D with max. resolution 1920 x 1200 @ 60 Hz
– Supports RGB with max. resolution 1920 x 1200 @ 60 Hz
– Supports DisplayPort with max. resolution 4960 x 2160 @ 24 Hz / 3840 x 2160 @ 60 Hz
Maximum shared memory of 512 MB
Supports Intel® InTru™ 3D, Quick Sync Video, Clear Video HD Technology, Insider™
Supports up to 3 displays simultaneously
DP 1.2 Multi-Stream Transport compliant, supports DP 1.2 monitor daisy chain up to 3 displays
Multi-GPU Support

Supports NVIDIA® Quad-GPU SLI™ Technology
Supports AMD Quad-GPU CrossFireX™ Technology
Expansion Slots
2 x PCIe 3.0/2.0 x16 (x16 or dual x8)
1 x PCIe 2.0 x16 (x2 mode)
2 x PCIe 2.0 x1 *1
2 x PCI
Storage
Intel® Z97 chipset :
1 x SATA Express port, compatible with 2 x SATA 6.0 Gb/s ports
1 x M.2 Socket 3, with M Key, type 2260/2280 storage devices support (PCIE mode)
4 x SATA 6Gb/s port(s), gray
Support Raid 0, 1, 5, 10
Supports Intel® Smart Response Technology, Intel® Rapid Start Technology, Intel® Smart Connect Technology *2
LAN
Intel® I218V, 1 x Gigabit LAN, Dual interconnect between the Integrated Media Access Controller (MAC) and Physical Layer (PHY)
Gigabit Intel® LAN Connection- 802.3az Energy Efficient Ethernet (EEE) appliance
AUDIO
Realtek® ALC892 8-Channel High Definition Audio CODEC featuring Crystal Sound 2
– Supports : Jack-detection, Multi-streaming, Front Panel MIC Jack-retasking
Audio Feature :
– Absolute Pitch 192kHz/ 24-bit True BD Lossless Sound
– DTS Ultra PC II
– DTS Connect
– Optical S/PDIF out port(s) at back panel
– Audio Shielding: Ensures precision analog/digital separation and greatly reduced multi-lateral interference
– Dedicated audio PCB layers: Separate layers for left and right channels to guard the quality of the sensitive audio signals
– Audio amplifier: Provides the highest-quality sound for headphone and speakers
– Premium Japanese-made audio capacitors: Provide warm, natural and immersive sound with exceptional clarity and fidelity
– Unique de-pop circuit: Reduces start-up popping noise to audio outputs
– Top notch audio sensation delivers according to the audio configuration
– EMI protection cover to prevent electrical noise to affect the amplifier quality
USB Ports

Intel® Z97 chipset :
6 x USB 3.0/2.0 port(s) (4 at back panel, blue, 2 at mid-board)
Intel® Z97 chipset :
8 x USB 2.0/1.1 port(s) (2 at back panel, , 6 at mid-board)
Special Features

5-Way Optimization by Dual Intelligent Processors 5
– Whole system optimization with a single click! 5-Way Optimization tuning key perfectly consolidates TPU, EPU, DIGI+ Power Control, Fan Xpert 3, and Turbo App together, providing better CPU performance, efficient power saving, precise digital power control, whole system cooling and even tailor your own app usages.
ASUS 5X Protection :
– ASUS DIGI+ VRM – 8 Phase digital power design
– ASUS Enhanced DRAM Overcurrent Protection – Short circuit damage prevention
– ASUS ESD Guards – Enhanced ESD protection
– ASUS High-Quality 5K-Hour Solid Capacitors – 2.5x long lifespan with excellent durability
– ASUS Stainless Steel Back I/O – 3x more durable corrosion-resistant coating
ASUS TPU :
– Auto Tuning
– GPU Boost
– TPU switch
ASUS EPU :
– EPU
– EPU switch
ASUS Digital Power Design :
– Industry leading Digital 8 Phase Power Design
– CPU Power Utility
ASUS Exclusive Features :
– Remote GO!
– AI Suite 3
– Anti-Surge
– ASUS UEFI BIOS EZ Mode featuring friendly graphics user interface
– USB 3.0 Boost
– Disk Unlocker
– Turbo LAN
– Crystal Sound 2
ASUS Quiet Thermal Solution :
– Stylish Fanless Design Heat-sink solution
ASUS EZ DIY :
– Precision Tweaker 2
– ASUS O.C. Tuner
– ASUS CrashFree BIOS 3
– ASUS EZ Flash 2
– ASUS UEFI BIOS EZ Mode
– Push Notice
ASUS Q-Design :
– ASUS Q-LED (CPU, DRAM, VGA, Boot Device LED)
– ASUS Q-Slot
– ASUS Q-DIMM
– ASUS Q-Connector
Special Memory O.C. Design
Overclocking Protection :
– ASUS C.P.R.(CPU Parameter Recall)
Media Streamer
Turbo App
Fan Xpert 3
Operating System Support

Windows® 8.1
Windows® 8
Windows® 7

Back I/O Ports

1 x PS/2 keyboard/mouse combo port(s)
1 x DVI-D
1 x D-Sub
1 x DisplayPort
1 x HDMI
1 x LAN (RJ45) port(s)
4 x USB 3.0 (blue)
2 x USB 2.0
1 x Optical S/PDIF out
5 x Audio jack(s)
Internal I/O Ports

1 x USB 3.0 connector(s) support(s) additional 2 USB 3.0 port(s) (19-pin)
3 x USB 2.0 connector(s) support(s) additional 6 USB 2.0 port(s)
1 x SATA Express connector: , compatible with 2 x SATA 6.0 Gb/s ports
1 x M.2 Socket 3 for M Key, type 2260/2280 devices
1 x TPM header
4 x SATA 6Gb/s connector(s)
1 x CPU Fan connector(s) (1 x 4 -pin)
1 x CPU OPT Fan connector(s) (1 x 4 -pin)
4 x Chassis Fan connector(s) (4 x 4 -pin)
1 x S/PDIF out header(s)
1 x Thunderbolt header(s)
1 x 24-pin EATX Power connector(s)
1 x 8-pin ATX 12V Power connector(s)
1 x EZ XMP switch
1 x Front panel audio connector(s) (AAFP)
1 x System panel(s) (Q-Connector)
1 x DRCT header(s)
1 x MemOK! button(s)
1 x TPU switch(es)
1 x EPU switch(es)
1 x Power-on button(s)
1 x Clear CMOS jumper(s)
Accessories
User's manual
I/O Shield
3 x SATA 6Gb/s cable(s)
1 x SLI bridge(s)
1 x Q-connector(s) (2 in 1)
BIOS
64 Mb Flash ROM, UEFI AMI BIOS, PnP, DMI2.7, WfM2.0, SM BIOS 2.8, ACPI 5.0, Multi-language BIOS,
ASUS EZ Flash 2, CrashFree BIOS 3, F11 EZ Tuning Wizard, F6 Qfan Control, F3 My Favorites, Quick Note, Last Modified log,
F12 PrintScreen, F3 Shortcut functions, and ASUS DRAM SPD (Serial Presence Detect) memory information
Support Disc

Drivers
ASUS Utilities
EZ Update
Anti-virus software (OEM version)
Form Factor

ATX Form Factor
12.0 inch x 9.6 inch ( 30.5 cm x 24.4 cm )
NOTE
*1 : The PCIe x1_1/2 slots share bandwidth with M.2 Socket 3. The M.2 Socket 3 is default disabled.
*2 : These functions will work depending on the CPU installed.