Page 2 »
The Zero 2 is the descendant of the award winning Zero case engineered by those fanatical enthusiasts over at NZXT. It is a full tower case capable of holding just about anything you would possibly want to put into a computer. It is an enthusiast case designed with *lots* of airflow and ease of maintenance. So, will purchasing the Zero 2 make you a hero too? Let's dissect this bad boy and find out what we have here, shall we? 

Sponsor: NZXT
[hr]
First Impression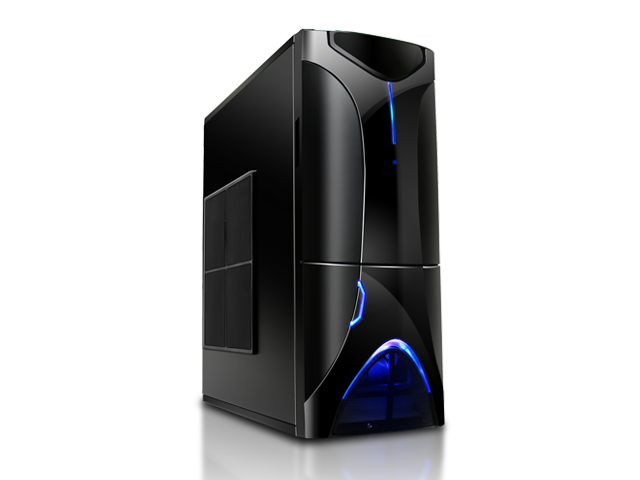 First impression…. This is a nice looking case! How is that for a first impression?  It appears durable (steel construction and 1mm steel)  and visually appealing. It looks well engineered with an external simplicity that would lend itself to a good computer build. The lines are tight. The front bezel lines where it attaches to the case are straight and properly gapped, and the upper bezel door is aligned properly and closes without any friction or effort. I am immediately struck by the contrasting glossy/smokey chrome-esque front bezel, the blue lighting that emanates from the front of the case. It is eye catching without being overt and aggressively brutal. It *looks* cool with nothing in it… and that says a lot. The engineering on the front bezel may turn off some people looking for the "next clean and basic" case, but if you are reading this review, you want a case that looks different without all of the work that goes into a uber super custom build.
People talk of the shipping box and the packing…. I think we all know that if you purchase a case… the more you spend, the more engineering goes into protection of the case. At $99USD, this case is not cheap, but it is not (pricewise) a high end case either. The packing is a formed styrofoam packing foam that is made up of compressed styrofoam pieces.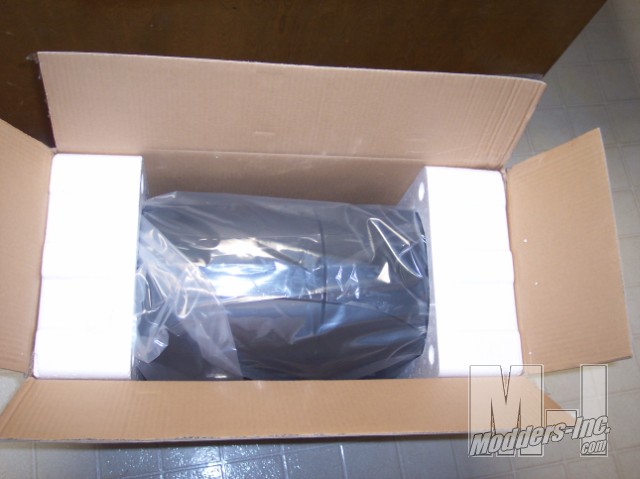 What this means is that when you pull the case out of the box, you are going to have a statically charged snow storm of magnetic white styro pieces… great fun for cats! Not so much fun when they lodge deep in the pile of the carpet. So, open the case on a tile, concrete, or hardwood floor and save yourself some misery.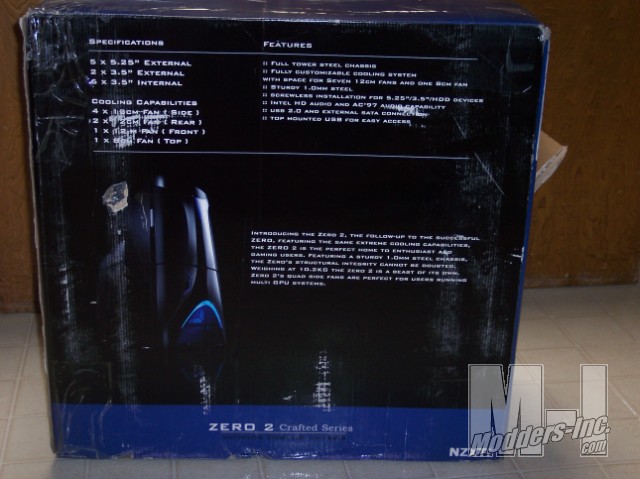 Box was sturdy cardboard and arrived to me in relatively good shape. The box was a bit messed up, but the case was unhurt… lending credence to their packing decisions.
Info on the box was standard fare for a computer case, but just to be safe, here are some of the important points:
MODEL
Zero 2 SERIES
CASE TYPE
FULL TOWER Steel
FRONT PANEL MATERIAL
PLASTIC
DIMENSIONS (W x H x D)
210.5 X 532 X 536 mm
COOLING SYSTEM

FRONT, 1 X 120mm Blue LED (included)
REAR, 2 X 120mm (included)

TOP/BOTTOM, 1 X 80mm, 2 x 80mm fans (optional)

SIDE, 4 x 120mm (optional)

DRIVE BAYS
13 DRIVE BAYS
5 EXTERNAL 5.25″ DRIVE BAYS
2 EXTERNAL 3.5″ DRIVE BAYS
6 INTERNAL 3.5″ DRIVE BAYS
Screwless Rail Design
MATERIAL(S)
Steel Construction
EXPANSION SLOTS
7
POWER SUPPLY
500 WATT PS2 ATX 12V 2.0 ( OPTIONAL )
WEIGHT
10.2 KGS (W/O Power)
MOTHERBOARD SUPPORT
MOTHERBOARDS: ATX, MICRO-ATX, BABY AT
Features
 
Full tower steel chassis
Quad 120mm fans dedicated for CPU and GPU cooling
Dual 120mm exhaust
Screwless installation for 5.25″ and 3.5″ devices
Intel HD audio compatibility
Top mounted USB, Audio, and E-SATA Ports
Sturdy 1.0mm steel chassis
As for the computer case inside, well… It is big…. it is sturdy… and it is heavy. It has four 120mm fans arranged over the CPU/GPU area of the machine via the removable side door you would use to install your components. It has two 120mm exhaust fans on the rear, and a single 80mm fan hole in the top of the case. You purchase this case, you had better like wind!
Case feet are a soft rubber compound so vibration should be isolated from the floor or the desk where ever the machine will reside.
The Bezel door is heavy. It is shiny, glossy plastic. It is secured by a magnet, and opens/closes confidently and not flimsily. I have oily, alkaline skin. What that equates to is that my skin eats the finish on poorly plated watches, and consumes leather watch bands for breakfast! In the instance of a computer case, this means that my fingers are prone to smudging the case if the colors are shiny or dark.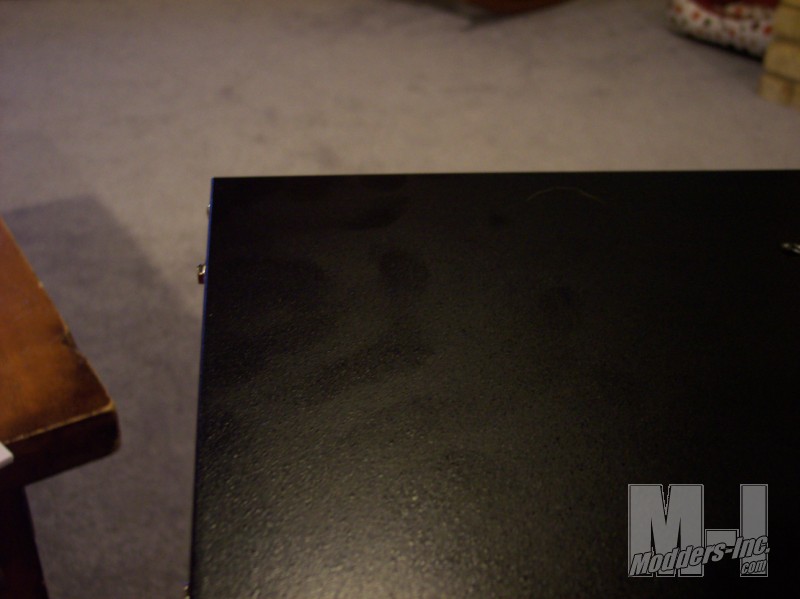 Not the fault of the case, but just something to be aware of if your hands and skin are of the same type as mine. Moving the case around, I have left smudges on the glossy front and the matte black case itself. Definitely keep a microfiber rag nearby to clean it if you are anal about machine appearance as I am. Again, not a fault of the case, as it cannot magically change my oily skin and pH levels. Just something to keep in mind.