Page 2 »
The good folks at Thermaltake, fresh off the heels of the Spedo gaming chassis, have taken a step in a slightly different direction with their newest chassis design with the Element Series. The Element Series, which bares the tag line Create for Pros, is more targeted towards the professional market than the usual gamer market. With the smooth corners, a matte black finish and subtle red edging around the door, it seems that Thermaltake has gone with a more subdued, stealth-like if you will, appearance package to the first release in this series. Today we will be taking a look at the first release in the Thermaltake Element Series, the Thermaltake Element S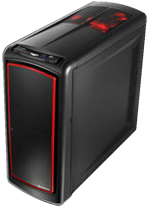 Sponsor: Thermaltake
[hr]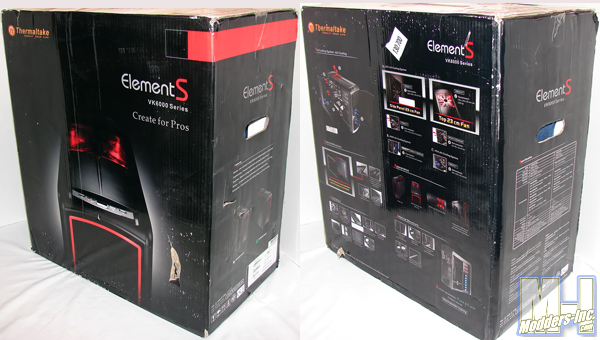 The Thermaltake Element S comes packaged in a stylish black box with a large picture of the upper portion of the case on the front and plenty of informative pictures of the case's features on the rear. The case specifications can also be found in text on the side of the box.

  Inside we find that the case encased in two styro-foam end caps, to keep it from any damage during shipping or while in storage. It is also wrapped in a very nice blue cloth like bag that has the Thermaltake name and logo printed on it. This is done to prevent the case from receiving any scratches and prevent it from getting dusty. Just inside the box we find the owners manual.
Specifications: 
Case Type
Mid Tower
Material
SECC
Front Bezel Material
Plastic
Color
Black
Side Panel
Solid
Motherboard Support
Micro ATX & Standard ATX
Motherboard Tray
No
5.25″ Drive Bay
3
Ext 3.5″ Drive Bay
0
Int 3.5″ Drive Bay
7
Expansion Slots
7
Front I/O Ports
USB 2.0 x2, eSATA & HD Audio ports
Cooling System
Front (Intake): 120 x 120 x 25 mm TurboFan, 1300 RPM, 17 dBA : 120 x 120 x 25 (optional)

Rear (Exhaust): 140 x 140 x 25 mm TurboFan, 1000 RPM, 16 dBA

Top ** (Exhaust): 230 x 230 x 20 mm Red LED fan, 800 RPM, 15 dBA

VGA (Exhaust): Two 60 x 60 mm fan (optional)

Liquid Cooling Capable
No
Liquid Cooling Embedded
No
Power Supply Supported
Standard ATX PSU (optional)
Power Supply Included
No
Dimension (H*W*D)
21.3 x 9.1 x 19.9 in
505 x 230 x 540 mm
Net Weight
19.49 lbs
8.84 kg
Warranty
3 Years
** Thermaltake's specifications list the top fan as being a 230mm fan. However, after removing the top and actually measuring the fan (because it seemed a tad small), I found it to only be a 200 x 200 x 20 mm fan.
 Features: 

Anti-vibration and noise reduction material on side panels
Stealth Black Interior 
Massive  Storage Capability with 7 x 3.5″ and 2 x 2.5″HDD bays
Direction-free HDD cage
Excellent thermal performance with optimal air flow
Folding edge design to strengthen structure and prevent cutting