CPU Cooler
CRYORIG C7 CPU Cooler Review: On the Topic of Clearance
Closer Look at the CRYORIG C7 »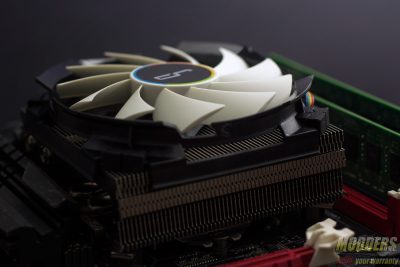 It is compatibility, not performance that is the top priority when it comes to low-profile coolers. This is why you won't see me comparing $30 low profile coolers with dual-tower giant heat sinks. It simply does not make sense when the product class is not put into context and this is very important when the cooler is going to operate in tight spaces. In small form factor builds, height is often a limitation and the use of a mini-ITX motherboard limits component compatibility as well. Noise level is also a concern because part of the idea behind building a small PC is that it must operate discreetly.
At a height of only 47mm, CRYORIG's C7 is a compact cooling solution compatible across all current AMD and Intel 115x motherboards. The flexibility of this compatibility extends toward component clearance as well for the CRYORIG measures a scant 97 x 97mm square so that there is no RAM or PCI-E mounting interference. Priced at $29.99, the CRYORIG C7 also carries a 3-year warranty should it ship with a defect out of the box, lost parts or should the built-in 92mm slim fan stop working.
[sc:sponsor sponsor="CRYORIG" product_link="http://www.cryorig.com/c7_us.php" product_name="CRYORIG C7 CPU Cooler" product_price_link="http://amzn.to/1YLFobN" product_price="$29.99 (MSRP)" ]
The  CRYORIG C7 ships in an equally compact 92 x 116 x 122mm box with full specifications including heatsink dimension measurements printed at the back.
The contents are housed in a secondary box that holds things in place and acts as shock absorber in lieu of foam padding. Considering the $29.99 price tag, this is not surprising. The box offers decent protection against drops by folded corners isolating the heatsink fins so that they don't get damaged.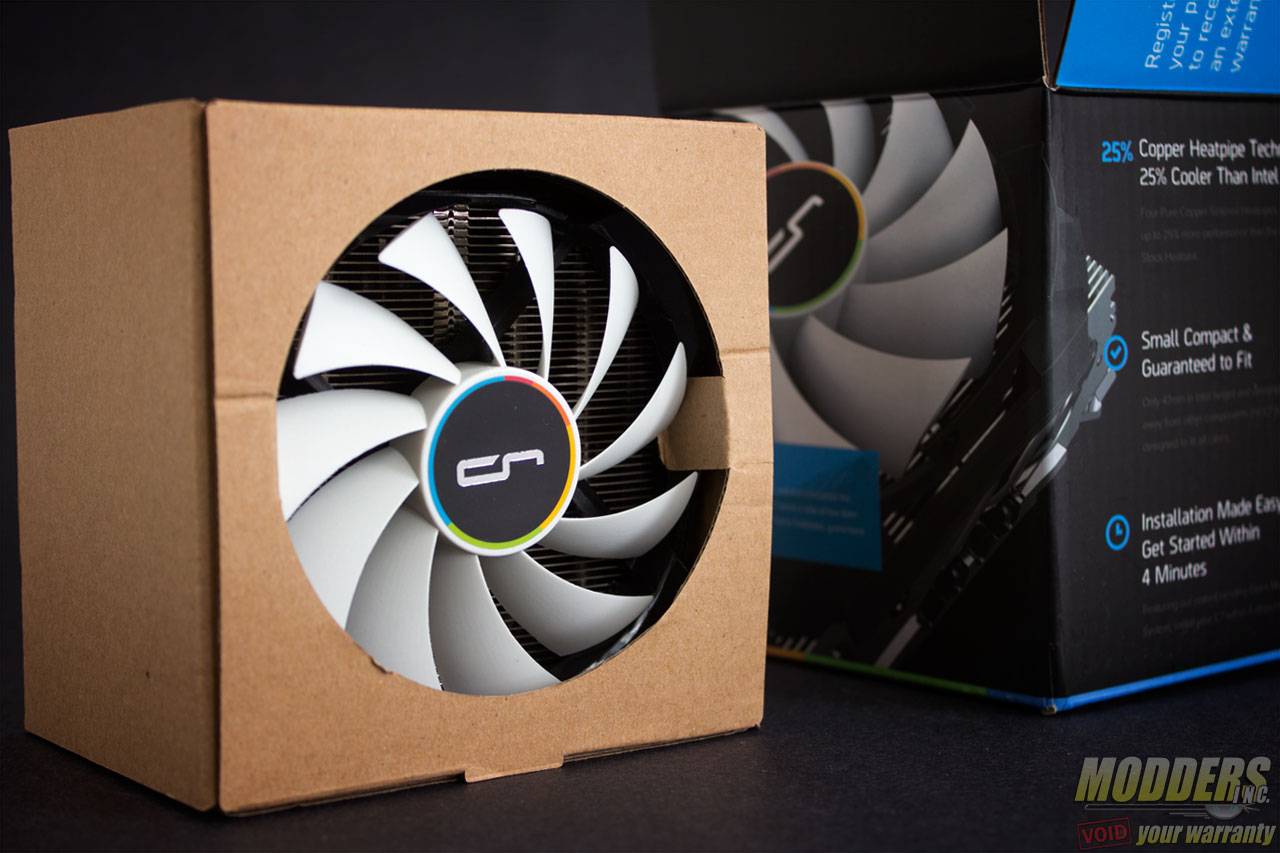 Most of the CRYORIG C7 assembly comes part of the main heatsink body already so there are minimal extra accessories to fiddle about. Aside from the actual C7 heatsink, accessories in the package include a fold-out installation manual, full-size thermal interface material, four hex nuts, universal AMD/Intel backplate, hex nut driver and a sealed product registration card. Signing up as VIP (free) and registering the product on CRYORIG's website doubles the standard warranty, extends customer support as well as render the user eligible for VIP member prize draws.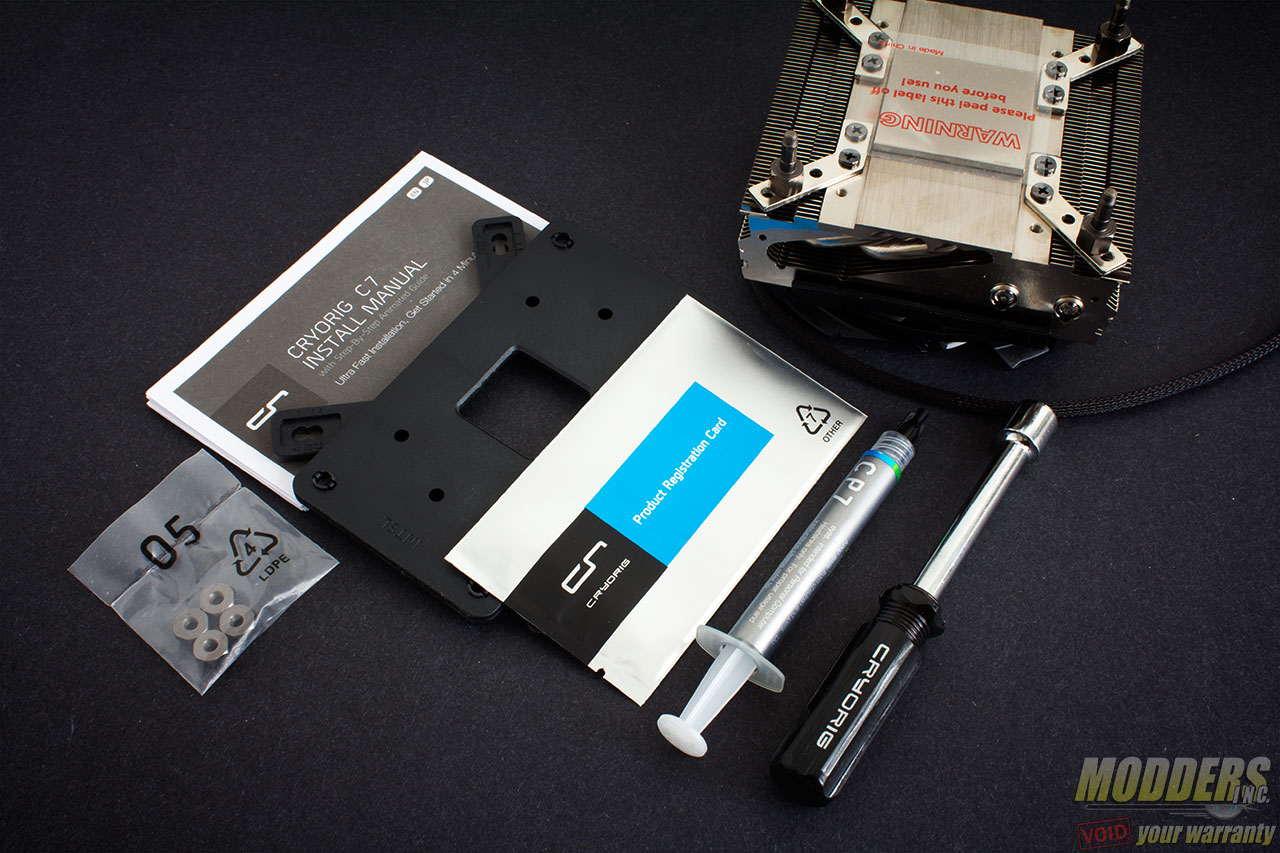 Specifications:
HEATSINK SPECIFICATION
Dimension ( with fan )
L97 mm x W97 mm x H47 mm
Weight ( with fan )
357 g
Weight ( without fan )
295 g
Heat pipes
6mm heatpipe x 4 units
Fin
T = 0.4 mm ; Gap = 1.2 mm
Fin Pcs
57 pcs
Copper Base
C1100 Pure copper nickel plated
RAM Height Limit
Limitless
TDP
100 W
FAN SPECIFICATION
Dimension
L92 mm x W92 mm x H15 mm
Weight
62 g
Rated Speed
600 ~ 2500 RPM ±10 %
Noise Level
30 dBA
Air Flow
40.5 CFM
Air Pressure
2.8 mmH2O
Ampere
0.2 A