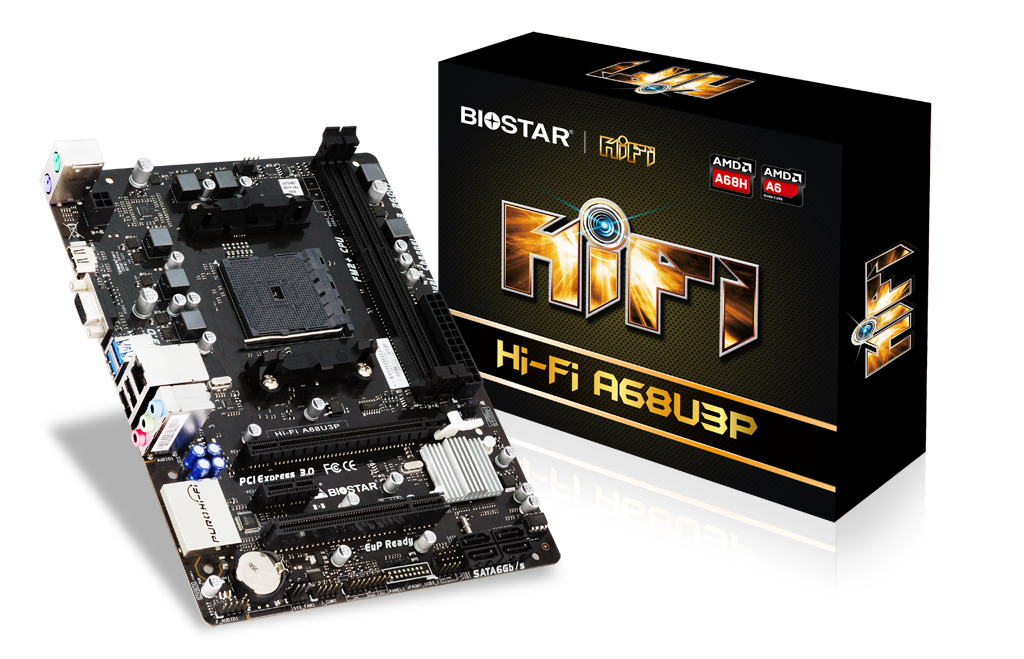 With AMD's launch of the FM2+ "Godavari" class of APUs today, Biostar has been in preparation of a complete series of mainboards for the supporting chipsets such as the BIOSTAR Hi-Fi A88W 3D, Hi-Fi A70U3P and Hi-Fi A68U3P. To make upgrading even easier, these boards also have backwards support for previous generation FM2+ / FM2 APUs.
These new Godavari AMD APUs are AMD socket FM2+ and will feature an upgraded CPU and GPU architecture. The new Godavari APU are part of the Kaveri-Refresh platform which is aimed to re-fresh the current Kaveri APUs with the new 8000 series branding utilizing the x86 Steamroller core and GCN graphics architecture.
The BIOSTAR Hi-Fi A88W 3D, Hi-Fi A70U3P and Hi-Fi A68U3P all have features such as onboard LAN, PCI Express 3.0 x16, SATA 6Gb/s, and USB 3.0. And with BIOSTAR's enhancements to these new FM2+ boards users will enjoy mainboards that excel in additional areas of BIOSTAR expertise such as the BIOSTAR Audio+, Video+, Speed+, Protection+, Durability+ and DIY+.
For more info on BIOSTAR's AMD motherboards go to: http://www.biostar.com.tw/app/en/mb/socket.php?S_ID=21
View BIOSTAR Latest Video at:
About BIOSTAR
BIOSTAR is a manufacturer dedicated to the production of motherboards, graphics cards and industrial computing systems. Since its establishment in 1986, the BIOSTAR GROUP has become a major motherboard supplier in the PC industry. In order to pursue continuous growth, BIOSTAR has invested heavily in acquiring the physical and human resources to excel at research and development. With a constant emphasis on quality, BIOSTAR always seeks to offer products with the highest price-performance ratio.