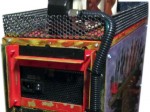 Real Name: Loran Lindberg
Age: 43
Location: Grand Forks, North Dakota. USA
Occupation: I work for a bus company
Years in Computers: 20+
Length of time modding: 8 years
Personal Website(s): Facebook,
The Build: Brimstone
Words from the modder:
Around two and a half years ago I stumbled across an old Antec SX 830 computer case that was thrown away. I saw it in a dumpster and knew what it was; and said your coming home with me.
 As time went by I had ideas for it but sometimes they feel through, purchased equipment for it that was good at the time; but eventually went bad, and messed up my plans once more.
So, I started to buy top rated equipment, and eventually went back to work on it, in my kitchen; at my apartment. That eventually turned out to be my garage and my paint booth. From cutting metal, to coming up with the paint scheme, the overall theme, and the color which it was going to be.
Now it was time to make this case over exceed its designed abilities. I drilled out all the rivets, cut out the entire front panel and took away the two 80 millimeter fans to make room for a single 120 millimeter fan. Cut sheet metal, riveted it in and then cut the 120 millimeter hole with a hole saw. While I was doing this I decided to cut an access hole for the CPU in the mother board tray and from there it sort of got out of hand and BRIMSTONE came alive.
I chose this idea to be a HELL and back theme because of where my life was and what I have gone through. And when one searches for Brimstone it relates to fire, sulfur, fierceness, destruction, and weight. It consists of steel, stainless steel, and aluminum.  And after it was all said and done, it weighed a little over 40 LBS loaded with the equipment.
Now it was time to paint it all and every panel was an alternating color red or black. So, I chose deep blood red paint and black gloss paint which I eventually changed the color due to the theme. I cut two plexi glass panels to fit the front and back of the case and I did my own etching for the theme as well.
Now it was time to load the equipment. This became a water cooling project that too had its ups and downs. Because of a pump and tubing issue, which were replaced? So, here we go again what I have in this build is a ASUS Sabertooth 990FX mother board, AMD FX 6300 Vishera 6 core processor, 16 GIG of Corsair Vengeance memory, WD Raptor 300 GIG hard drive, Power Color R9 270X Devil video  card, Sound Blaster Audigy 2 ZS Gamer Limited Edition sound card, and a Thermaltake Smart M850 Watt power supply. And now to the water cooling equipment; Cpu cooler EK Supreme HF, Reservoir EK Bay Spin (PLEXI) edition, Radiators; EK Coolstream RAD XT 240 DOUBLE, and a EK Coolstream RAD XTC  140 SINGLE, water pump; Swifttech Mcp655 variable speed, the fittings are from Koolance due to size of the tubing, the tubing is from Fesser. The fans for the cooling are from Noctua (2) NF-R8 PWM 80MM, (2) NF-P12 120MM, AND (1) NF-A14 FLX 140MM.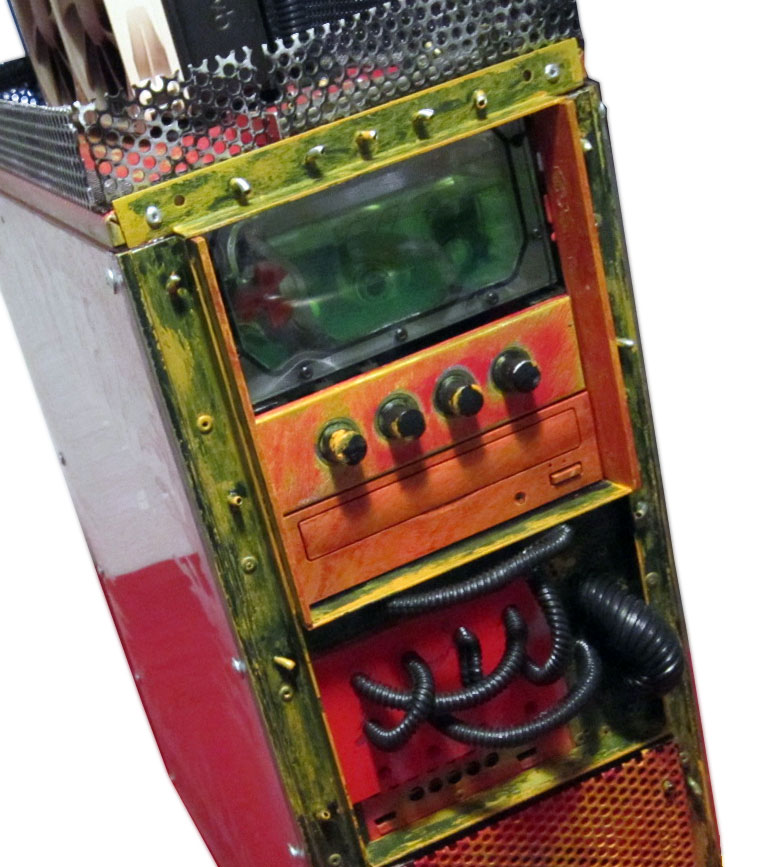 Everyone has a story of what got them into Modding. What or whom got you into Modding?
It is a form of self expression, and I wanted to make this completely different. Than to just have the basic black box from some mass produced company; but to have something that I built, designed, and crafted with my own hands, sitting on my desk top.
Where do you get your inspiration from for your mods?
I watch other peoples computer builds and projects; on YouTube and Facebook. And also when I saw Bill Owen doing and crafting his mods. I said, that I can do that; and started giving it a go ahead.

What were the thoughts behind the featured mod?
All my projects were either for me or my family. I finally wanted to get noticed for my talents and my design abilities and also  to get recognized in the computer modding community and maybe to go somewhere with my work and abilities and make a better living.

Why did you do it the way you did?
I choose to do something that no one else would do. I took a case, over exceeded its design abilities and made it so abstract, very weathered to represent my life and how it has been. When it was all said and done "A truly tough exterior with extreme awesomeness on the inside."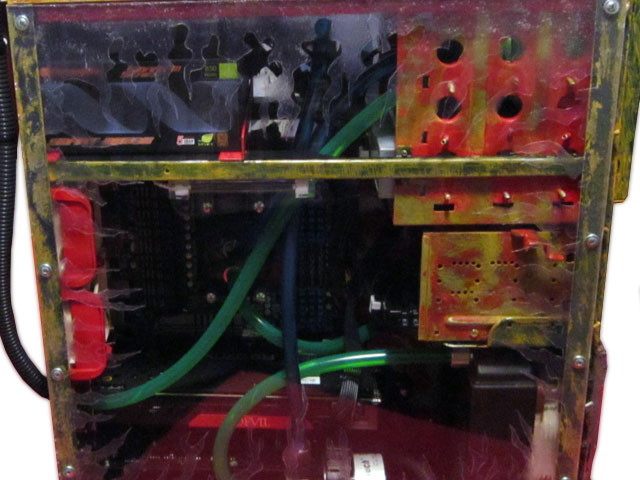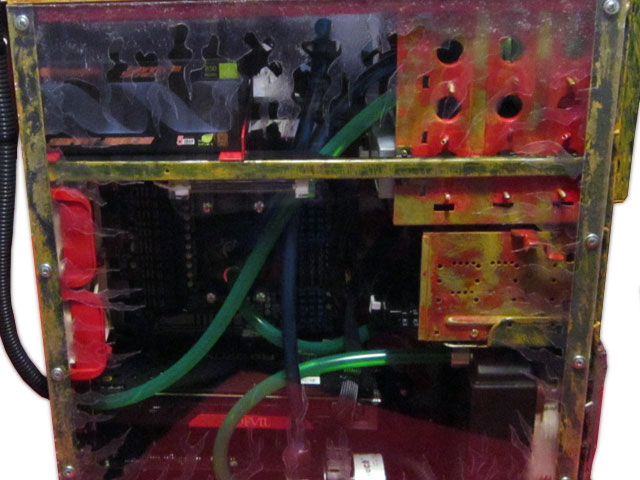 What do you think was the hardest part about doing the mod?
To keep improving on the overall design, and to stay with it; and to have the patience to not give up on this build.
Did it turn out how you thought it would?
When I saw my design coming together It kept me wanting to see it finished. As it finally came together it truly over exceeded my expectations when it was finally done.
Is there anything you might have wanted to do different?
I learned to not try to buy everything individually. But, to have everything together for the build. And to make sure not to have anymore used equipment, but to have equipment that is brand new. And also to have the time to finally get the project and in a shorter time frame.
How much time did you spend on the mod?
Close to 2 years and over a 1000 hours.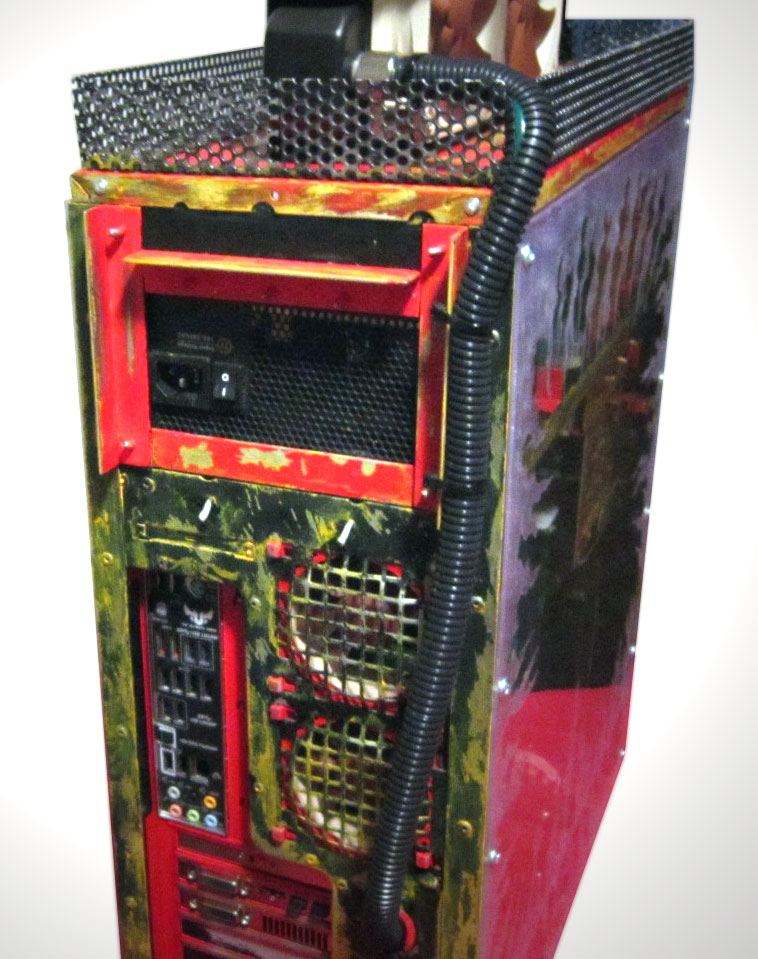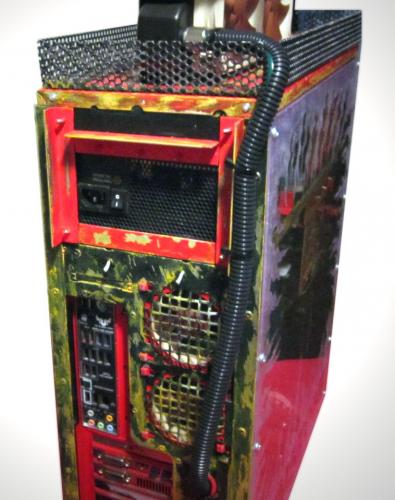 Do you have another project in the shop or in the planning?
Yes, I have two that are on the design table. I have another Antec SX830 for a build and I just purchased a Corsair 750D. Both will be water cooled in some way or another in the near future.
Thank you for your submission Loran and we are looking forward to seeing your next creative project.