Steven Ellis created a case that brings me back to the 60′ and 70′ with the black light and neon colors. The great thing about using UV lighting in a case is that you can get that bright color POP without having blinding lights.
So Steve please tell us about your case mod…
It was very hard choosing a name for this build but for some reason this just popped in my head and I looked it up on Google and it was a match made in heaven.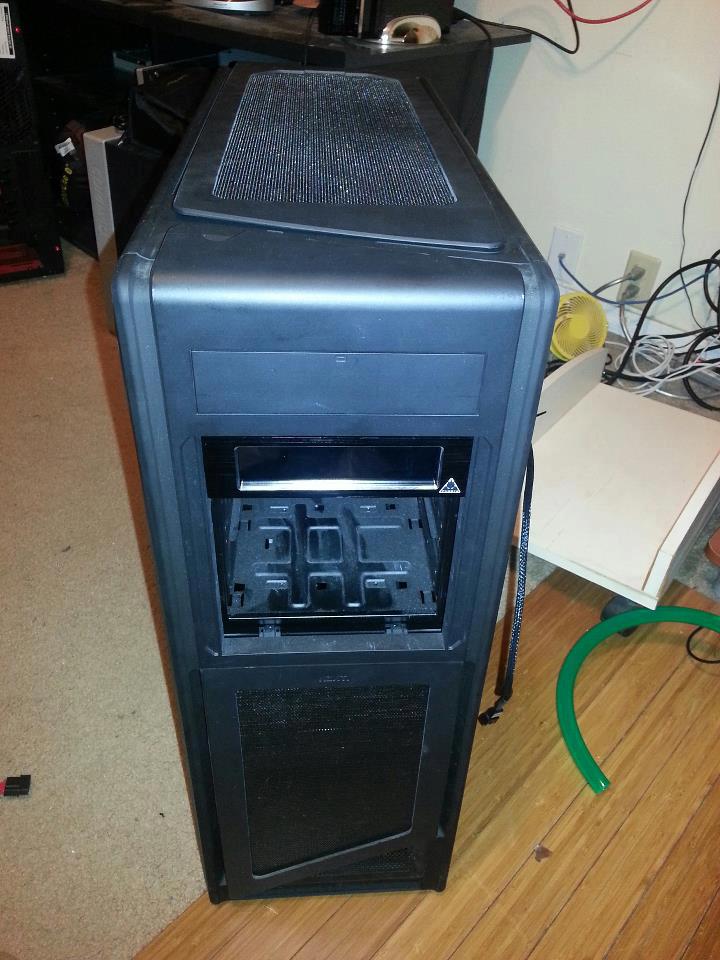 This build came about because of my old Asus Crosshair IV Formula board dying on me   *RIP*
So the Idea for this build started out as Black and Green. But thought how many people have done just 2 colors. I wanted something a little different so I decided to go with black, red, green as the main colors along with an NZXT Hue RGB Lighting for more colors as it has a mode that cycles through multiple colors. There are a lot of "custom features" to this build, I got some car LED's and wired 12v molex plugs to them and they have a bunch a different modes on them and I placed them under the top panel so it has a glow effect.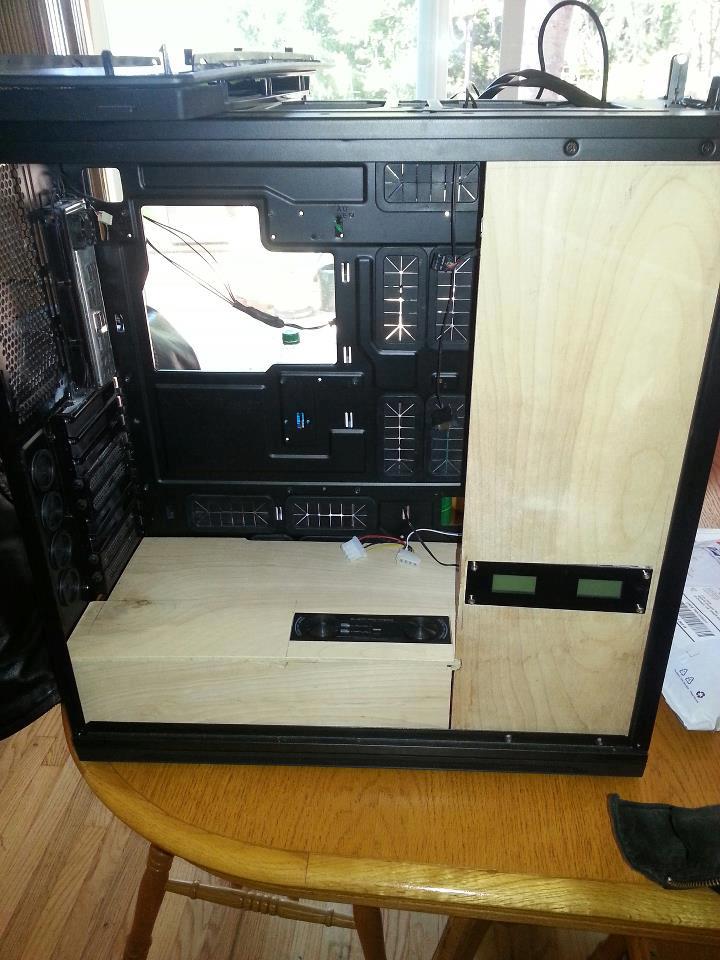 The top panels vents were cut out and replaced with mesh along with the front solid panel, I made a cut out and replaced it with mesh for better air flow. On the inside of the case I made a PSU cover with 2 cut outs one for the PSU controller and another for a rocker switch to turn the lights on and off. Also I made a drive bay cover with a cut out for a pair of XSPC temp displays that monitor my CPU and GPU temps. At the bottom of the case where the fan cut outs are, I made a aluminum plate to cover them to prevent more dust and so I could have a little more room to mount things like the SSD's or Reg 3.5 HDD. I then made some of my own female > female molex adapters for the Bitspower X Station since if i were to buy them it would cost a lot more. Also all the stock LED's on the case were changed to green.
Specs –
Case – Switch 810
Motherboard – EVGA Z68 FTW
CPU – i7-2700k
Ram – 16gb Gskill Ripjaws X series 1600Mhz
Video – Sapphire 7950
PSU – CM Silent Hybrid Pro 1050W PSU
SSD's – 2 40gb Intel SSD's Raid 0 (Boot Drive), 1 Corsair Force 3 240gb SSD (Games)
Water Cooling Gear –
2 Black Ice GT Stealth Radaitors, 1 360mm 1 240mm
CPU Block – EK Supreme LTX Nickel
Motherboard Block – Heatkiller EVGA Z68 FTW
GPU Block – EK FC7950 Copper Plexi
Res – Bitspower 150 Multi Z
Tubing – Primochill Advanced LRT Atomic UV Green Limited Ed 1/2 – 3/4
Fittings – Bitspower
Coolant – Mayhems X1-UV Emerald Green
Extra Stuff –
Bitspower X Station II
Bitspower LED Station
2 5mm LED's for Pump Top (Green)
2 3mm LED's for CPU Block (Green)
XSPC Temp Displays (Green)
EVGA Control Panel (Shows temps and voltage of the board)
NZXT Hue RGB Lighting Kit
Phobya fan controller (6 Channels 30W Per Channel)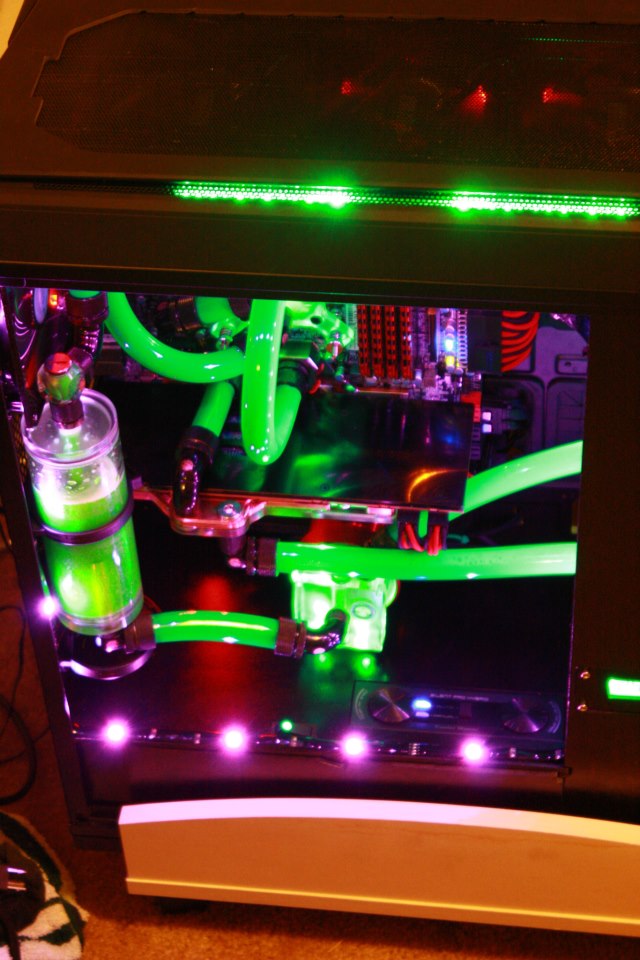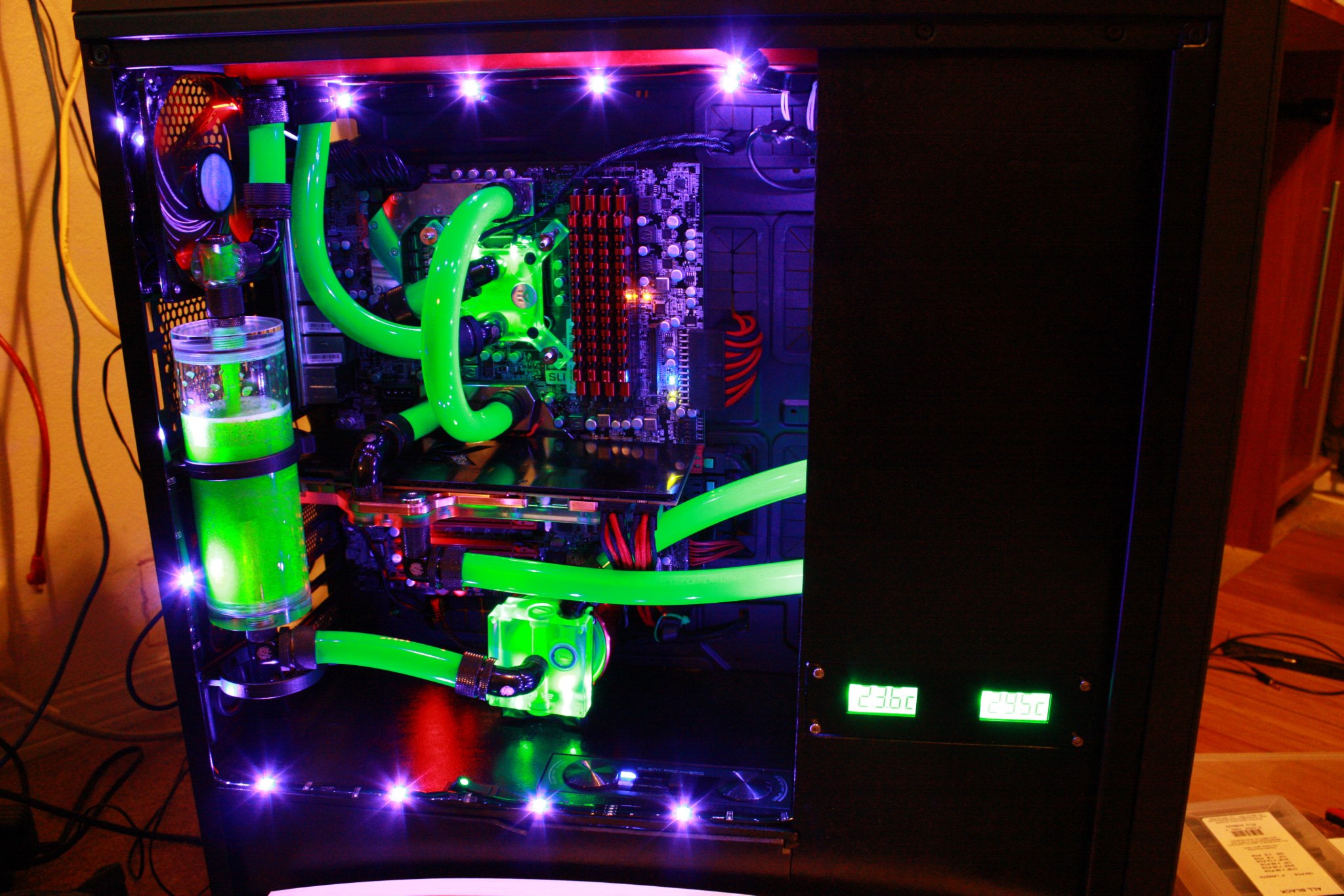 [sc:Submit_Case_Mod ]