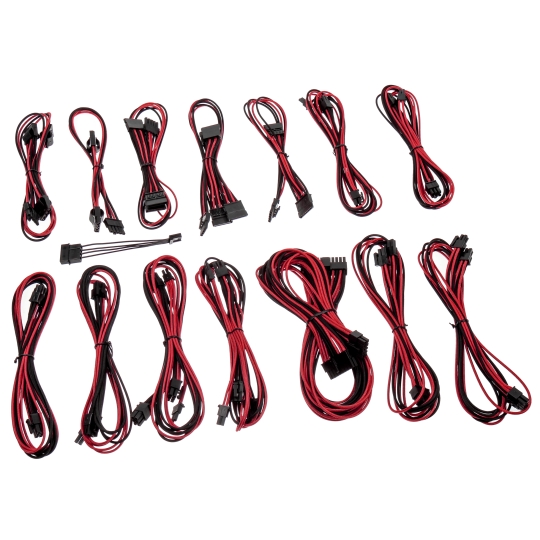 Premium sleeved cable provider CableMod has released a much-awaited series of kits for Cooler Master's V-series power supplies. The kits are available in various solid as well as dual combination colors compatible with Cooler Master's modular power supply range.
CableMod Launches CM-Series Kits
Premium Cables Designed for Cooler Master V Series PSUs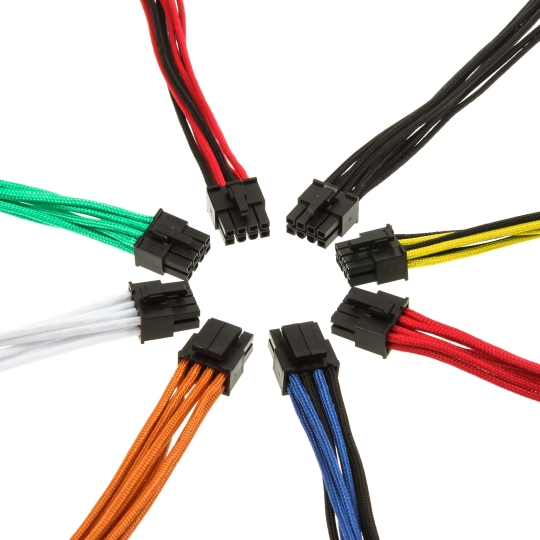 Since the launch of CableMod cables, users have been urging us to introduce new cable kits compatible with more power supplies. One of the most often requested brands is Cooler Master®, and today, CableMod is proud to launch CM-Series Premium Cable Kits designed for Cooler Master V Series PSUs. Made from premium materials and available in a wide variety of luscious colors, CableMod CM-Series Premium Cable Kits add the perfect finishing touch to any V Series build.
Traditional cable extensions complicate cable management by adding additional length to each cable. Instead, CableMod cables are complete power supply cable replacements, which means less cable clutter and a uniform look across the entire cable length. Our exclusive ModFlex™ sleeving lends excellent flexibility for easy cable management, and a wide assortment of colors and color combinations means there's a CableMod Cable Kit that's perfect for your build.
CableMod CM-Series Premium Cable Kits will launch with the following colors:
Solid Colors
Combo Colors         

Black
Red
Blue
Green
Orange
White

Black / Red
Black / Blue
Black / Green
Black / Orange
Black / Yellow
Black / White
Here is a list of the PSUs and models that currently work with CableMod Cable Kits:
| | | |
| --- | --- | --- |
| Cable Series | Made For | Compatible Models |
| CM-SeriesNEW! | Cooler Master® | V Series |
| B-Series DPP | be quiet!® | Dark Power Pro 10, 11 |
| B-Series SP | be quiet!® | Straight Power 10 |
| C-Series | Corsair® | AX, AXi, HXi, RM |
| E-Series | EVGA® | G2, P2, T2 |
| SE-Series | Seasonic® | XP2, XP3, KM3, FL2 |
For a complete list of compatible models, check out our compatibility list:
http://www.cablemod.com/compatibility
Which power supply should we develop cables for next? Let us know on our CableMod Facebook Page (http://fb.cablemod.com/) and check out our official homepage (http://www.cablemod.com) for the latest CableMod announcements!
About CableMod
Made from premium materials and crafted with the utmost care, CableMod cables are engineered for more than just function; they are built to delight and inspire. By utilizing choice components, these cables are constructed without the use of unsightly heatshrink. Tweaked with input from the modding community and offered in a large selection of colors, CableMod cables can turn even the most ordinary systems into works of art. For more information, visit the official website at http://www.cablemod.com.