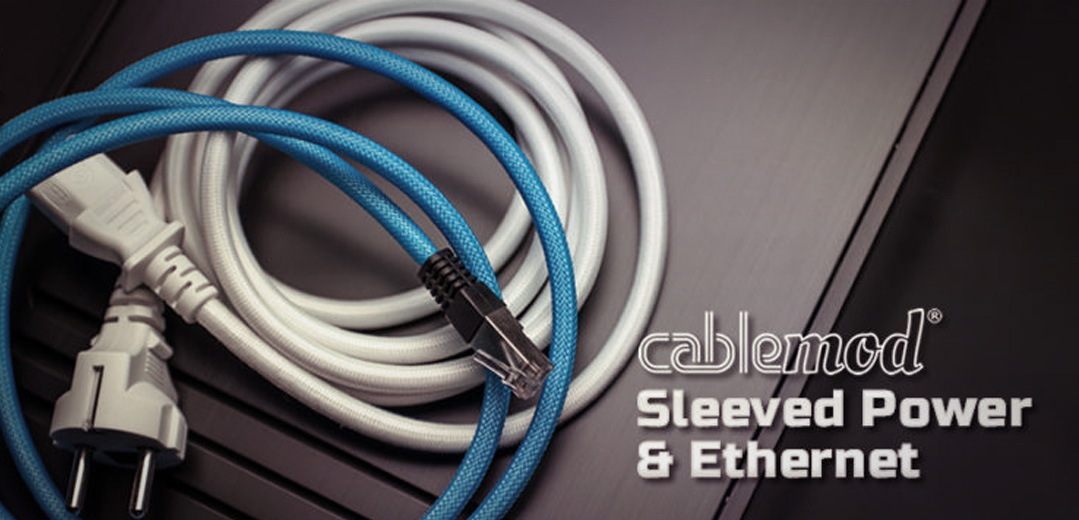 Custom cabling is no longer limited to components inside your case as custom cable provider CableMod now offers custom sleeved power and ethernet cables. CableMod offers ModFlex or ModMesh sleeving material versions for these cables at two meters long. The CableMod power cable uses heavy-duty 16AWG wires and comes UL-approved in a variety of colors. Various plug types are also available. The CableMod sleeved ethernet cables on the other hand uses pure copper 24AWG wires available in one meter or two meter CAT6 configurations.
ModFlex is a soft cloth braid with a very dense weave. ModMesh on the other hand is a PET-based cover, offering a slightly more rigid sleeve than ModFlex. This rigidity also means that it is more durable and resistant to handling. ModMesh colors are also generally more luminous and many are UV reactive.
Available colors for the ModFlex version includes:
Black
Red
Blue
Green
White

Available colors for the ModMesh version:
Blue
Blood Red
Carbon
Grey
Black
Light Blue
Light Green
Orange
Red
Silver
White
CableMod cables are available in a variety of stores depending on your area. In the US, CableMod products are available through Performance-PCs, NewEgg.com or through Micro Center. In Canada, NCIX carries CableMod products. For information on your local region's CableMod distributor, visit: https://cablemod.com/where-to-buy/
The 1M length CAT6 ModMesh or ModFlex cables are priced at $14.90 while the 2M version is priced at $19.90. The ModMesh or ModFlex sleeved CableMod power cables on the other hand are priced at $24.90.
For more information on the CableMod Sleeved Power and Ethernet Cables, visit: https://cablemod.com/cablemod-sleeved-power-and-ethernet-cables/