PC Mouse
CM Storm Mizar Mouse: A Shot at Greatness
« Software and Firmware
Experience and Final Thoughts

The CM Storm Mizar may be light at only 87 grams but it is not a lightweight in terms of delivering performance especially compared to other Avago 9800 laser sensor mice offerings. It is also competitively priced at only $59 making it easy to recommend even for those on a limited budget. While the design is heavily influenced by the Microsoft Intellimouse Explorer 3.0, the shape is smaller and is also a lot more manageable across all settings due to the lighter weight and the lighter cabling. The cable is braided which helps with durability but unlike other mice that have stiff cable braiding that limits movement, the CM Storm Mizar cable is a lot more negotiable and does not snag.
The scrollwheel is light but tactile, making it very good for gaming as the moving it does not drag but stops are not missed like when scrolling through an inventory for example. The middle click requires a bit more force than other switches however so it is not the most ideal to map this middle clicker as a rapid input button. The side-buttons are perfectly placed and reachable with the thumb, sitting slightly higher so there is very little chance of being accidentally pressed. The rubberized grips on the side also have very good coverage so that even with minor finger slips, control is not completely lost.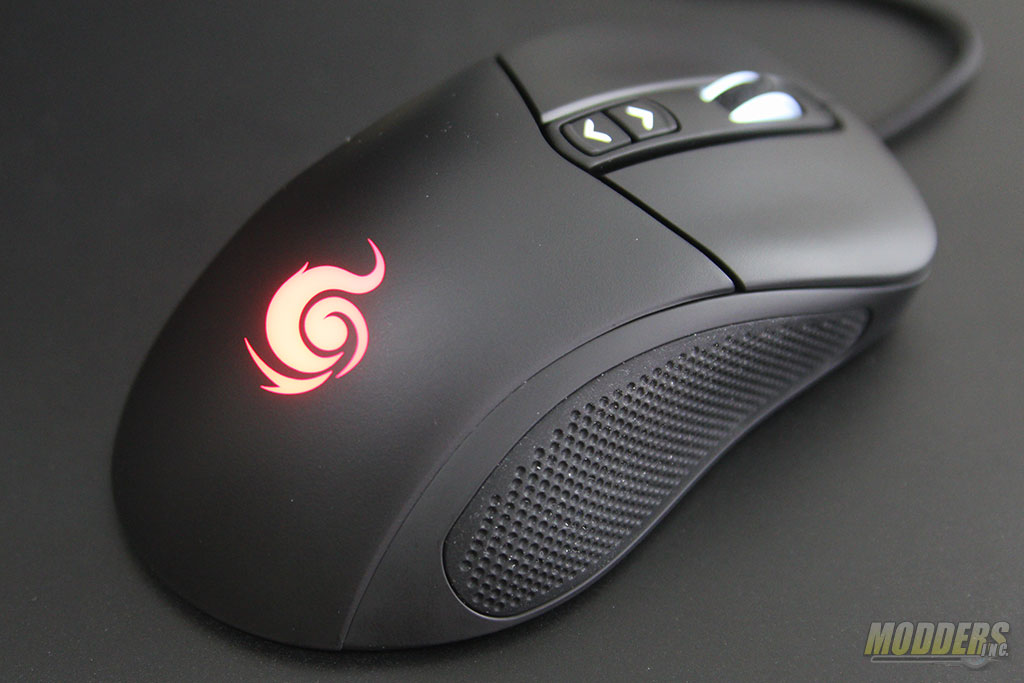 With the software, the Mizar's functionality is extended even further not just in terms of cosmetic changes (such as the LED lighting) but with control functions as well. Angle snapping is disabled by default on both Firmware versions so hardcore gamers will be pleased that they do not need to install the software to enable it, and for those that need it for regular use, it is only a single click away.
Overall, Cooler Master has done a wonderful job in creating their interpretation of the classic Intellimouse design and perhaps my only complaint is the lack of an optical sensor option (the Alcor) not readily available in North America. The CM Storm Mizar however is one of the most balanced and well-rounded laser sensor mouse in a while, not just in terms of ergonomics, performance but most importantly the price, earning it the Modders-Inc. Must Have award.
[sc:must_have_award ]