Case Mod World Series USA Meet-up, Cooler Master, Newegg, NVIDIA, Modders Inc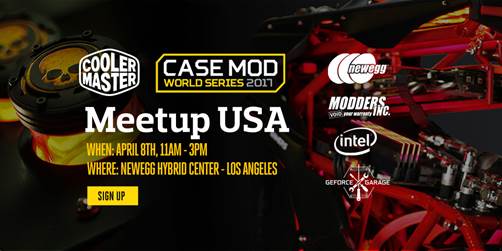 Ever wonder what it takes to become one of the world's top modders? The passion for PCs is at the core of these hardcore computer fanatics which is shown through their creativity and goal for creating the monster PCs. Join us for the Case Mod World Series 2017 Meetup USA at the Newegg's Hybrid Center on April 8th. Several top modders from the community will be on hand to share their ideas and also give you a few tips and tricks on perfecting your mod, whether you're a seasoned modder or just getting started. Newegg/Cooler Master does not want you to be hungry, so we'll have pizza and drinks for everyone!
When:
Saturday, April 8, 2017
to
 Where:
Newegg Hybrid Center – Los Angeles
18045 Rowland Street, City Of Industry, CA 91748, Rowland Heights, CA(map)
At the Cooler Master / Newegg modders meet up these top modders will be on site to answer all your case modding questions:
PC Junkies Mods – http://pcjunkiemods.com/
Boddaker – https://www.facebook.com/brian.carter.9465
Modders Inc. – http://www.modders-inc.com/
Cooler Master – http://makerhub.coolermaster.com/modding
GeForce Garage – http://www.geforce.com/hardware/geforce-garage
Cooler Master, NVIDIA and other sponsors will have prizes to giveaway:
1.  MasterCase Maker 5
2.  MasterAir Maker 8
3.  MasterKeys Combo Lite
4.  NVIDIA Graphics cards
5.  Other swags
Please bring your own mods to share your experiences or get suggestions on how to make it crazier! All they ask is that if you are bringing your own mods, please message our organizers so we can make room for you.
Schedule of Events:
11:00 am – 11:30 am, meet and greet
11:30 am – 1:00 pm, Brian Carter hosts: Modding Demo 1, Side panel cutting, Hands-on + questions
1:00 pm – 2:00 pm, Lunch
2:00 pm – 3:30 pm, Lee Harington hosts: Hard tubing and bending, Side panel cutting + questions
3:30 pm – 4:00 pm, Raffle Prizes