Cooler Master, An industry leader in Personal Computing introduced their New Square Fan Series!  
Now you might be asking yourself, Square Fans?!  We've all seen square fans before.  Never from Cooler Master though.  Until Now!  Cooler Master is releasing a new series of RGB and ARGB square frame fans as part of their MasterFan product line.  The new SF series fans feature RGB lighting and are designed for easy installation and performance.
Available in 3 styles, there is one that meets your needs.  There are two 120mm, the SF120R RGB and SF120R ARGB for single use.   These fans feature a built-in RGB/ARGB header extender to daisy chain fans together off of one motherboard header.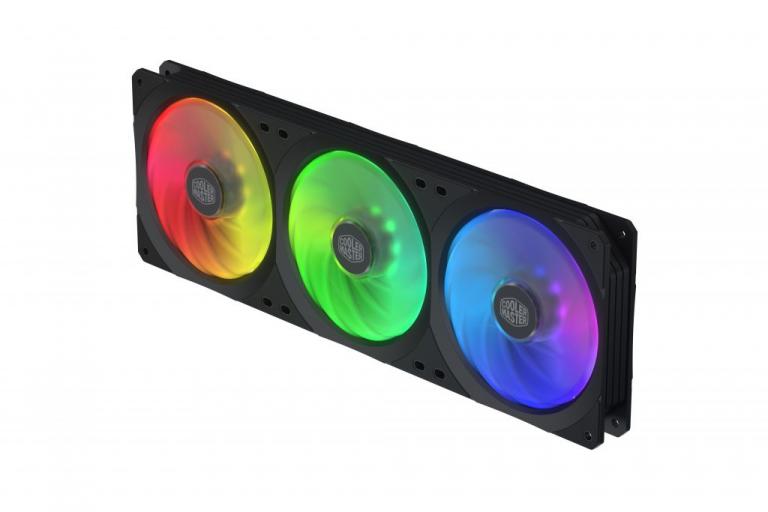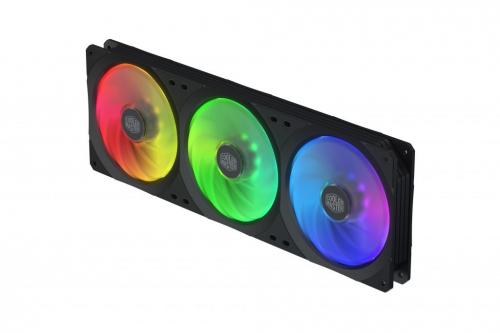 Then there is the radical design, the SF360R ARGB.  This is 3 120mm fans in the same rectangular housing.  Many of today's cooling systems use 3 fans stacked next to each other, providing the cooling needed for our ever more powerful systems.  The SF360R eliminates the need for 3 separate power cables and 3 separate ARGB connectors.  Easy of installation and less wiring?  What more could you ask for?  The color combinations possible with this set up are out of this world cool!
Included with the SF360R is a wired ARGB controller to highlight all the lighting modes available.  The SF series fans are also compatible with most major RGB motherboards.
These fans are available for pre-purchase from several online retailers.  Cooler Master will be releasing additional models in the months to come.  Check out all the information about the Cooler Master Square Fan series on their website and check out the press release below.
Cooler Master Introduces New Square Fan Series
Cooler Master, a global leader in PC component manufacturing announces the launch of their new Square Fan (SF) series of PC fans. Introduced as part of the MasterFan family, the new SF series of fans are equipped not only with RGB lighting but features designed to enhance user experience in installation and performance.
Integrated Frame Design 
Three new fans are included in the new SF series, the MasterFan SF120R RGB, SF120R ARGB, and the SF360R ARGB. All three fans feature Cooler Master's new square fan design, while the SF360R ARGB fan incorporates multiple fans in an All-In-One frame. The entire SF series features rubber pads around each point of connection to decreases vibration and reduce noise pollution. In addition, the SF series of fans are designed to be compatible with all current AIO liquid coolers and most computer cases.

Enhanced User Experience 
Ease of installation goes hand in hand with the new SF360R ARGB's integrated frame design. Instead of having to individually install multiple fans, the SF360R ARGB allows users to install three fans in the same amount of time it would take to install one. Cooler Master has also decreased the number of cables needed to just two per frame, one for lighting and one 4-pin PWM. In addition, the SF120R RGB, SF120R ARGB, and SF360R ARGB also include a lighting extension headers for RGB signal that allows users to chain one fan to another without having to use an RGB splitter cable.

Inspired lighting features
Included with the SF360R ARGB is a small wired ARGB controller that enables new lighting modes to better showcase its addressable RGB capabilities. The SF series is also compatible with most major RGB motherboard manufacturers such as ASUS, MSI and ASRock, and their included software.
Cooler Master will release additional models of the MasterFan SF series in the coming months, including the SF240R ARGB, SF120P ARGB, and SF240P ARGB.
Availability
The MasterFan SF120R RGB, SF120R ARGB, and SF360R ARGB are available for pre-sale in North America, today, at online retailers such as Newegg.com. For more information on Cooler Master's MasterFan SF series, please visit:
SF120R RGB: http://us.coolermaster.com/product/Detail/cooling/MasterFan-Series/masterfan-sf120r-rgb.html
SF120R ARGB: http://us.coolermaster.com/product/Detail/cooling/MasterFan-Series/masterfan-sf120r-argb.html
SF360R ARGB: http://us.coolermaster.com/product/Detail/cooling/MasterFan-Series/masterfan-sf360r-argb.html