Closer Look at the Deepcool GamerStorm Captain 240 »
The All-in-One liquid CPU cooler market is bursting with coolers with so many brands to choose from. In case you did not know however, most of the liquid CPU coolers are manufactured by a single company called Asetek. Not that Asetek makes a bad product, their products work fine but the fact that most are OEMed by one company means there is truly not a lot of options available, just different re-brands. The DeepCool GamerStorm Captain 240 however is not an Asetek product. This CPU cooler is all the brainchild of the folks over at DeepCool. The Captain 240 has some unique styling not found on other AIO coolers but with the amount of all-in-one liquid CPU coolers already on the market, the Captain 240 may have its work cut out to gain its place in the market.
At CES 2014, we had the chance to sit down with the DeepCool staff and talk about their new products. The GamerStorm line has grown in popularity throughout 2014 and DeepCool expects the trend to continue into 2015. The Captain line of AIO CPU coolers is available in 120mm, 240mm, and 360mm and compared to the Maelstrom line, the Captain features a totally different pump. The DeepCool GamerStorm Captain CPU coolers mount to Intel LGA2011-v3, LGA2011, LGA1366, LGA1156, LGA1155, LGA1150 and AMD FM2+, FM2, FM1, AM3+, AM3, AM2+, AM2.
[sc:sponsor sponsor="DeepCool" product_link="http://www.deepcool.com/product/gamerstorm/2014-09/6_1013.shtml" product_name="DeepCool GamerStorm Captain 240″ product_price_link="http://www.newegg.com/Product/Product.aspx?Item=N82E16835856022″ product_price="109.99″ ]
DeepCool does not go into too much flash and flair on the packaging. They keep the information and graphics simple and easy to understand. The front side of the box has a clear image of the product. The back of the box lists out the specifications and gives dimensions on each part of the product.


Inside, the Captain 240 is nestled away in a form-fitted recycled cardboard insert. All the components are covered in plastic.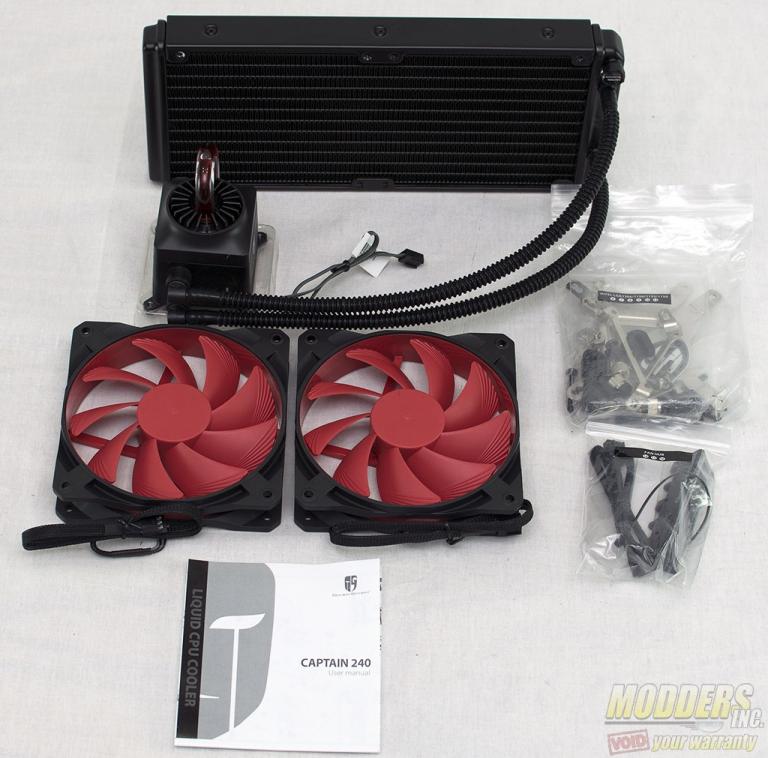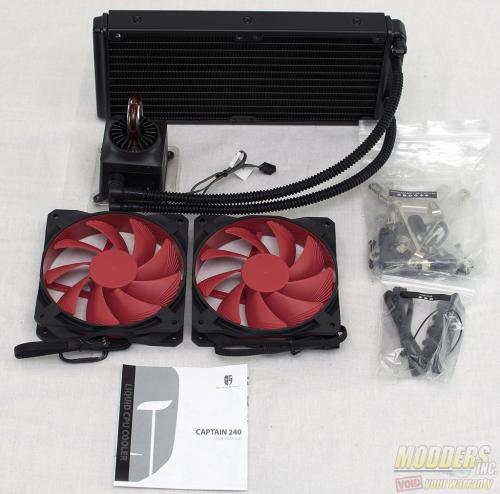 Everything is neatly bagged. Larger bags house smaller bags that contain the different parts needed to install the CPU cooler. The type of CPU depends on which bags will be used. Included are radiator mounting screws, a universal backplate, mounts and screws for Intel and AMD installations, a PWM fan hub and fold-out user manual.
Specifications
| | |
| --- | --- |
| Main system Dimensions | 89.0X65.4X76.0mm |
| Radiator Dimensions | 274X120X27mm |
| Radiator Material | Aluminum |
| Fan Dimensions | 120X120X25mm(2pcs) |
| Fan Speed | 600±200-2200±10%RPM |
| Fan Air Flow | 182.24CFM (MAX) |
| Fan Air Pressure | 3.71mmH2O(MAX) |
| Fan Life Expectancy | 100000 hours |
| Fan Noise Level | 17.6~39.3dB(A) |
| Fan Bearing Type | FDB(Fluid Dynamic Bearing) |
| Fan Connector | 4Pin |
| Fan Rated Voltage | 12VDC |
| Fan Rated Current | 0.24±10%A(MAX) |
| Fan Power Consumption | 2.88W |
| Pump Life Expectancy | 120000 hours |
| Pump Connector | 3Pin |
| Pump Operating Voltage | 6~19VDC |
| Pump Rated Voltage | 12VDC |
| Pump Speed | 3400±150RPM |
| Pump Load Current | 0.23±10%A(MAX) |
| Pump Power Consumption | 2.76W |
| Net Weight | 1183±10g |