PC Water Cooling
Cooler Master MasterLiquid ML240L RGB Review
A Wallet-Friendly Closed Loop CPU Cooler
« Introduction & Packaging
|
Installation & Testing »
Specifications
Product Name
MasterLiquid ML240L RGB
Model
MLW-D24M-A20PC-R1
CPU Socket Compatibility
Intel® LGA 2066 / 2011-v3 / 2011 / 1151 / 1150 / 1155 / 1156 / 1366 / 775 socket
AMD® AM4 / AM3+ / AM3 / AM2+ / AM2 / FM2+ / FM2 / FM1 socket
Radiator
Material
Aluminum
Dimensions
277 x 119.6 x 27mm (10.9 x 4.7 x 1.1″)
Fan
Dimensions
120 x 120 x 25 mm (4.7 x 4.7 x 1″)
Speed
650 ~ 2000 RPM (PWM) ± 10%
Air Flow
66.7 CFM (Max)
Air Pressure
2.34 mmH2O (Max)
MTTF
160,000 hours
Noise Level
6 ~ 30 dBA
Connector
4-Pin (PWM)
Rated Voltage
12 VDC
Pump
Dimensions
80.3 x 76 x 42.2 mm (3.2 x 3.0 x 1.7″)
MTTF
70,000 hours
Noise Level
< 15 dBA
Connector
3-Pin
Rated Voltage
12 VDC
Warranty
2 Years
Features
One of the first things eagle-eyed readers will notice about the ML240L RGB upon seeing the cooler's specs is the aluminum radiator. Among enthusiasts, aluminum is generally considered to be the lesser option compared to copper when it comes to heat transference and dissipation. But even Cooler Master's enthusiast-grade MasterLiquid Pro closed loop cooler, which I awarded top marks for innovation in 2016, relies on an aluminum radiator, so don't sell the ML240L RGB short. Given what we know about galvanic corrosion, the aluminum radiator won't work well with even a trace of bare copper in the loop, so the liquid passing through the block is likely only coming into contact with nickel-plated copper fins.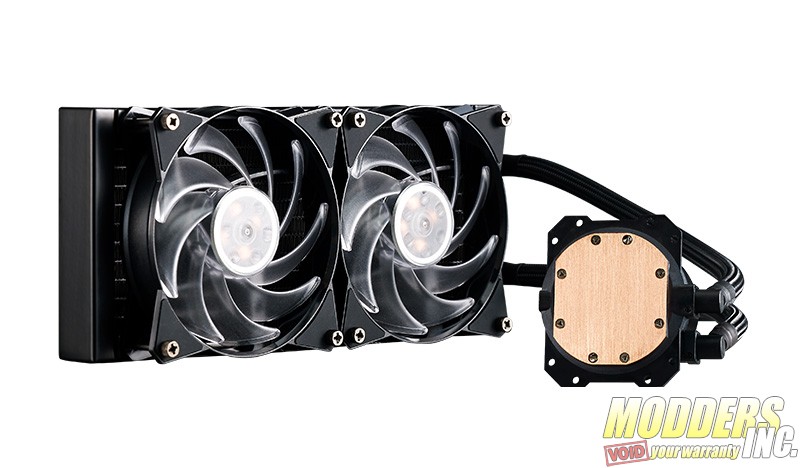 The water block/pump in this unit features Cooler Master's dual-chamber design, which maximizes the distance between the warmed and cooled fluid as it circulates through the water block. Similarly, the low-resistance radiator has half of its channels dedicated to warm fluid, and the other half reserved for the cooled fluid, resulting in a very efficient heat transfer. The aluminum fins zigzagging between those water channels are fairly densely packed.
To ensure the heat is pulled from the fins as effectively as possible, Cooler Master includes a pair of high static pressure 120mm MF120R fans, which feature 9-blades, up to 66.7 CFM max air flow, and up to 2.34mmH2O max air pressure.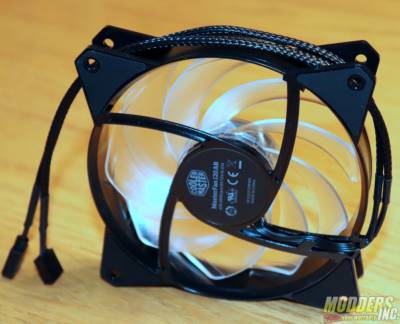 These fans also feature a silent driver integrated circuit that reduces the noise and vibrations generated by typical fans. There are also rubber pads in each of the housing's four corners, to further eliminate vibration. These are four-pin PWM-controlled fans, so you can plug them directly into any PWM-capable header on the motherboard or use a splitter cable and a third-party or case-mounted controller. In a pinch, you can use three-pin fan headers, but this is less-than-ideal for a CPU cooler. These fans also have braided nylon sleeves on the cables for a nice clean look no matter how they're installed. According to Cooler Master, the MF120R fans have a noise output rating of between 6 and 30dBA, and they each have an impressive 160,000-hour MTTF rating, which is significantly longer than this cooler's two-year warranty.