PC Water Cooling
Cooler Master MasterLiquid ML240L RGB Review
A Wallet-Friendly Closed Loop CPU Cooler
« Specifications & Features
|
Final Thoughts »
Installation
Installing an AIO can often become frustrating, but on our AM4 X370-based system, the mounting hardware was easy to set up and the unit was ready to run in short order.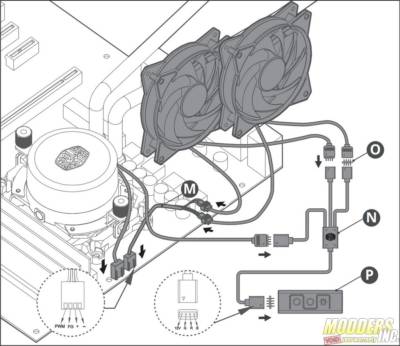 A lot of the difficulty you'll encounter with installing AIOs is due to poor case design, so choose your enclosure carefully. We used a Phanteks Enthoo Pro Tempered Glass Edition case, which has top and front panels that pop off easily to make installing an AIO easy. Ideally, you'll want to install the ML240L RGB's radiator in either of these two locations.
The installation manual is almost completely wordless, so you'll have to rely on more-or-less straightforward diagrams to put the ML240L RGB into your system. Once installation was complete, the three-button controller is what you'll use to tweak the fan and water block/pump LED colors. There's a button that cycles through six effects presets, a color selection button in the middle, and a brightness-level button. This controller is okay as long as you don't mind just setting up your color preferences and then letting the controller snuggle in with the mess of cables behind the motherboard tray. If you're finicky with your color choices, however, mounting this controller someplace convenient may be a challenge.
Testing
To test this cooler, we first let the system sit idle for 20 minutes and recorded the temperature. To determine how well the ML240L RGB can handle the rigors of an enthusiast processor running heavy workloads, we fired up POV-Ray, ran the multi-threaded test, and recorded the temperature. Next, we ran Prime95, another utility that utterly thrashes the CPU, and recorded the temperature. For this test, we used the Small FFTs torture test to maximize the processor's heat output. Keep in mind, in both cases, a system would rarely be generating as much heat for an extended period of time under real-world conditions. Finally, we overclocked the Ryzen 7 1700X to 3.95GHz, with voltages upped to a steamy 1.38V. Then we recorded temperatures for idle, POV-Ray, and Prime95 again.