Page 2 »
Cooler Master already a few All In One Liquid Cooling CPU solutions with the NEPTON, GLACIER, EISBERG AIO and now Cooler Master is introducing the SEIDON series. The SEIDON series comes in five models. The SEIDON 120V, 120M, 120L Prestige, 120XL,  240M. This review will be of the SEIDON 120V which is a budget friendly solution with performance that should satisfy the average gaming or hard hitting video user. Lets see if  this statement will hold true.
[sc:sponsor sponsor="Cooler Master" product_link="http://www.newegg.com/Product/Product.aspx?Item=N82E16835103195″ product_name="Seidon 120v All In One CPU Cooler" product_price="56.00″ ]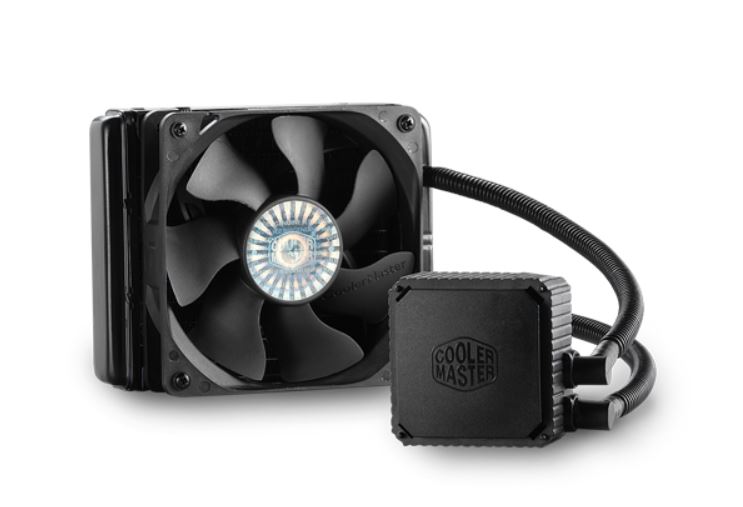 "The Seidon 120V is Cooler Master's new water cooling kit with the best C/P ratio. The compact 120mm radiator virtually fits every case. Thanks to a 120mm PWM fan with a wide RPM range, Seidon can operate silently or unleash a powerful cooling storm at PWM controlled command. The durable FEP Tubing provides the advantages of nearly no moisture absorption, high thermal stability and high pressure tolerance." ~ Cooler Master
PACKAGING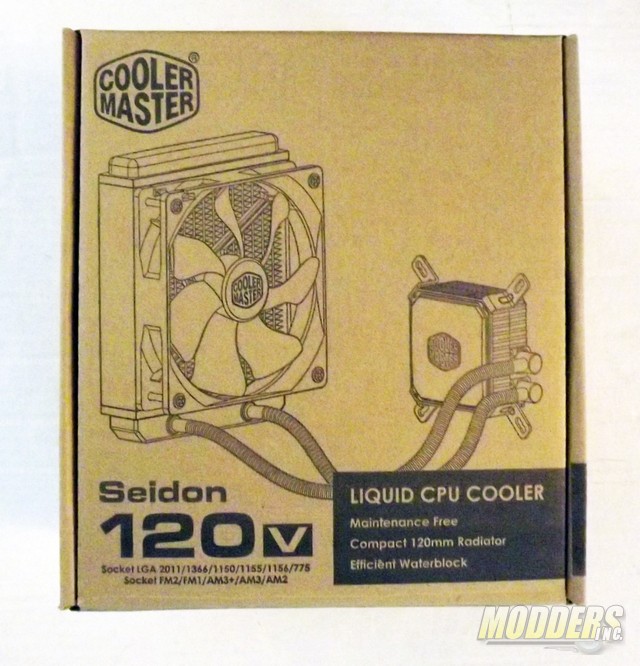 Almost like a plain paper bag the cardboard box with one color printing is about as plain as you can get.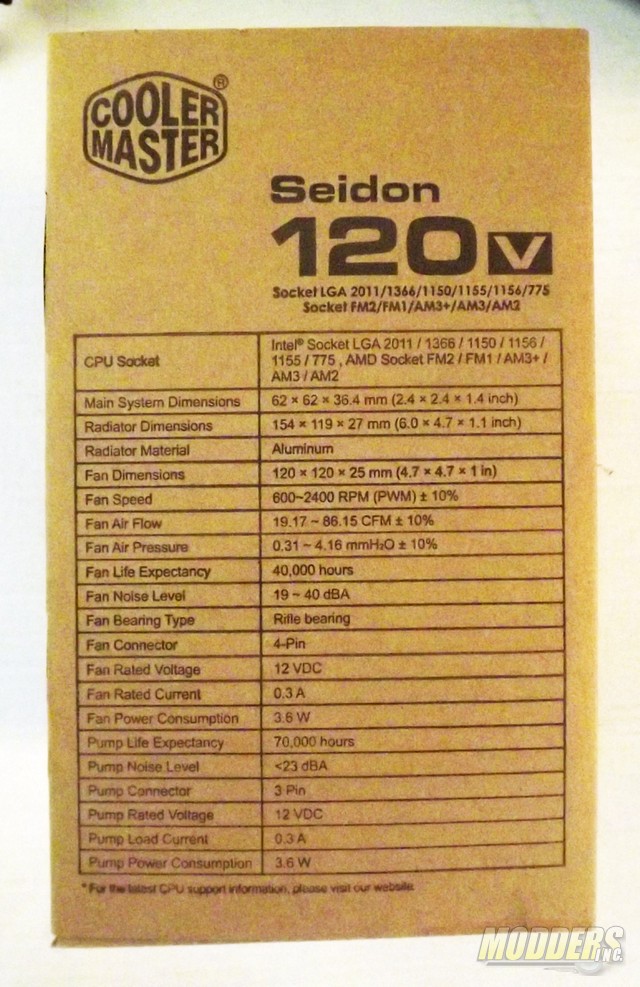 Product information about the CM Seidon is on one side and the same picture as the top on the other side.
Features:
Factory filled with propylene glycol/water coolant, then sealed and pressure tested – zero maintenance for years.
Optimized pump and copper water block provide excellent water flow and system performance.
Special designed 120mm radiator provides superior heat dissipation performance and fits in most cases internally and externally.
120mm PWM fan with a wide RPM range to fine tune and balance fan noise and performance.

Blue LED indicator lights up when operating.
Model
RL-S12V-24PK-R1
CPU Socket
Intel LGA 2011 / 1366 / 1150 /1155 / 1156 / 775AMD Socket FM2 / FM1 / AM3+ / AM3 / AM2
Dimension
62 x 62 x 36.4 mm (2.4 x 2.4 x 1.4 inch)
Radiator Dimensions
154 x 119 x 27 mm (6.0 x 4.7 x 1.1 inch)
Radiator Material
Aluminum
Fan Dimension
120 x 120 x 25 mm (4.7 x 4.7 x 1 in)
Fan Speed
600~2400 RPM (PWM) ± 10%
Fan Airflow
19.17 ~ 86.15 CFM ± 10%
Fan Air Pressure
0.31 ~ 4.16 mm H2O ± 10%
Fan Life Expectancy
40,000 hours
Fan Noise Level (dB-A)
19 ~ 40 dBA
Bearing Type
Rifle bearing
Connector
4-Pin
Fan Rated Voltage
12 VDC
Fan Rated Current
0.3A
Power consumption
3.6W
Pump Life Expectancy
70,000 hrs
Pump Noise Level
<23 dBA
Pump Rated Voltage
12 VDC
Pump Power Consumption
3.6W
Rotation Speed of Pump
1400-1600 RPM
Warranty
2 years
UPC Code
884102024146
Notice
Bundle with CM 690 III available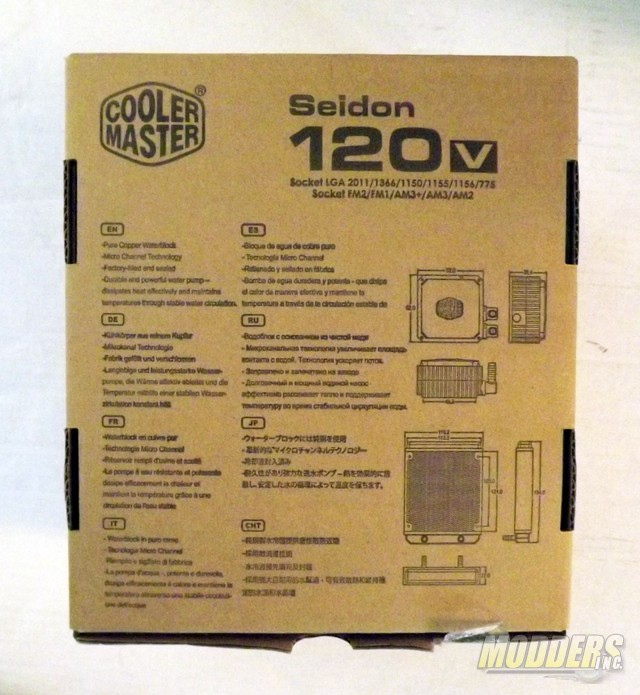 On the bottom of the box Cooler Master provides schematics and the size breakdowns for radiator and block/pump. This should help you see if this will work in your current computer case. Most 120mm setups can be install in any mid to full tower cases, but if you are looking to install a AIO Liquid Cooler you will need to read all the specifications to make sure it will work for you.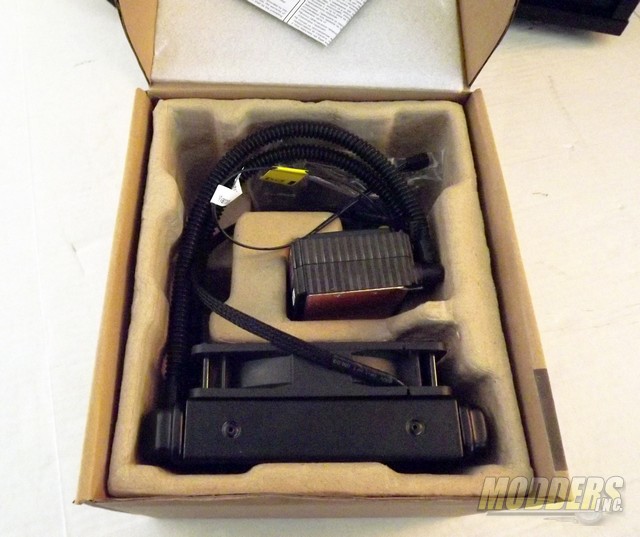 Packaged snug and safe in recycled egg crating like material our sample had no damage, scuffing or rattle wear from shipping.