PC Water Cooling
Cooler Master MasterLiquid Pro 280 Review: The Strong, Silent Type
Closer Look at the MasterPro Liquid 280 »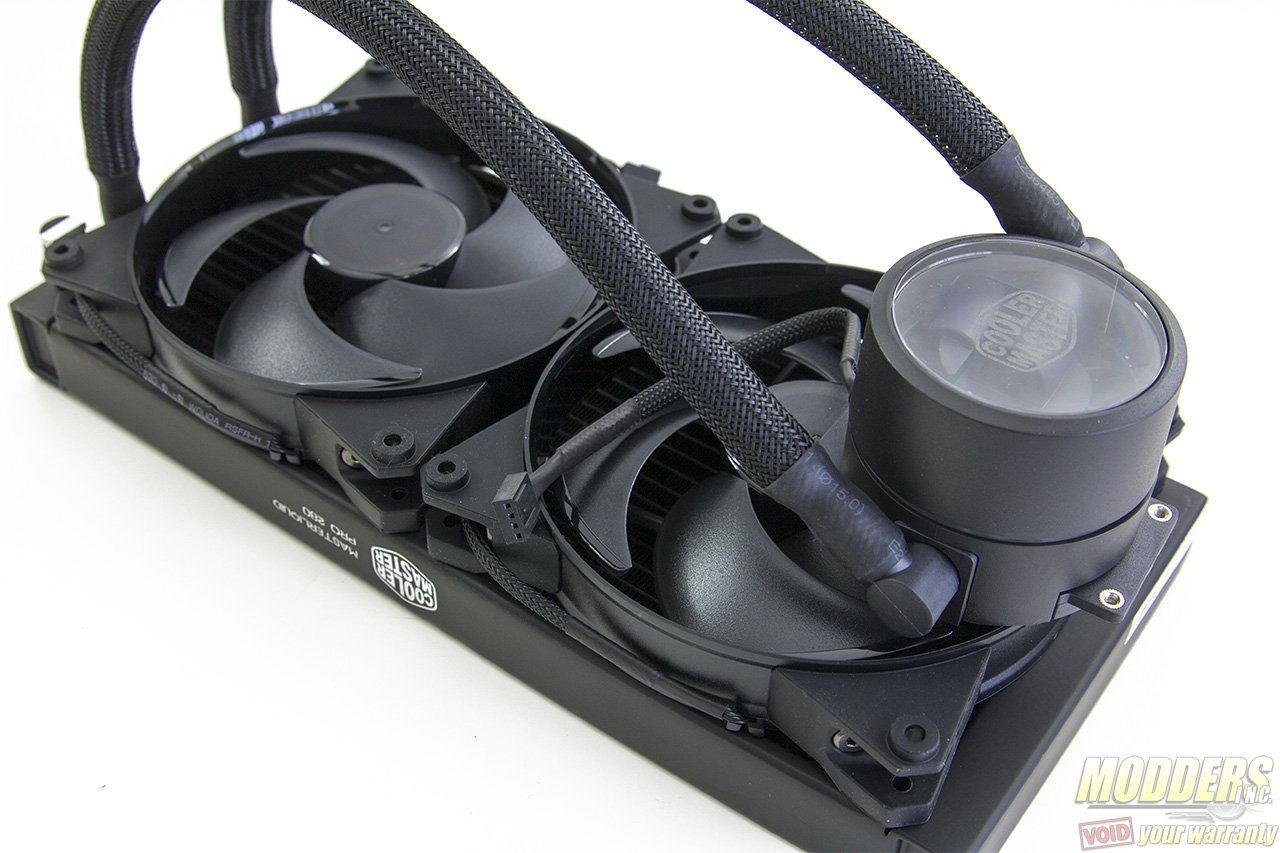 The Cooler Master MasterLiquid Pro 280 is the larger radiator version of the previously reviewed MasterLiquid Pro 240 which was released a month prior. Utilizing two large 140mm fans instead of a pair of 120's for active radiator cooling, the MasterLiquid Pro 280 should be able to cool better than its smaller sibling, while producing less noise. Most of the other features remain the same including the dual-chamber pump, thick copper cold plate, and square-fin radiator design, Cooler Master also chose to upgrade the tubing with a sleeved cover that is a lot more user-friendly and aesthetically appealing.
The best part, this upgrade is only $10 more than the 240mm version. While not all cases can fit a 280mm radiator, mounting support is more common than it seems. Just within Cooler Master's current crop of cases alone, the MasterLiquid Pro 280 will fit with all of them with the exception of the micro-ATX MasterCase Pro 3 chassis.
[sc:sponsor sponsor="Cooler Master" product_link="http://us.coolermaster.com/product/Detail/cooling/lga-1151/masterliquidpro280.html" product_name="MasterLiquid Pro 280″ product_price_link="http://amzn.to/2aMIKeq" product_price="$129.99″ ]
The MasterLiquid Pro 280 packaging is similar to the MasterLiquid Pro 240, just larger. Coming in an elongated box with the new Cooler Master color theme of a simple all-black with white text and blue highlight for the product title. The product dimensions are listed at the rear of the box for both the radiator and the pump/block design so users can gauge any clearance issues before buying.
The internal contents are placed in a series of folded cardboards rather than the recycled carton compartments of the previous Nepton series. The accessories are inside a separate box which is then organized further. Each accessory kit is partitioned in a plastic bag with the smaller components actually housed in a see-through organizer, which is a first for Cooler Master. They tend to just put all accessories in a single bag and lets users sort it, but this one comes pre-sorted..
Aside from the mounting accessory set, bundled with the MasterLiquid Pro unit itself are a pair of MasterFan Pro 140 Air fans and a noise dampening gasket. The mounting accessory kit also includes a PWM Y-splitter, a small tube of thermal compound and radiator mounting screws.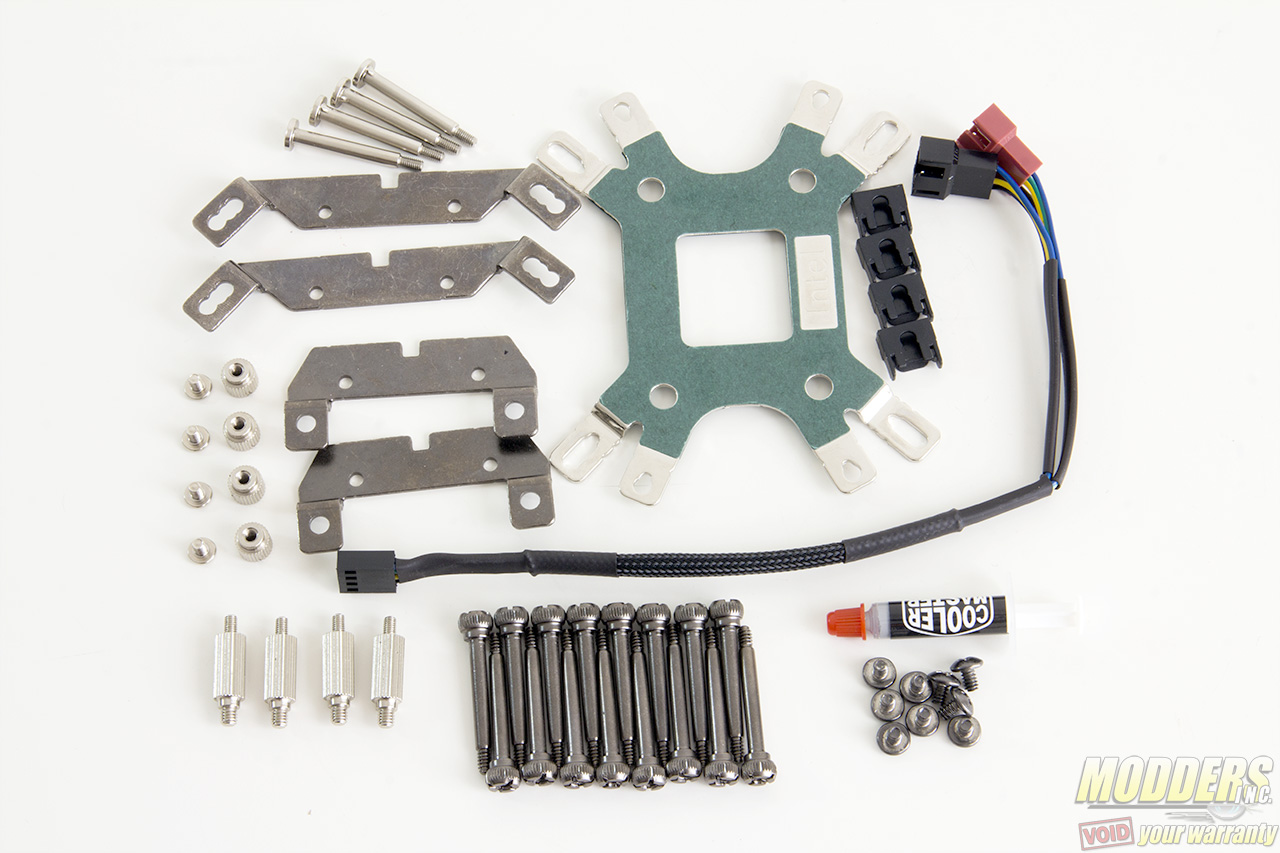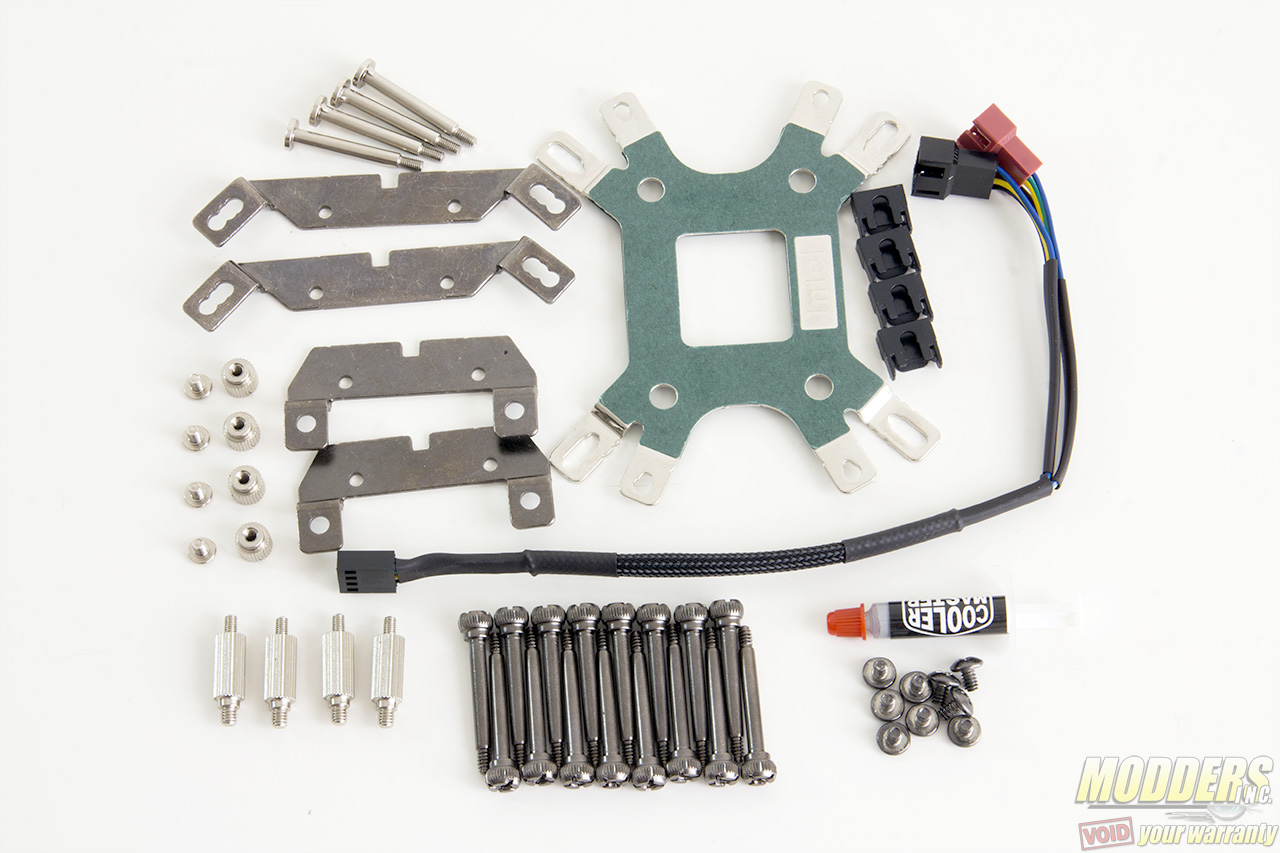 Specifications
MasterLiquid Pro 280
Model
MLY-D28M-A22MB-R1
CPU Socket
Intel® LGA 2011-3 / 2011 / 1366 / 1150 / 1151 / 1156 / 1155 / 775
AMD FM2+ / FM2 / FM1 / AM3+ / AM3 / AM2+
Radiator Dimension (L x W x H)
311x 138 x 27 mm
12.24 x 5.43 x 1.06 inch
Radiator Material
Aluminum
Fan Dimension
140 x 140 x 25 mm
5.5 x 5.5 x 1 inch
Fan Speed
650 ~ 2200RPM ± 10%
Fan Air Flow
64.21 CFM (Max)
113.32 m3/h (Max)
Fan Air Pressure
3.15 mmH2O ± 10% (Max)
Fan MTTF
490,000 Hours
Fan L-10
70,000 Hours
Fan Noise Level
<12 dBA (Max)
Fan Connector
4-Pin
Fan Rated Voltage
12 VDC
Waterblock Dimensions (L x W x H)
94.8 x 68 x 56.9 mm (3.7 x 2.68 x 2.2 inch)
Pump Waterblock Material
Copper
Pump Speed
1100 ~3300RPM (PWM)
Pump Bearing Type
Ceramic
Pump Rated Amperage
 0.5 A
Pump Power Connector
4Pin (PWM)
Tube Diameter
Φ8 mm
Tube Length
358 ± 5mm
Pump MTTF
175,000 Hours
Pump L-10
50,000 Hours
Pump Noise Level(dB-A)
< 12 dBA
Pump Rated Voltage
12 VDC
Pump Power
6.0W
Pump LED
Blue LED
EAN Code
4719512052631
UPC Code
884102028748