PC Mouse
Cooler Master MM720 Mouse Review
Lite as a feather
« Introduction and Specifications
|
MM720 Drivers and Application »
A Closer Look at Cooler Master MM720 Mouse
The construction of MM720 is based on ABS plastic. ABS plastic is strong in structure and very light. Paired with unique honeycomb-shaped holes in the mouse, the MM720 weighs only 49gram. To glide smoothly across the surfaces Cooler Master is using PTFE (Polytetrafluoroethylene) based Teflon tape on the bottom of the MM720 that offers lower friction resistance. On the bottom of the mouse, you can also see a small button that changes the DPI settings of the mouse. The MM720 can be set to 400, 800, 1200 (default), 1600, 3200, 6400, 16000 if needed.
On the left side of MM720 are two customizable buttons that are set to the left and right arrows. The place where the palm of your hand would sit has a small Cooler Master logo. This logo has a dedicated RGB LED that could be customized from Cooler Master's MasterPlus+ software. Another RGB LED section of MM720 is further inside of the mouse that covers the sides and top two buttons.
The connecting USB 2.0 cable is non-removable from the actual mouse. The cable is about 1.8 meters (~6ft) and has an Ultraweave casing on it. I have also noticed a purple accent in the USB connector as purple is the Cooler Master signature color.
With the MM720 you have the option to attach grip pads to the places where would give you the most traction such as top buttons and sides of the mouse. PTFE tape could also be removed and replaced if needed.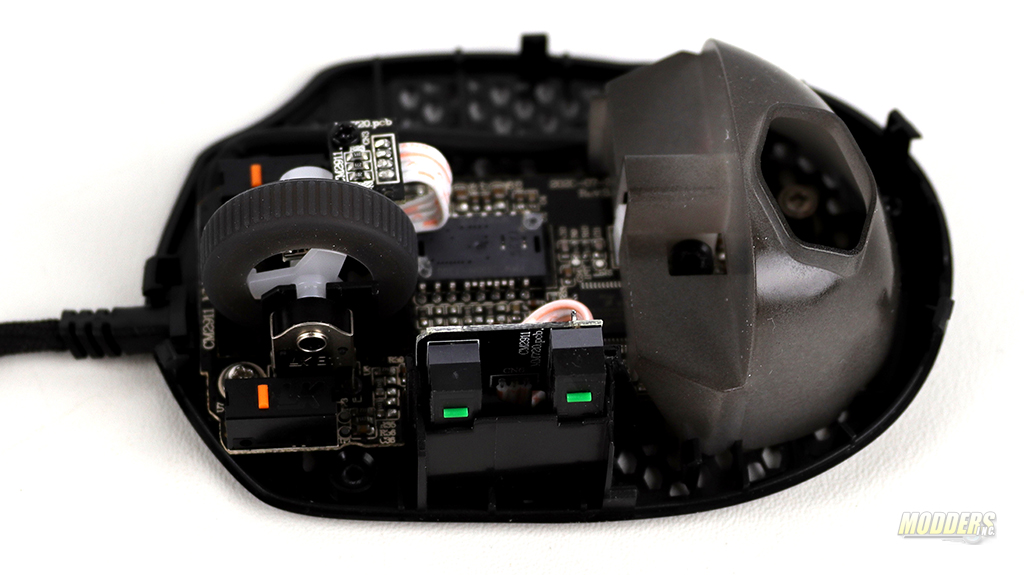 The internal components of the MM720 are very similar to most of the mice you find on the market. To amplify the RGB effect MM720 has a semi-clear plastic shroud.
The switches on the left of the mouse are by Huano. These are excellent switches that have a great service life. However, they are relatively stiff to press. Two front switches are by Light Strike. Both of the switches are optical switches that are highly accurate and light to press.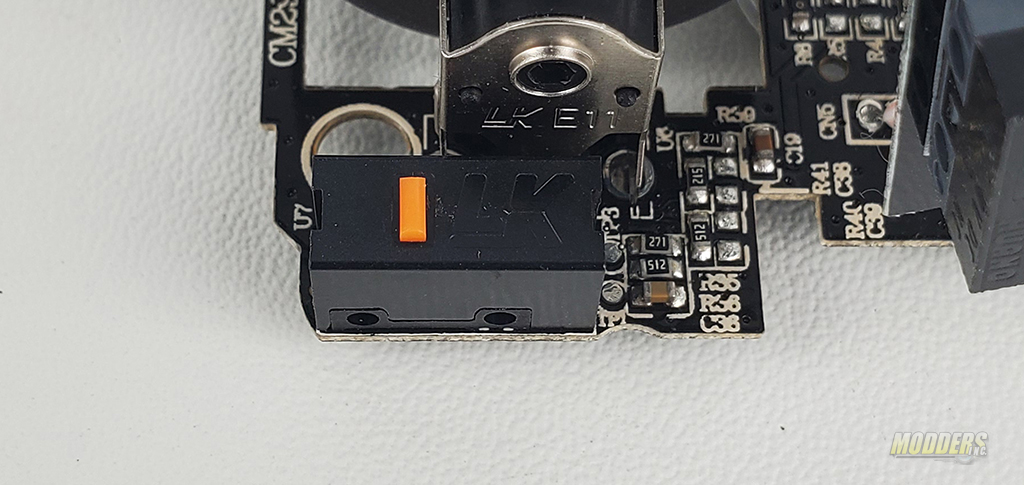 Just like the side switches, the scroll wheel and supporting switch is by LK as well. The middle mouse button clicking is very smooth just like the front two buttons.
The mouse processor in the MM720 is by Holtek (HT32F52342-52). This is a 32bit ARM Cortex M0+ which gives the MM720 polling rate of 1000hz.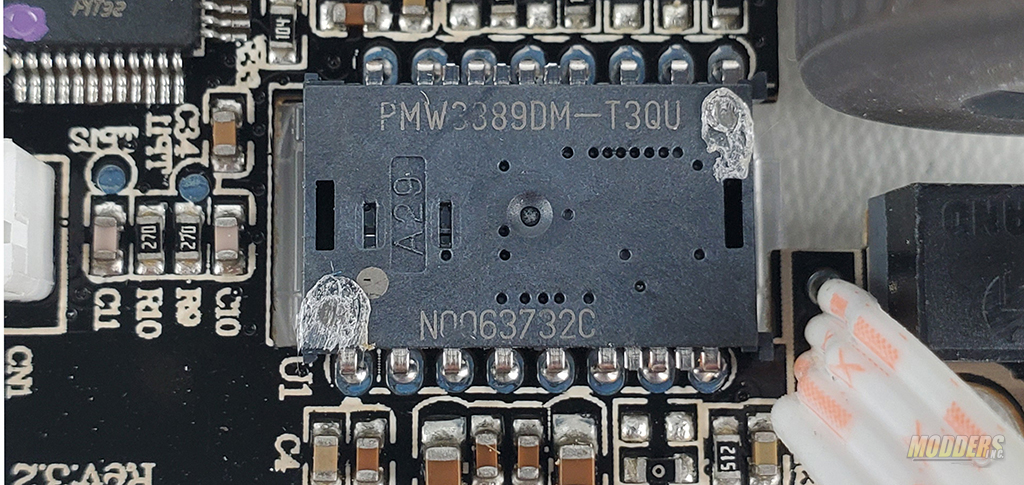 The tracking sensor in MM720 is PixArt (PMW3389). This sensor is capable of providing resolution up to 16k CPI with a tracking speed of 400 IPS.