PC Mouse
Cooler Master MM720 Mouse Review
Lite as a feather
« MM720 Drivers and Application
Final Thoughts & Conclusion
The Cooler Master MM720 is an interesting mouse to consider. One of its strongest features is the incredible lightweight design weighing only 49 grams. If you are looking for a light mouse then MM720 would be a good mouse to keep in mind. If you game and need to add some weight to the mouse, the MM720 may not be a good choice for you as there is no way to add more weight to it. The RGB portion of the mouse is highly customizable via Cooler Masters MasterPlus+ software along with simple macros, button customization, and profiles.
MM720 glides across the surface without an issue and I didn't see any issues moving the mouse across multiple surfaces. The best and most comfortable way to use this mouse is with an extended mouse pad. My exposure to this mouse was only a few weeks and in that time I used it for fps gaming and everyday work environment. From what I can tell MM720 works well for some gaming but it lacks weight. Sometimes I wish there was a way to add weight to the mouse so I could feel the movement of it in the game.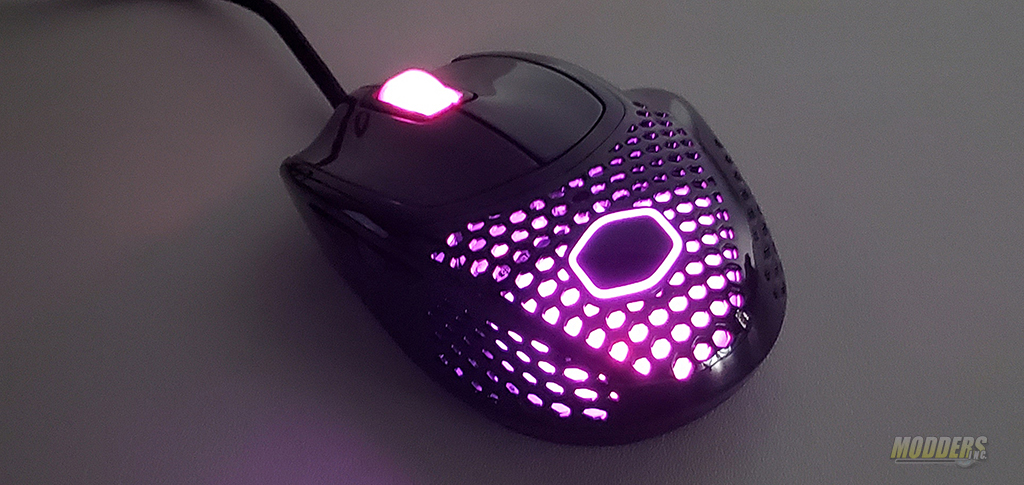 The claw type grip of the MM720 is designed to keep your hand flat on the mouse providing you the best support while using it. My sample has a glossy finish so at times I felt like my hand was getting a little bit sweaty. The MM720 comes with a set of adhesive pads that provide extra grip if needed. The shell of this mouse is coated with a special water-resistant coat to help fight moisture. It does not help protect internal circuits against accidental spills. Honeycomb cut-out design provides direct access to internal components so extra care is needed to prevent liquids and other contaminants from getting inside.
Right now MM720 retails for about $50 and in my opinion is a really good price for this mouse considering RGB capabilities and optical switches. The final verdict of the MM720 is if you are looking for a wide mouse that is light and highly customizable MM720 might be a good match for you. However if you need a mouse that you could add weight to, this is not a good choice. In my personal experience with this mouse, I had absolutely no issues with its function or the functions of the MasterPlus+ software. Another great product by Cooler Master.