Page 2 »


With the economy still in a steady rut most of us are left with very little spare cash for new toys. Cooler Master's latest case is here to bring you the features you want in a case, at a price that won't break the bank. Today I present to you the Cooler Master N400.
[sc:sponsor sponsor="Cooler Master" product_link="http://www.coolermaster-usa.com/product.php?product_id=10066&product_name=N400″ product_name="N400 NSE-400-KKN2″ ]
---
First Look- Packaging and Information
---
The Cooler Master N400 showed up at my door a little worse for ware on the outside as it was shipped with nothing but the box it came in with a shipping label slapped on it. UPS was not too brutal with the box so we will use it to the best of our abilities.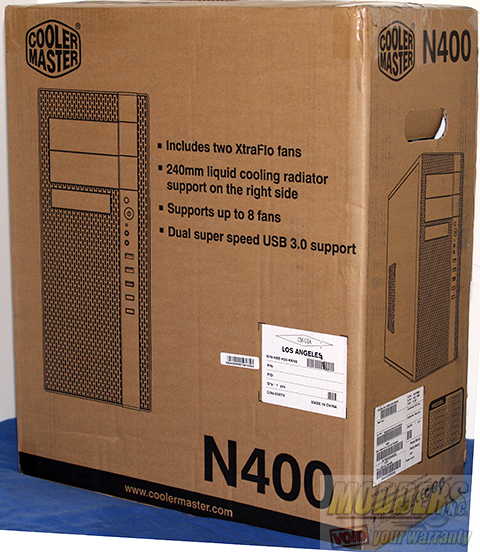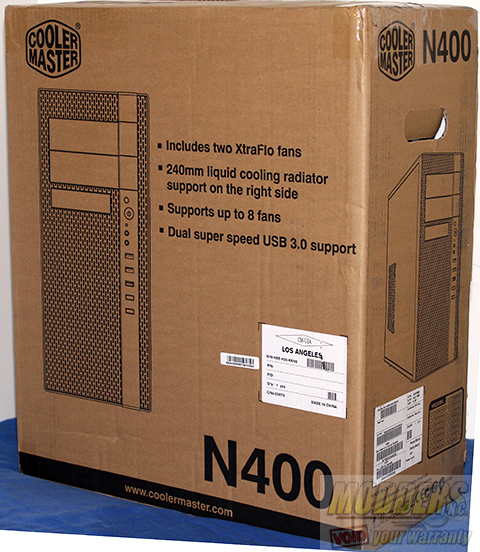 Our retail box comes fairly plain, not unexpected from a budget case and in no way a bad thing, what we have inside is what really matters.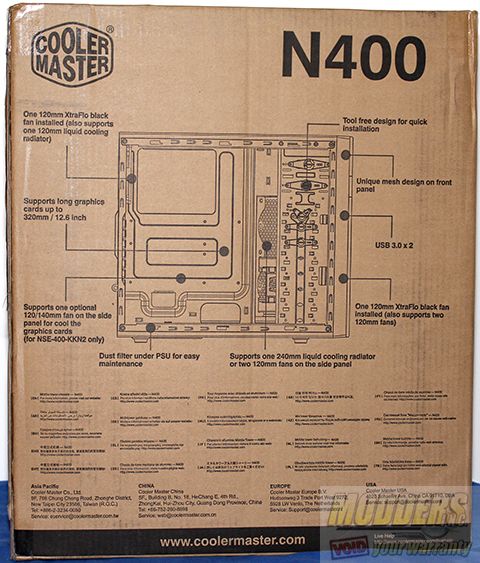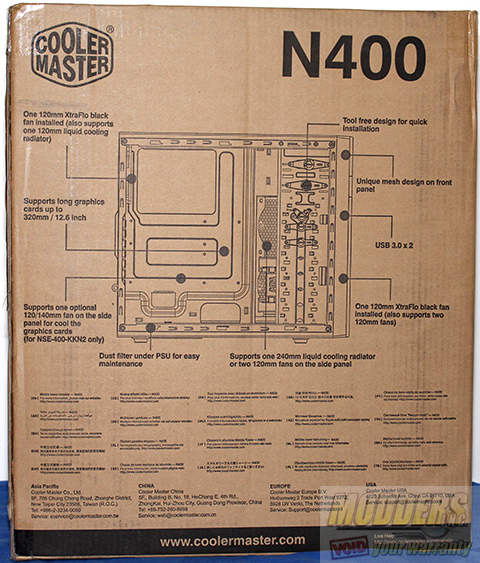 With the box open we can see that the case is snug as a bug in a rug with nice foam for padding and a plastic bag cover to help protect against dings and scratches.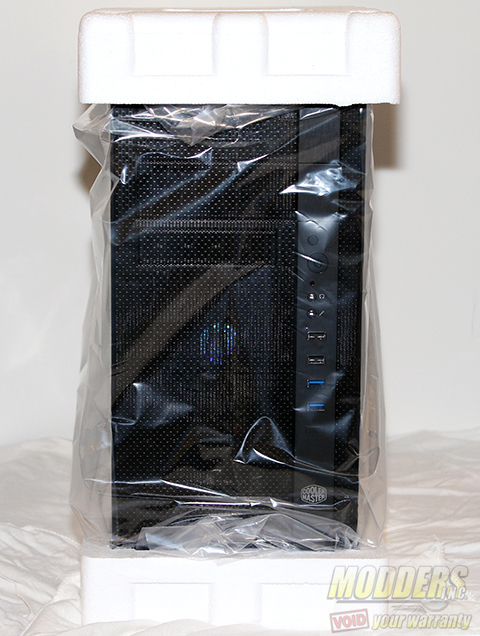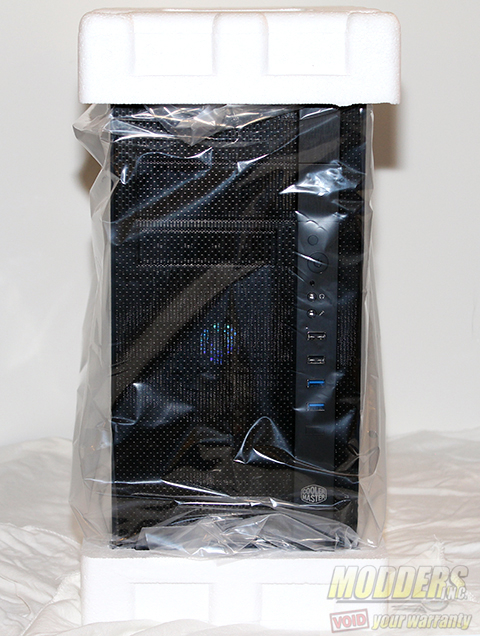 Cooler Masters N400 brings with it a few high-end features at a economical price including a painted interior, a clean front mesh bezel that includes two USB 3.0 ports, room for liquid cooling systems and more. There is no lack of features in this high value case.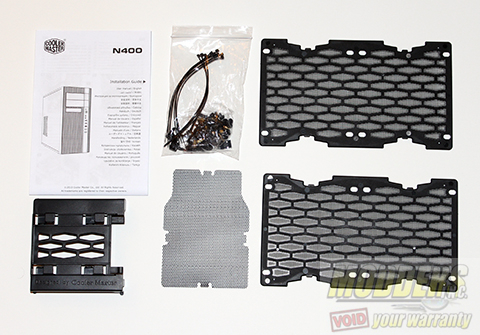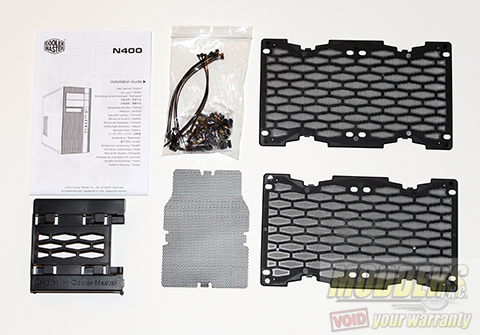 Inside the box we also have the standard hardware of any case including a bag of standoffs, screws, and tie, a motherboard speaker ,and installation guide. Also included are three case filters and a removable bracket which will house up to two 2.5 hard drives.
Features:
Full mesh on the front panel
Supports a 240mm liquid cooling radiator or two 120mm fans on the right side / at the top
Supports a 120mm liquid cooling radiator in the rear
Supports up to 3 SSDs – 2 on the tool-less 2.5" cage, 1 at the bottom of HDD cage
Includes two XtraFlo 120 fans – in the front and one in the rear for optimum airflow – support for up to 8 fans
One optional 120/140mm fan can be installed on the left side panel to cool the graphics cards
Supports high-end graphics cards up to 320mm / 12.6 inch, including NVIDIA GTX 690 & AMD HD 7990
Dual Super Speed USB 3.0
3 dust filters
Specs:
Available Color
Midnight Black
Materials
Polymer, mesh front bezel
Dimensions
190 x 426 x 501.4 mm / 7.5 x 16.7 x 19.7 inch
Net Weight
5.6 kg / 12.3 lbs
M/B Type
microATX, ATX
5.25″ Drive Bays
2 (exposed)
3.5″ Drive Bays
8 (1 exposed, 7 hidden)
2.5″ Drive Bays
3 (hidden)
I/O Panel
USB 3.0 x 2 (int.), USB 2.0 x 2, Mic x 1, Audio x 1 (supports AC97 / HD Audio)
Expansion Slots
7
Cooling System
Top: 120mm fan x 2 (optional)
Front: 120mm fan x 2 (one white LED XtraFlo fan installed, one optional) – for KKN1/KWN1; with no LED XtraFlo – for KKN2/KWN2
Rear: 120mm XtraFlo fan (no LED) x 1  (installed)
Left Side: 120/140mm fan x 1 (optional) – for KKN1 / KKN2 only
Right Side: 120mm fan x 2 (optional)
Power Supply Type
Standard ATX PS2
Maximum Compatibility
VGA card length: 320mm / 12.6 inch
CPU cooler height: 164mm / 6.4 inch