Article Index: >>
Page 2 »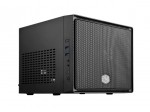 The Coolermaster Elite 110 is a small chassis with a big heart. It has the ability to be many things, but are they the things that you are wanting from the diminutive Mini-ITX sized case? Read on…
Review Sample Provided by: Cooler Master
Product Name/Link to Website: Elite 110
Product was given in exchange for work done to produce this review.
First Look: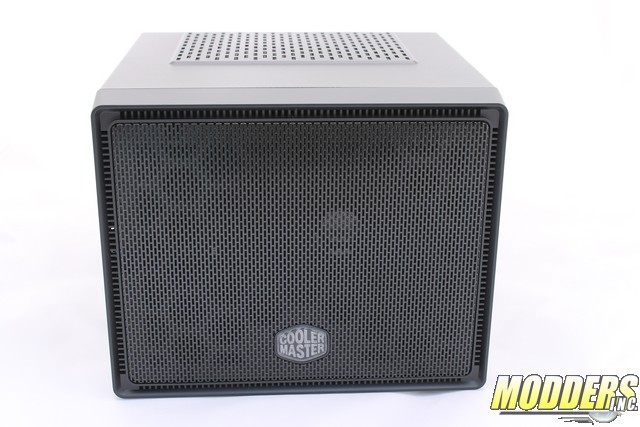 The Elite 110 is a Mini-ITX chassis. So, let's get this out of the way… it's small! There… I said it. One of the smallest cases I've seen in a long time. Remember the original Shuttle cases? Yeah… about that same form factor, but (I believe) shorter. It is designed for the aforementioned Mini-ITX specification of motherboard, 6.7in x 6.7in (170mm x 170mm) max. Cooler Master recognized that many people were wanting more power and flexibility out of their small form factor builds, thus driving them to create this "under the radar" chassis. Small, but give me options of "I want to put a dual slot video card on this", or "Don't obstruct my memory!", or "Let me water cool my CPU!"…. you know… things like that! Things that enthusiasts bump into when building machines for ourselves or friends.
At 260mm wide x 280mm deep x 208mm tall, it is not big, so you need to plan your build well.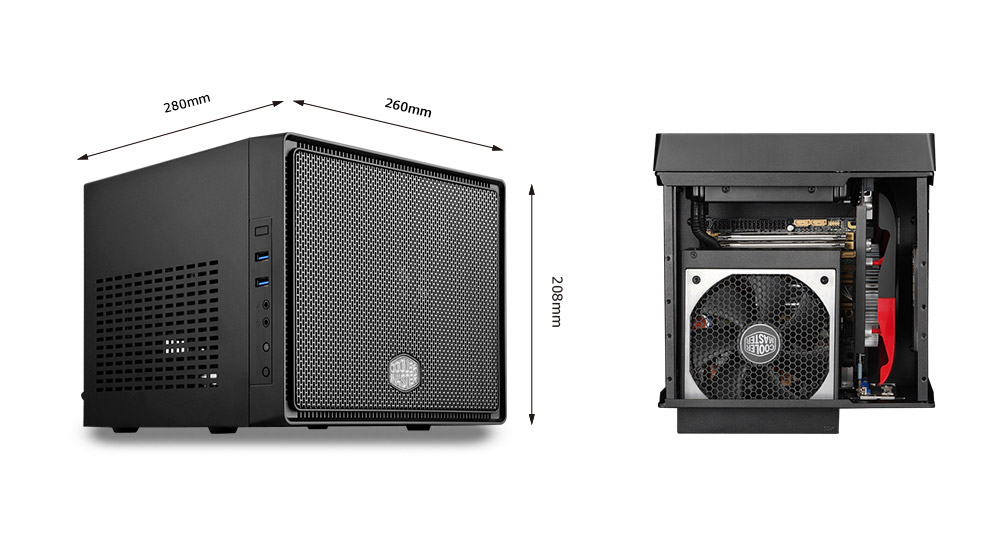 The Cooler Master Elite 110 is actually a member of a family of chassis that are geared toward users wanting more flexibility in a smaller chassis: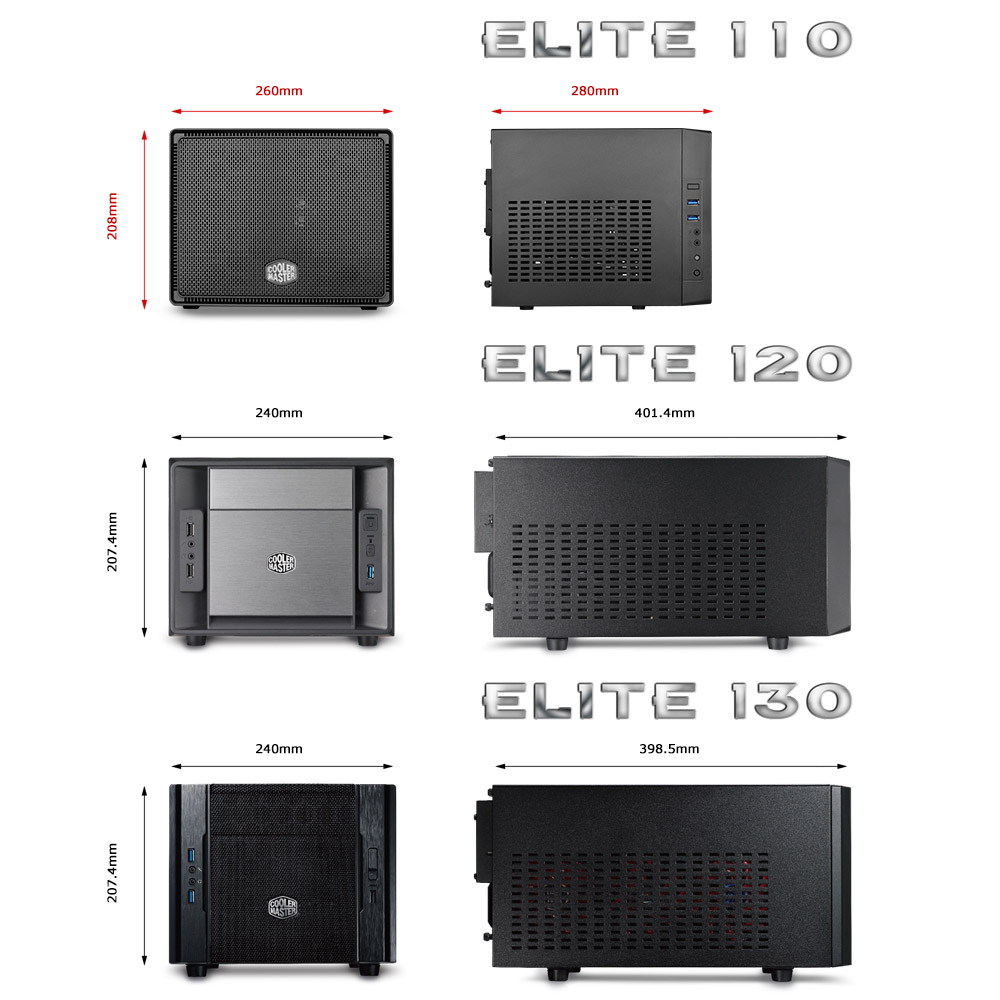 The Cooler Master Elite 110 Mini-ITX  is the smallest of the line. Formal things you can expect from the case are as follows:

The mini-ITX case with front mesh panel and vents on the top and side panels for better airflow
One 120mm fan in the front (included) and Two 80mm fan on the side (optional)
Dual Super Speed USB 3.0
Supports a 120mm radiator in the front
Supports standard length ATX PSU up to 180mm
Supports graphic card length up to 210mm
Ample storage – up to 3 HDDs / 4 SSDs
Full listing of granular specs are as follows:

Model Number
RC-110-KKN2
Available Color
Midnight Black
Materials
Appearance: polymer front mesh panel
Case body: Steel alloy
Dimensions (W x H x D)
260 x 208 x 280 mm / 10.3 x 8.2 x 11.1 inch
Net Weight
2.65 kg / 5.9 lbs
M/B Type
Mini-ITX
3.5″ / SSD Drive Bays
3.5″ HDD x 3,
or 3.5″ HDD x 2 + SSD x 2
or 3.5″ HDD x 1 + SSD x 3
​or SSD x 4
I/O Panel
USB 3.0 x 2, Audio In & Out
Expansion Slots
2
Cooling System
Front: 120mm fan x 1 (installed, converted to 140mm fan x 1)
Side: 80x25mm fan x 2 (optional)
Power Supply Type
Standard ATX PS2
Maximum Compatibility
VGA card length: 210mm / 8.3 inch
CPU cooler height: 76mm / 3 inch
PSU length:
180mm/ 7.1 inch (w/ less cable management)
142mm / 5.6 inch (w/ full cable management)
Article Index: >>
Page 2 »