NVIDIA GM204 Maxwell GPU Overview »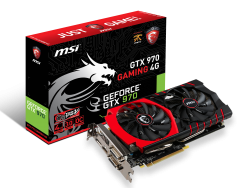 Not too long ago Nvidia introduced the world to the Maxwell architecture. The GTX 750 and 750 TI were the 1st Maxwell chips from the Green team although the the 750 series was aimed at the budget minded consumers. One of Maxwell's  biggest features is efficiency and boast 2x performance per watt over the GTX 600 series which allows the Maxwell chips to sip power rather than gobble it down. Today is the the birthday of the the 750's bigger brothers. Nvidia is launching the GTX 970 and 980 GPUS at their Game 24 event.
We were able to get our hands on a retail version of the GTX 970 from MSI. The MSI GTX 970 features the new Twin Frozr V that features two 10 cm fans that can be controlled individually through MSI's software. Through MSI's Gaming App, overclocking of the GTX 970 can be automatically controlled. So how does the MSI GTX 970 stack up against other cards in the same class? Read on to find out.
[sc:sponsor sponsor="MSI" product_name="MSI GTX 970 Gaming 4G" product_price="349.99″ ]
Specifications and Features
Product Specification
Model Name
GTX 970 Gaming 4G
Model
V316
GPU
NVIDIA GeForce GTX 970
Codename
GM 204-200
Processors
1644 Units
Core Base Clock (OC)
1140 MHz
Core Boost Clock (OC)
1279 MHz
Memory Clock
7000 MHz
Memory Size
4 GB DDR5
Memory Bus
256 bits
Output
DL-DVI-I/DL-DVI-D/DisplayPort/HDMI
Power Consumption
148 W
Dimension/Weight
269x141x35 MM / 814 G
Form Factor
ATX
Technology Support
AfterBurner OC
GPU
DirectX
12
OpenGl
4.4
Multi-GPI
SLI, 3-way
Multi-Display
NVIDIA Surround
3D Technology
3DVision
Power Saving
GPU Boost 2.0
HDCP Capable
Y
Accessories
Driver CD
Y
Installation Guide
Y
DVI to VGA Dongle
Y
Power Cable
8-pin x1
Features
Next-Gen Thermal Design: Twin Frozr V
Torx Fan – Maximizes airflow and dispersion
SuperSu Architecture – Improves dissipation efficiency through special heatpipe layout
Zero Frozr – Fans stop spinning in low load to keep the card quiet and increase lifetime
Airflow Control Technology – Deflect airflow towards heatpipes to improve thermal efficiency.
Gaming App
Easy Tuning – OC, Gaming and Silent modes adjust Graphics Card settings based on user requirements.
Eye Rest – Dedicated color profiles for Gaming, movies, and Eye Rest (reduced blue light) custom color, Gamma, Brightness and Contrast settings from within the Gaming App.
Military Class 4 Components
Certified to MIL-STD-810G standards for top stability and quality.
Built with Hi-Cc CAP, Solid CAP and new SFC Components.