« Hardware Install
After digging around, taking it apart and installing a system I will have to say that I believe the Corsair 680X RGB is made mostly for high airflow cooling. Corsair does list a lot of possibilities to mount radiators of all sizes, yet you really have nowhere to install a good size pump and reservoir. This leads me to think that they are hoping/pushing you to install one of the Corsair AIO's. Which is not a bad idea, considering the smaller inside size of the 680X. Now I am not saying that a custom water cooling loop could not be installed. You will just have to down-size some the components or maybe placing in them on the non-viewable side. But, as case modders will do, a window could be easily be added to show off the water cooling hardware.
Not being a fan of all the crazy RBG stuff when it is pushed upon you and can't you can do nothing about it or with it. I will say that the NODE Pro and iCUE software helped ease my pain. Playing around with it and being able to set a nice single color that was not too bright, made me rather happy. The two products allow you to do so much with the lighting that found myself playing with the lights and effects for quite some time.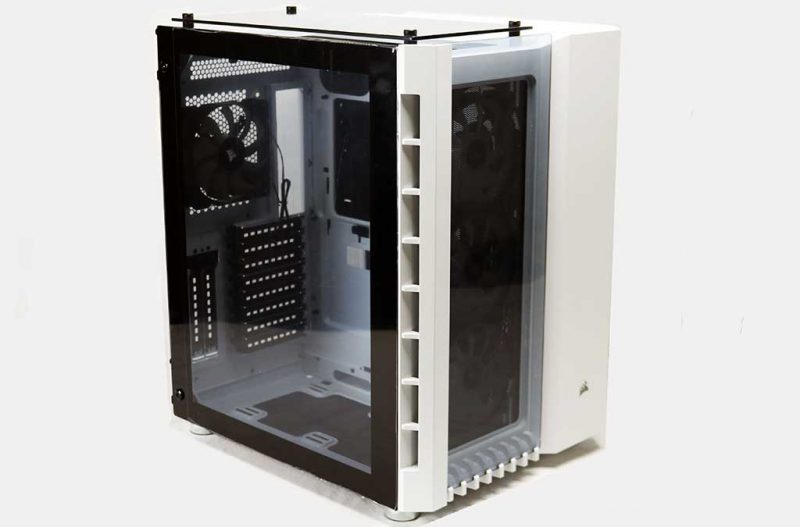 Placing the power supply vertically behind the motherboard mounting was smart for several reasons. One is that you have now created a compartmentalized case that has removed some of the heat from one area completely. Second, you have now lowered the overall height of the case, yet you can still install an ATX sized motherboard. Lastly, you made a huge area to route and hide every single cable. Great for those that just hate to do cable management but want a clean looking inside, but also great for those that must make sure that every tiny cable is folding, routed, and tied down.
At a suggested price of $249.99USD, some might think that is a very tall price to ask for. But, if you step back, look at what you are getting and add up the pricing of the NODE Pro, three LL120 RGB fans and a fourth 120mm rear fan you are already at about $160+. So this means you are only paying about $80 for the case. Overall I do like the look (minus the top glass piece…) and size of the Corsair 680X RGB. The white color gives a great base for someone like me, a modder, to paint the case any color I want it to be. If you are looking for your next custom build and want it to be incredibly easy and undeniably cool then I would recommend that you take a long look at the 680X RGB. So with that said I have already installed a new system into the Crystal Series Corsair 680X RBG and will be using it soon as my daily PC, but I think I am going to keep it white… for now.