DDR Memory
Corsair Dominator Platinum RGB DDR4 Memory Review
Article Pages:
« Software, Test System, Benchmarks, and Overclocking
Conclusion and Final Thoughts
RGB, RGB, it's everywhere. Corsair has built a complete package of RGB products that can now be managed all from one application. While I'm not particularly fond of the cycle of rainbow colors, I do find that I like the options to change colors whenever I want. The more products I use from Corsair and the more I use iCue, the more I really like it.
On the Dominator modules, the big news is the new, smaller, Capellix LEDs. Corsair has redesigned the modules as well as the diffuser to only put out light where they want it. The Capellix LEDs are small enough that they packed 12 of them into each module. The color reproduction is very good, the colors are vibrant. They are also very bright. In fact, so bright, that on the open bench, at times, I wish I had the option to adjust the brightness. However, inside a PC case, they would do well to add even more light to your scheme.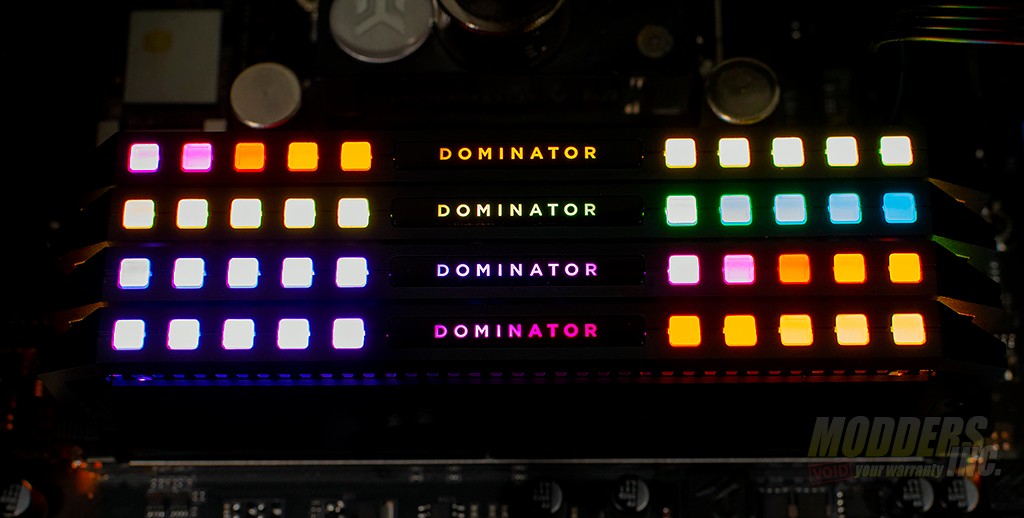 The stock performance of the Corsair Dominator Platinum RGB was good. Since this was my 1st non-overclocked 3600MHz kit, I had to compare with some other kits that would at least overclock (MHz only, not timings) just to get an idea of the performance. And the Corsair performed better for the most part than the overclocked parts. Overclocking the Corsair Dominator Platinum RGB was a bit of a chore as setting after setting would crash the PC or it would refuse to boot. Finally, I settled on 18-21-21-42 with a row refresh time of 700. I was able to gain an additional 400 MHz from the memory modules and settled in at 4000 MHz. Overclocked stability was good after the I found the stable settings. During the 4 hour test, the PC didn't experience any issues nor did it experience any issue during the overclocking benchmarks. Corsair has the Corsair Dominator Platinum RGB dialed in with just a little bit of headroom.
32 Gigabytes of RAM also opens up a bit of room on your PC for things such as content creation. Gaming performance really didn't improve a whole lot with more system memory, but video rendering performance seemed to slow the system down less as compared to 16 Gigabytes of RAM. This particular 32 GB kit is going to cost a pretty penny at $529.99. The Dominator line is aimed at enthusiasts and has never been on the budget side of the equation. I got a chance to take a peek at these modules at CES and was impressed with the LEDs then and now that they are in my system, I'm impressed even more so. The only complaint, if you could call it that, that I have is the lack of compatibility with motherboard software.
Corsair offers their new Corsair Dominator Platinum RGB kit in capacities from 16 GB up to 128 GB and speeds ranging from 3000Mhz up to 4800Mhz. If you're looking for some of the best LED lighting available on memory modules and some really good performance, you should really check out the Corsair Dominator Platinum RGB line.