News and Articles
ECS, Elitegroup Computer SystemsAnnounces the launch of the ultra-small LIVA Q2!
LIVA Q2 Mini PC with efficient, powerful function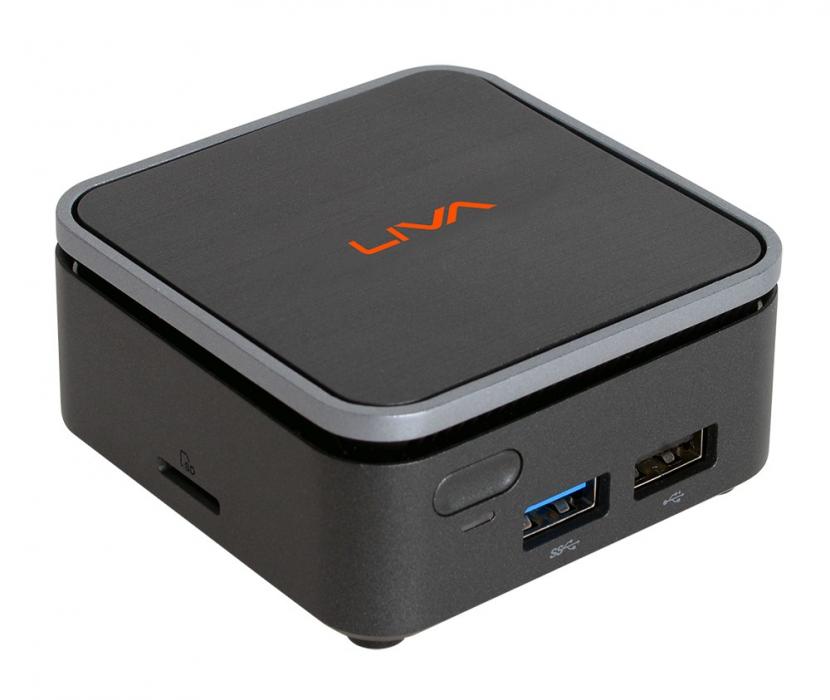 ECS, Elitegroup Computer Systems announces the release of the Powerful yet Tiny LIVA Q2 mini PC!  This fully functional personal computer is small enough to fit in the palm of your hand, yet powerful enough to handle almost all of your daily computing needs.  Use it to create a unique mini Home Theater.  Control digital signage in your business.  Take it along on that business meeting.  The LIVA Q2 features 4K video through an HDMI connector.  Build in LAN/Wifi.  With 3 different processor choices, 2 or 4GB of Memory, 32 or 64GB of onboard storage and up to 128GB in the Micro SD slot, there isn't much this pocket PC can't do.  Running Windows 10, the LIVA Q2 can handle almost any program or application you can throw at it.  Take a look at what ECS has to say about the new "Ultra-Small LIVA Q2 Mini PC!
ECS has launched the ultra-small LIVA Q2 Mini PC with efficient, powerful function
[Taiwan-Taipei]Elitegroup Computer Systems (ECS), the global leading motherboard, Mini-PC, Notebooks, mobile device, and smart city solutions provider, is pleased to announce the LIVA Q2 – the silent, energy efficient multi-functional mini PC designed for various smart solutions such as home entertainment, smart offices, and modern classroom. It can also be used with digital signage and successfully used in smart retail solutions. Ultra-mini body design, but the applications are beyond imagination.
Tiny in size, big in performance
With the beautifully designed LIVA Q2 mini PC can meet all the device connections you need by providing full I / O support. The mini PC support for Microsoft's latest Windows 10 operating system. The LIVA Q2 is integrated with Intel® Pentium® Silver/Celeron™ processor. Simply by using the Intel Unite application on client's device, which clients can easily integrate participants, solutions, and platforms into one.
Stunning 4K visuals
Featuring Intel HD 600 series integrated graphics, it supports revised video engine now decodes HEVC 10-bit, playing 4K video smoothly and give you ultra-realistic visuals with HDMI 2.0 video output. It also features a micro SD slot to fit your storage expansion needs. With the full function of desktop computing but space-savingly sized design.
Online Anywhere with LAN/WiFi Options
LIVA Q2 support dual band Wi-Fi picks up 2.4GHz + 5GHz signals design, streamline your online streaming videos like YouTube with the new generation Wi-Fi ac technology, and more timely sync when you need cloud backups. Wireless Bluetooth, you are connected to all kinds of peripherals with no trouble/ cable.
Easier way to control the Mini PC
LIVA Q2 features of HDMI designed to allow users to control devices connected to display via HDMI connection, by using the remote of the display (TV), when user switch on the display and connected devices, it will be turned on along with the display. (Note: Only support by HDMI-CEC display)
LIVA Q2
CPU
Intel® Pentium® Silver N5000            Intel® Celeron™ N4100                  Intel® Celeron™ N4000
Memory
LPDDR4 2GB/4GB
Graphics
HDMI
LAN
1 x Gigabit LAN
Dimension
70 x 70 x 33.4mm
Storage
eMMC 32GB /64GB
1x Micro SD slot (Max 128GB)
Wireless
Wi-Fi 802.11a/b/g/n/ac + Bluetooth 4.1
Audio
HDMI Audio
OS Support
Windows 10
Power Supply
Input : AC 100-240V
Output : DC 12V / 2A
LIVA Q2 Product Information :
http://www.ecs.com.tw/ECSWebSite/Product/Product_Overview/EN/System/LIVA%20Q2/LIVA
About ECS
ECS, Elitegroup Computer Systems, was established in 1987. In recent years, ECS's main focus has expanded from motherboards to All-in-One PCs, notebook computers, Mini PC and other mobile products. ECS is strongly committed to developing cutting-edge technology in order to create innovative products under environmentally friendly designs. ECS's comprehensive quality control system ensures all of ECS products can be counted on for stability and reliability. Visit http://www.ecs.com.tw to learn more.www.ecs.com.tw