PC Water Cooling
EKWB-Supremacy Classic RGB – Nickel + Plexi Waterblock Review
Flash back to the past
« A Closer Look At The EK-Supremacy Classic RGB
|
Test System and Results »
Installation
Unlike the previous budget water block, the Supremacy MX, you will not have to remove the stock Intel back plate in order to Install the Supremacy Classic on the Intel 11xx platform. You will, however, need to install the rubber gasket between the motherboard and the EKWB back plate. This will electrically isolate the back plate from any pins protruding from the motherboard. Make sure to line up the 3 holes in the back plate with the screws from the Intel socket.

Next up, you'll flip the motherboard over and install a washer on each of the longer standoffs and screw them into the back plate. The plastic washers act to protect the motherboard's traces. This will need to be done four times. If you're installing the Supremacy Classic on the HEDT platform, you will not need to use the included EKWB back plate. The shorter standoffs will screw into the stock Intel CPU brackets.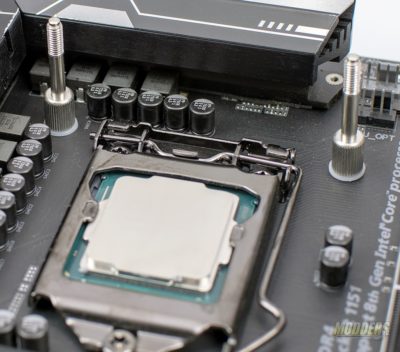 Once the standoffs are installed, you'll need to add a dab of thermal paste to the top of the CPU and set the block on top. I tend to use a small drop in the center of the CPU and then allow the water block to spread the paste as it is tightened. Then you'll take the four springs and place them on the standoffs with the ears of the water block below the springs. Finally, you'll take the caps and screw them down on the standoffs. Tighten them until they stop. Be sure to tighten in a criss-cross pattern to ensure even thermal paste spread.