PC Water Cooling
EKWB-Supremacy Classic RGB – Nickel + Plexi Waterblock Review
Flash back to the past
A Closer Look At The EK-Supremacy Classic RGB »
EKWB's Supremacy CPU blocks have been a favorite of may water cooling enthusiasts and overclockers. With the launch of the Quantum line of products, EKWB also launched their Classic Line. The Classic line retains a familiar look of EK blocks of the past with minor aesthetic updates. The updates include an RGB LED strip under an aluminum cover on the water block. The Supremacy Classic still uses the jet-plate style cooling engine of previous blocks and has been updated for easier maintenance.
Packaging
With cost-conscious consumers in mind, EKWB chose a plain cardboard box for the Supremacy Classic. There's no flash or flair here, just straight down to business. A small line art drawing of the block is on top while the socket compatibility is now listed on the side of the box.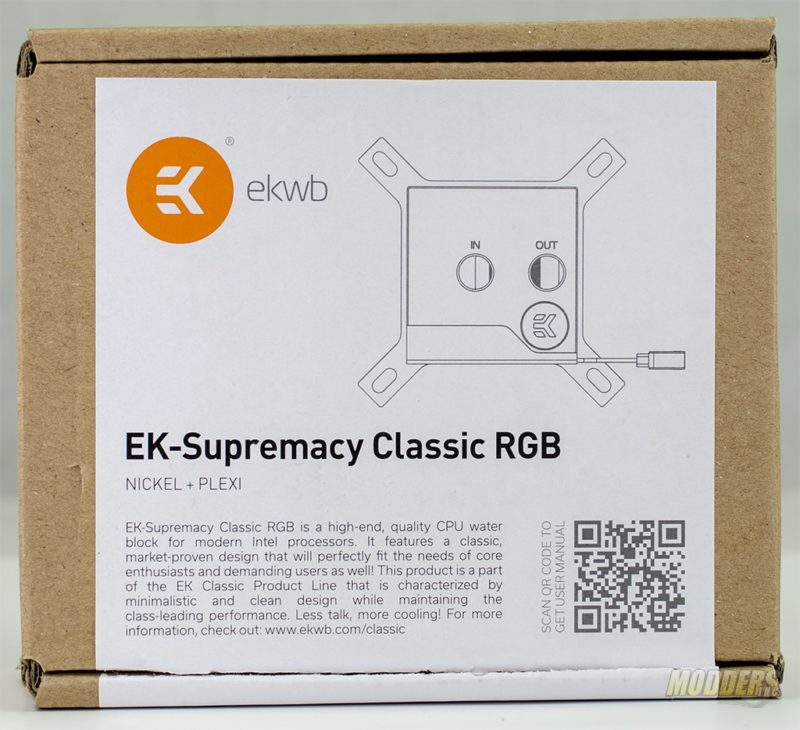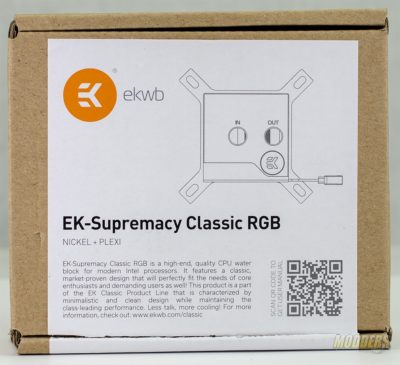 Inside, you'll find the installation kit in the first compartment, the water block and thermal paste below that, and underneath the last bit of foam is the rubber gasket and EK's back plate. This review will cover the Intel block and the installation kit reflects as much. Included in the kit are standoffs for both desktop and HEDT (x99/X299), plastic washers to electrically isolate the stand-offs from the motherboard, tension spring, caps, two replacement jet plates, and a hex key used to tear down the block for cleaning and maintenance.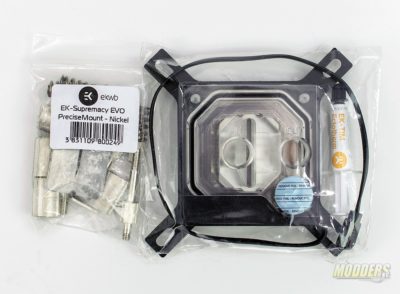 Technical specifications:
– RGB cable length: 30cm
– RGB connector classic 4-pin (12+ R G B)
CPU socket compatibility:
– Intel LGA-1150/1151/1155/1156
– Intel LGA-2011(-3)
– Intel LGA-2066

Enclosed: 
– EK-Supremacy Classic RGB CPU block