PC Water Cooling
EKWB EK-XLC Predator 360 All-In-One CPU Liquid Cooling Unit Review
« Introduction | Installation »
A Closer Look at the EKWB Predator 360
The Predator is sold as a 360mm radiation but,  you will have to take into account the extra size of the radiator as there is extra length due to the pump and reservoir at one end. The kit measures in at 415 x 133 x 68mm (including fans). The Predator will mount in locations where there is enough room to mount 3 120mm fans requires 15mm in between fan mounting holes. As long as your case meets the requirements with just a little extra space, you should be good to go. As a matter of fact, EKWB is asking for help with listing case compatibility. You can go to http://predator.ekwb.com/case-help and let EK know about which case you've installed the predator in and how it went.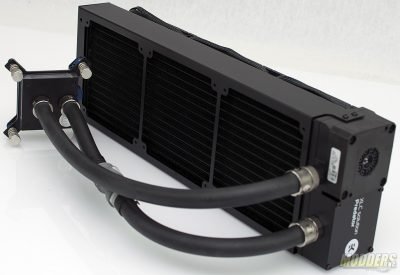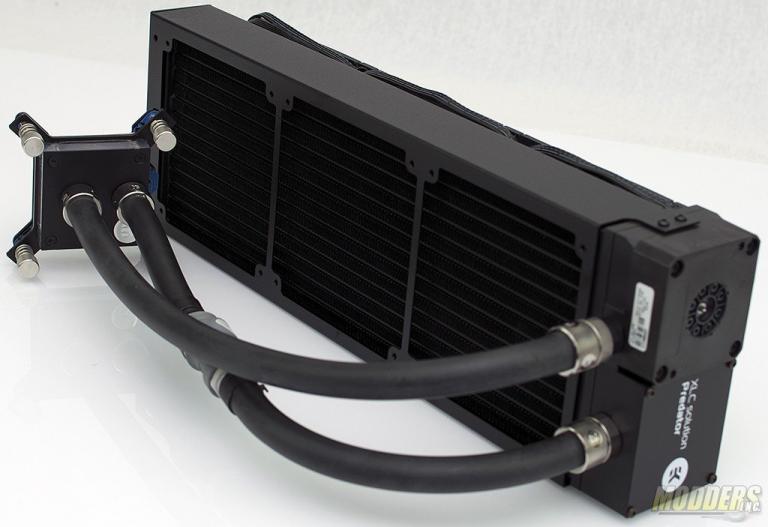 The pump and the reservoir are located at one end of the Predator 360. The pump is a custom DDC3.1 and only draws 6 watts. EK says the pump is powerful enough to add additional restrictions in the loop more specifically, they say this pump will support another 240mm radiator and a GPU water block.
The waterblock is the major  change between revisions 1.0 and 1.1. From the outward appearance, the hold down screws are no longer attached to the waterblock. The other difference between the two kits is the backplate.
The bottom of the water block is one piece of copper. The base is very flat with very little visible distortion. The included mounting system is compatible with all Intel LGA-11XX and Intel LGA-2011 socket types.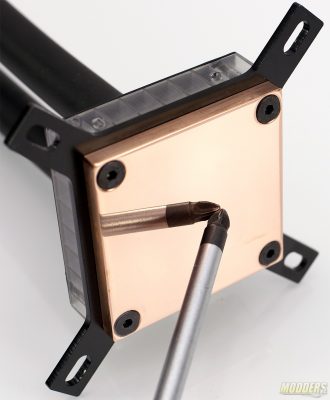 At the other end of the radiator is the PWM controller. There is a place to hook up power to the board as well the PWM signal from the motherboard. There are three PWM fan headers and a PWM pump header. EK has taken care to make sure the wires leading to the fans and the pump have all been tucked and zip tied together. This board is powered via a cable that connects to a SATA power connector on the power supply.

In the default configuration the three EK Vardar fans are set to a pull configuration. Meaning that with the fans mounted to the top of the case, the fans pull air from the inside of the case, then through the radiator, and finally, exhausts out of the top.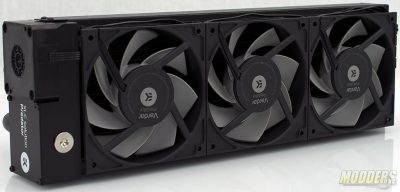 The tubing is EKWB's ZMT EPDM rubber tubing. The length of the tube is around 15 inches. In the middle of one of the tubes is the Quick Disconnect Connector. This allows you to add another waterblock such as a GPU waterblock into the loop without having to drain and refill the loop. The QDC is also toolless and is no-spill. However, you will also need to have QDC connectors on the additional waterblock to complete the loop.