Page 2 »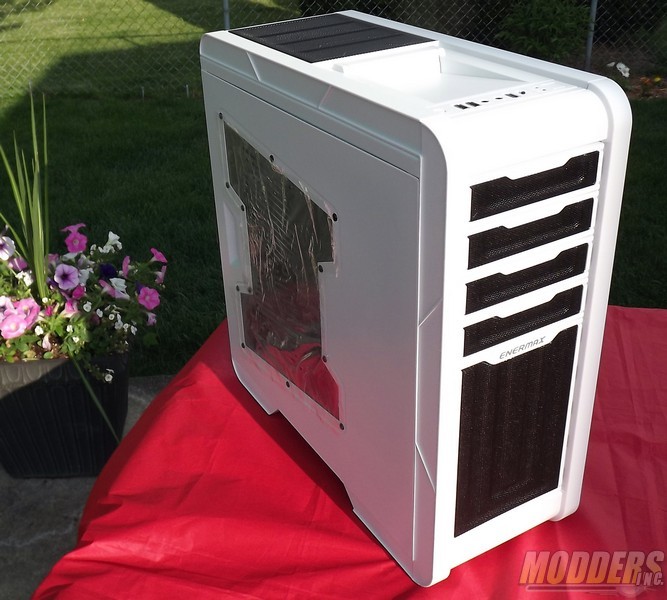 The Hoplites were the heavily armed infantry soldiers of the Greeks.They were named after the shield they used which was a Hoplon that protected them in battle from fierce competitors that used anything they could to get past the shield. Enermax knows that you want your hardware battle ready. Can this HOPLITE defend off everything that can be tossed upon it? Let's find out…
[sc:sponsor sponsor="Enermax" product_link="http://www.enermaxusa.com/case_eca3261.php" product_name="HOPLITE ST" ]
 First Look – Packaging and Information 
Definition: "The Hoplites were the heavily armed infantry soldiers of the Greeks. It is thought by many that the name "hoplite" comes from a Greek word "hoplon" for a specific shape (large and round) of shield with a "flat offset rim (itus)" and two handles on the inside." Almost describes the Corporate Logo.

Enermax Technology Corporation is a world-renowned PC Power Supply Unit manufacturer. Since establishment in 1990, providing power supply products and peripherals like chassis, cooler, fan and keyboard.
The Enermax HOPLITE ST ECA3260 Series boxing is 3 color double layer cardboard, blue graphics with red company logos and shows 4 model names ECA3260-B ECA3260-W ECA3261-B and this review has model ECA3261-W checked off. Labeled on the box is "Made in China." Box Dimensions D275 x W550 x H565 mm. Weight W/O PSU N.W: 7.1 KGS G.W.: 8.3 KGS.
Materials bag Includes: 
Users Manual showing
~Specs
~Instructions for Hot Swap Dock
~Height/Length Clearances for GPU and Coolers
~Cable Connection/Header Pin layout
2 6″ Velcro Cable Management Straps
Mini Speaker for MOBO Header
4 M3 .5 x 34mm screws
18 m3 .5 mounting screws
4 6/32nds mounting screws
2 6/32nds Mobo stand offs (extra in addition to those already mounted with case)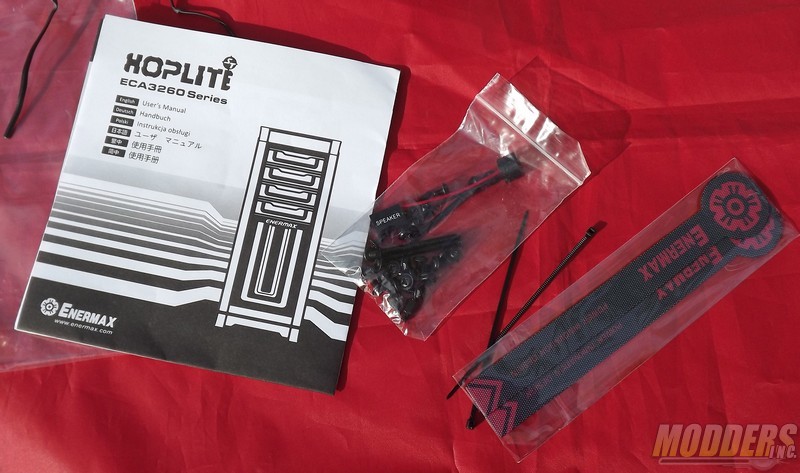 Other than the case image, name and logo's the only other information on the box is the case specifications:
Model Name

ECA3261-B

ECA3261-W

Dimensions (mm)

487 x 200 x 496 mm

Material

SECC 0.6mm

Drive bays

5.25″

4

3.5″

6 x hidden ( 3 x removable)

2.5″

6 (converted from 3.5)

M/B

Micro ATX, ATX

Power

ATX 12V (Optional)

Front I/O

USB 2.0 x 2, USB 3.0 x 1, HD Audio

Cooling

Front

12cm LED fan x 1

12cm LED fan x 1

Rear

12cm fan x 1

12cm LED fan x 1

Side

Acryl window, w/ 12cm fan x 2 (Optional)

Top

14/12cm fan x 1 (Optional)

Expansion slots

7
Options vary by countries or regions. Product specifications are subject to change without notice.
Our first looks of this budget category case makes you begin to question; what's "budget" about this mid tower case?
· 1 x USB 3.0 external 2 x USB 2.0 external
· Audio ports for Mic and Headset
· 3 position slide fan control
· Status LED power and HDD activity
· Power and Reset buttons are fairly safe and secure from accidental function
· Top SATA dock with access dust door
· Upper and front panels removable by hand
· Side panels secured by thumbscrews and slide off easily
· Grab handle for easy side panel removal
· Cable management guide holes with rubber grommets
· Smart looking White with Black detail mesh with sponge filters
· Mesh designs, paint, looks overall above "budget case" expectations
· Tool-less removable bay covers and lower front panel sections
· 5 fan locations 2 x 120mm 2 x 80-120mm and 1 x 140mm
· Acrylic window with 2 fan vents variable from 80mm to 120mm
· Acrylic window is attached with push rivets
· PSU dust filter