« Installation and Clearance Issues
|
Final Thoughts »
Test System and Benchmark Results of the Enermax LIQMAX II 120S
Ambient temperature monitored at case intake and temperature Delta was used.
All case and heat sink fans were bench marked with fan control settings disabled and running at 100% unless otherwise specified.
Temperatures are averaged (last minute) from individual core temperature results monitored by AIDA64 after 15 minutes.
FPU load average is used to simulate worst case scenario load levels similar to Intel Burn Test or OCCT, results marked "0″means thermal limit was reached and the CPU was throttled and thus the results were discarded.
Stock settings have all power saving features enabled in the motherboard with Vcore set static to 1.264V and set to "Balanced" in the OS. Multiplier at 16 at stock speed of 3.2GHz.
Overclocked settings have Vcore voltage automatically set to 1.264V with adjusted multiplier set at 20 to gain overclock at 4.0GHz.
All tests were taken at least three times to get the final result.
TDJ 834 was used for noise level measurement in dBA, 20CM away from the center fan exhaust.
Benchmarks: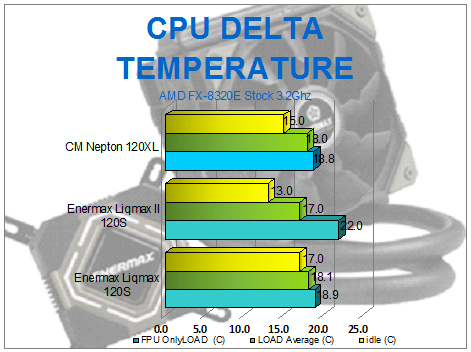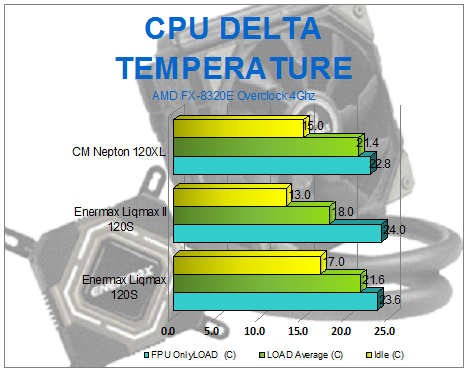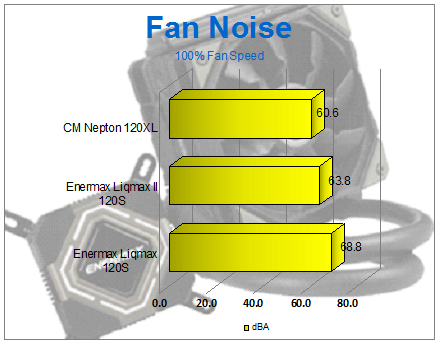 Performance Summary
Enermax Liqmax II 120s performance was very much similar to first generation of Liqmax 120s. Temperatures on a stock CPU speed were very low and even when I overclocked my CPU to 4.0 GHz the temperatures remained low in CPU and FPU benchmarks. FPU benchmark temperatures tend to run a little bit hotter, however temps were very much in acceptable range. Just a reminder, these reading were taking with fans running at full speed. So if you are planning to replicate our benchmarks with this All In One CPU cooler set the fans to full speed with the switch on the fans in your motherboards BIOS profile. Fan noise levels were a little bit better than Liqmax 120s. The audio levels were measured outside of the case and do not represent noise levels of the fans by themselves.