A Closer Look at the Enermax LIQMAX II 120S »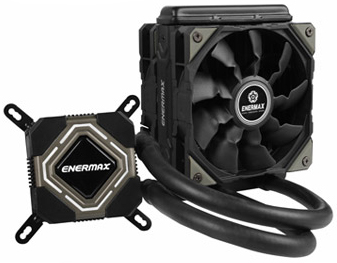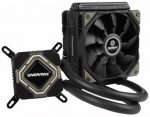 When it comes to a new build I always keep cooling in mind. Not every rig I build has custom water reservoirs, custom piping or fancy radiators. Sometimes I just need a machine to work without spending an enormous amount of cash on custom parts. I find that All in One (AIO) cooling systems are easy to install, work well and without any maintenance. With AIO systems you are up and running in a matter or minutes and a fraction of price. I am going to be taking a look at one of the newest products from Enermax, Liqmax II 120s. Liqmax II 120s is a All in One (AIO) one CPU water cooling system that could be used with Intel or AMD CPU chips.
Review Sample Provided by: Enermax
Product Name: Enermax Liqmax II 120s
Price at time of review: $ 75.24 USD MSRP
Product was given in exchange for work done to produce this review.
If you follow Enermax then you are probably already familiar with their water cooling system line up. The Liqmax II 120s and Liqmax II 240 is the new addition to the family. Enermax packaging of their AIO systems are designed very familiar and Liqmax II 120s is no exception. I do have to say it is very detailed as the dimensions and specifications are listed on the back of the packaging box. What I found interesting here is the new design to the CPU block. Liqmax II 120s features Shunt-Channel-Technology that delivers better cooling to the entire CPU chip.
Enermax included everything you need to install this all in one cooler. The package includes two 120mm fans, CPU block, 120mm radiator and a set of mounting hardware for both Intel and AMD chips.
Technical Specifications
Model
ELC-LMR120S-BS
Cold Plate
Material
Copper
Pump
Bearing
Ceramic Bearing
MTBF
50,000 hours
Motor Speed
2700 rpm ±10%
Rated Voltage
12 V
Rated Current
0.3 A
Radiator
Dimension
154 x 120 x 27 mm
Material
Aluminum
Tube
Material
Rubber
Length
300 mm
Weight (w/o fan)
580 g
Bracket
Compatibility
Intel® LGA 775/1150/1151/1155/1156/1366/2011,
AMD® AM2/AM2+/AM3/AM3+/FM1/FM2/FM2+
Fan
Dimension
120 x 120 x 25 mm
Speed
500-1200/1600/2000 rpm ±10%
Rated Voltage
12 V
Rated Current
0.09/0.19/0.38 A
Air Flow
27.7~58.3/75.5/96.0 CFM
47.1~99.1/128.3/163.1 m3/h
Static Pressure
0.4~1.3/2.4/3.0 mm-H2O
Noise Level
16~23/30/35 dBA
Connector
4 pin PWM
Warranty
2 years