ENERMAX' latest STEELWING aluminum enclosure was first seen by the public at CES 2016, where it was on display in the Bally's Hotel ballroom. Aside from having an aluminum body, the ENERMAX SteelWing is unique in that it has a compact frame with a non-standard tower case layout. The STEELWING supports micro-ATX as well as mini-ITX motherboards and the internal contents are in full-view courtesy of an elegant panoramic tempered glass side panel.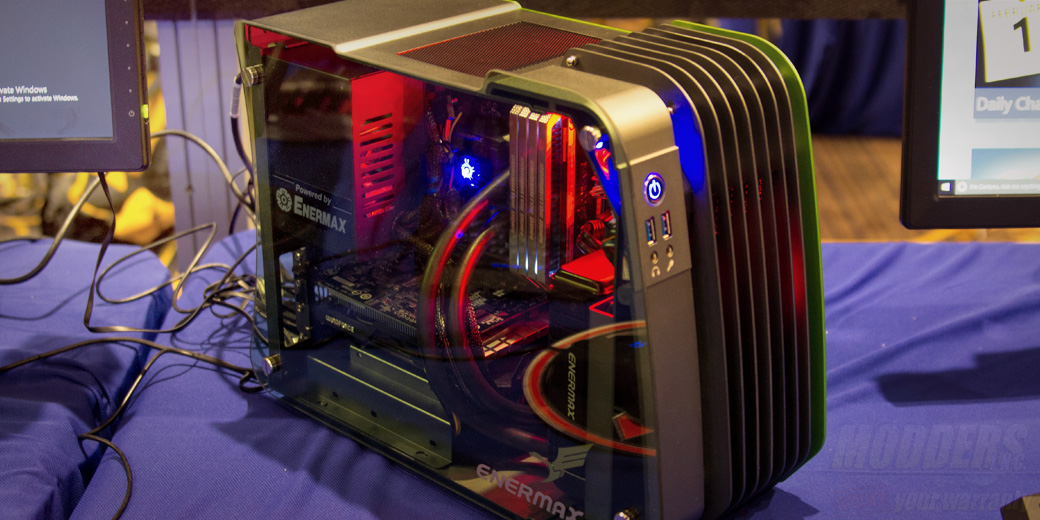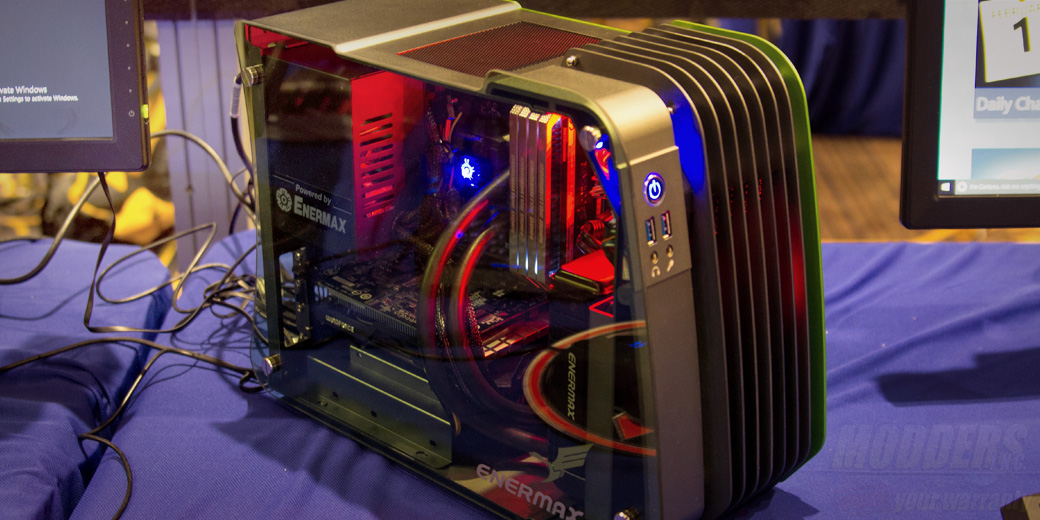 Despite the name, the STEELWING is made of quality 3.5mm thick aluminum instead of steel. The surface is actually anodized and treated so it is not the typical brushed aluminum look. A green or a red version is available, with matching ENERMAX patented circular-type LED 120mm fan in the front intake. The aluminum frame absorbs heat much better than steel chassis so thermal levels are more manageable, despite the compact size with all the components housed closer together. The front design actually has a high airflow opening with seven aluminum plates on the right side and with the front IO containing the pair of USB 3.0 ports and pair of audio jacks are on the left side.
Aside from supporting micro-ATX and mini-ITX motherboards, the STEELWING also supports standard SFX power supplies, video cards up to 290mm in length and CPU coolers up to 80mm tall. The CPU cooler height is directly affected by the power supply since it is directly in front of it. Since there is a 120mm fan location in front however, users can install AIO's with compact pump-block so as to clear the CPU location. More adventurous modders can also equip a custom loop inside as there is some room to place a compact tube reservoir (as shown in the promotional photo).  As for storage, one 3.5″ drive and one 2.5″ drive is supported on the rear HDD bracket. Three expansion slots are also available for PCI-E devices.
Specifications:
Model Name

ECB2010R
ECB2010G
Color
Red
Green
Dimensions
D387 x W176 x H300mm
Material
Aluminum, Tempered glass
M/B Type
Micro ATX, Mini ITX
I/O
USB 3.0 x 2, HD Audio
Front HDD Bracket
1 x 3.5″ HDD or 120mm liquid cooler/fan
1 x 120mm Red LED fan (Pre-installed)
1 x 120mm Green LED fan (Pre-installed)
Rear HDD Bracket
1 x 3.5″ HDD, 1 x 2.5″ SSD/HDD
Expansion Slots
3
PSU
Standard SFX Type (Optional)
Maximum Compatibility
VGA Card Length: 290mm
CPU Cooler Height: 80mm
More information is available at: http://www.enermax.com/home.php?fn=eng/product_a1_1_1&lv0=2&lv1=100&no=330