A Closer Look »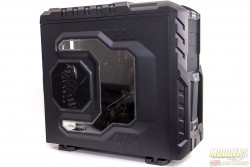 Full-tower cases are sought after for the extra room they provide for system building but if size is the only thing they offer then things would get boring fast. With the market as competitive as it is, case manufacturers have begun looking into offering more than space and design cases that appeal to a lifestyle rather than be an all-in-one generic solution. In the case of the Thormax GT, Enermax has positioned the chassis as a gaming solution befitting high-end component housing demands.
[sc:sponsor sponsor="Enermax" product_link="http://www.enermax.co.uk/thormax-gt/" product_name="Thormax GT" product_price_link="http://www.amazon.com/Enermax-Thormax-GT-Cases-ECA5030A-B/dp/B00PZZYYPM/ref=sr_1_1?ie=UTF8&qid=1429147762&sr=8-1&keywords=thormax+gt" product_price="$159.99″]
The Thormax GT (or Thormax Giant) is a full-tower case for the gaming enthusiast supporting up to E-ATX motherboards and four video cards at the same time. Adding to the conveniences of extra room, the Thormax Giant also provides a built-in four level fan controller for up to four fans with extra LED support as well as a magnetic headphone holder that mounts anywhere on its SECC steel body.
The Thormax Giant arrives humbly in a standard brown box with black print and the case is packed inside with protective foam and scratch-proof film on the windowed areas. The accessories inside include a user's manual, a bag containing an assortment of screws, cable management ties, 8-pin CPU power cable extension, magnetic headphone holder and a 5.25″ adapter for mounting a pair of 2.5″ drives and a 3.5″ device for both internal and front-bay external use.
Specification
Type
E-ATX Full Tower
M/B
E-ATX, ATX, Micro-ATX
Colour
Black
Interior Colour
Black
Material
SPCC
I/O on top
2x USB 3.0, 4x USB 2.0, HD Audio, 4-step Fan Speed & LED Control
Expansion Slots
9x
5.25 inch
4x
3.5 inch
6x (1x converted from 5.25″ adapter)
2.5 inch
8x (5x converted from 3.5″ tray, 2x converted from 5.25″ adapter, 1x behind M/B tray)
Air CoolingFront
pre-installed: 1x 180mm T.B.Vegas Single blue
optional: 1x 180 / 200mm fan
Air CoolingTop
optional: 3x 120mm / 2x 140mm / 1x 180 / 200mm fan
Air CoolingBottom
optional: 2x 120mm fan
Air CoolingRear
pre-installed: 1x 120mm Twister Bearing fan
optional: 1x 120 / 140mm fan
Air Cooling Side
pre-installed: 1x 180mm T.B.Vegas Single blue
optional: 1x 180 / 200mm fan
Liquid Cooling Top
optional: 120 / 140 / 240 / 280 / 360mm radiator
Liquid Cooling Bottom
optional: 120 / 240mm radiator
Liquid Cooling Rear
optional: 120 / 140mm radiator
Case (D x W x H)
546mm x 264mm x 557mm
Max. Length Graphics Cards
490mm (360mm with HDD/SSD cage installed)
Max. CPU Cooler Height
194mm