Motherboard and accessories »
A few months back we brought you Part 1 of the Origin Genesis PC chassis. Part one is mainly an overview of the chassis while part 2 details the installation of the hardware. I approached the installation as if the Origin Genesis was a mass produced, readily available PC chassis. I used off the shelf hardware that I had on hand to build this PC.
To start, I separated the upper and lower portions of the case. The lower portion of the case will be used in this build to house the radiators and radiator fans.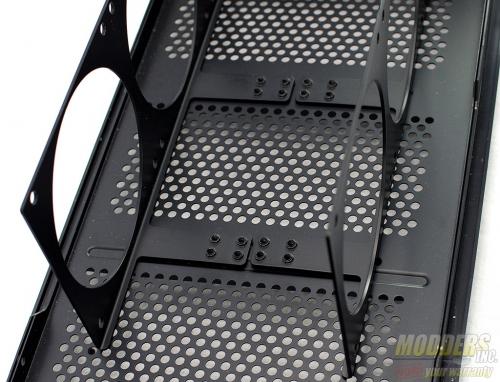 The lower portion of the case has two 360mm radiator brackets. The brackets are secured to the bottom plate of the lower chassis via screws accessible from underneath.
The first attempt to install radiators, I used an XSPC RX 360 v3 radiator. However, I had quite a few issues with the fit. 1st, the depth of the radiator would only allow one to be installed in the lower portion of the chassis. Secondly, even with one radiator installed, the top portion of the chassis hit the radiator. So using the RX 360 for this build is out.
I moved on to a considerably thinner and shorter radiator. I wound up using dual Alphacool NexXxos ST30 radiators. The Alphacool is just slightly shorter (when set on the side) at 125mm where as the XSPC measures 130mm. Width is considerably less and measures 30mm for the Alphacool vs the XSPC's RX 360's girth of 56mm. The thinner radiators allowed me to install radiators on both sides.
The radiators and fans were installed with the bracket sandwiched between the radiator and the fans. I used the 30mm screws that are included with the Alphacool radiators. The brackets are pushed to the outer edges as far as they would go.
After the fans were connected to the fan hub, the last step for this part is to reattach the top section of the case to the lower section. As I have mentioned in part 1, there are TONS of screws in this case. Everything is screwed together.