« A Closer Look at the EVGA X99 FTW K Motherboard
|
UEFI and Overclocking »
A Closer Look Continued
he EVGA X99 FTW K  uses an 8-phase VRM, consisting of an International Rectifier IR3563B PWM VRD12.5 1.3 compliant controller, capable of switching frequencies from 200kHz to 2MHz per phase and 8 International Rectifier IR3550M PowIRstage. Each is a 60A self-contained unit integrating driver, Schottky diode, control and synchronous MOSFET in a single package for efficiency. There are eight 0.23uH Inductors with 9x Anpec 560uF solid capacitors for the CPU VRin.
Memory VRM on the other hand is a 3-phase design, consisting of a pair of IR3570B for the two DDR4 banks with three 40A IR3553M PowIR stages each. An IR3570B is a dual-output controller that can be configured as 4+1 or 3+2. The APL5337 just handles termination voltage for DDR.
Below the 24-pin power connector are two flash chips that provide the dual BIOS functionality. Dual BIOS is provided by a pair of Gigadevice 25Q128CS1G 128-Mbit flash. One is socketed while the other is soldered on. The BIOS switch is located near the edge of the board next to the socketed BIOS.
The EVGA X99 FTW K provides the ability to shut down PCIe slots. There are also LED indicators that indicate the status of the PCIe slots.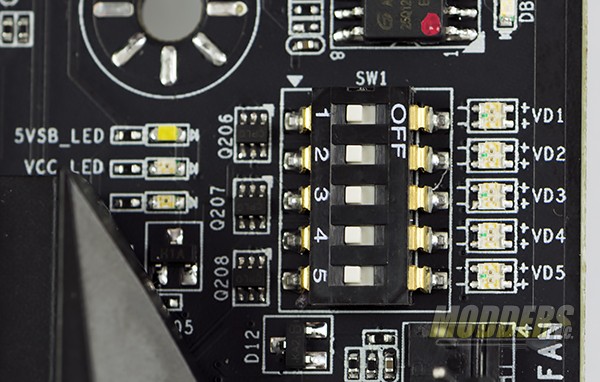 The ASMedia ASM1142 provides the USB 3.1 connectivity on the EVGA X99 FTW K motherboard. The USB 3.1 type A and type C connectors on the rear I/O panel are provided by this chip.  The ASMedia AMS 1543 is the type C connector switch.
Along with USB 3.0 from the PCH, an ASMedia ASM1042a provides additional USB 3.0 ports.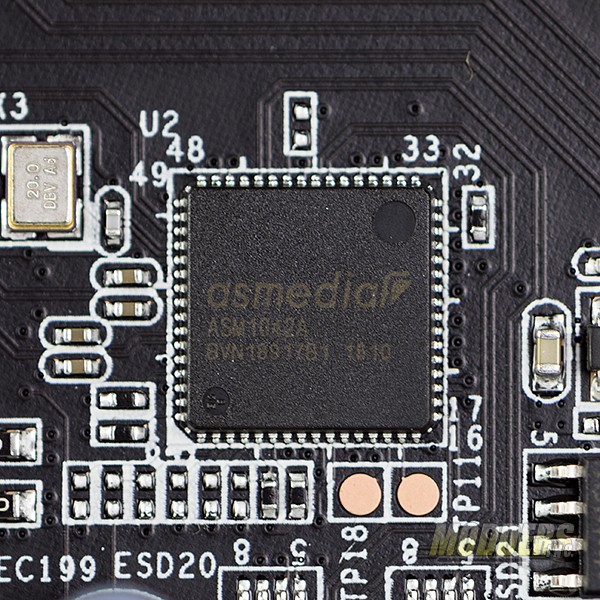 Networking is provided by an Intel I218V chip as well as a Killer Networks E2400. Both are 1 gigabit network controllers.
Audio is provided by the Realtek ALC1150 that can be configured to use 8 channels. The IC below the Realtek controller is Maxim-Integrated's MAX97220B and Nichicon MW capactors. This is a direct drive amplifier that is used to drive headphones on this board. In order to use this amplifies, users will need to plug the headphones into the rear I/O There is a physical separation on the PCB between the motherboard and the audio circuit. Doing this helps prevent noise induced into the audio system from other components on the motherboard. On the back of the motherboard, LEDs line the separation and are lit when the motherboard is powered on.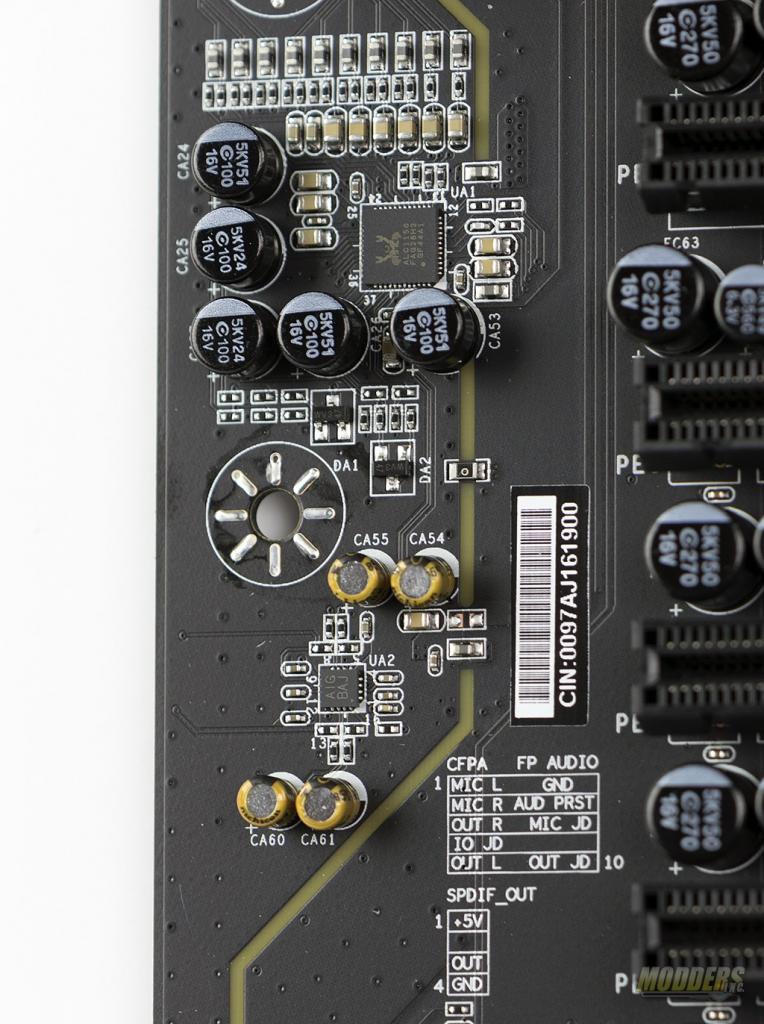 The Fintek F71889AD is the Super I/O controller for the X99 FTW K. This chip handles operations such as temperature and voltage monitoring and PWM fan operations.