News and Articles
Fractal Design introduces Prisma fan series
Fractal joins the RGB club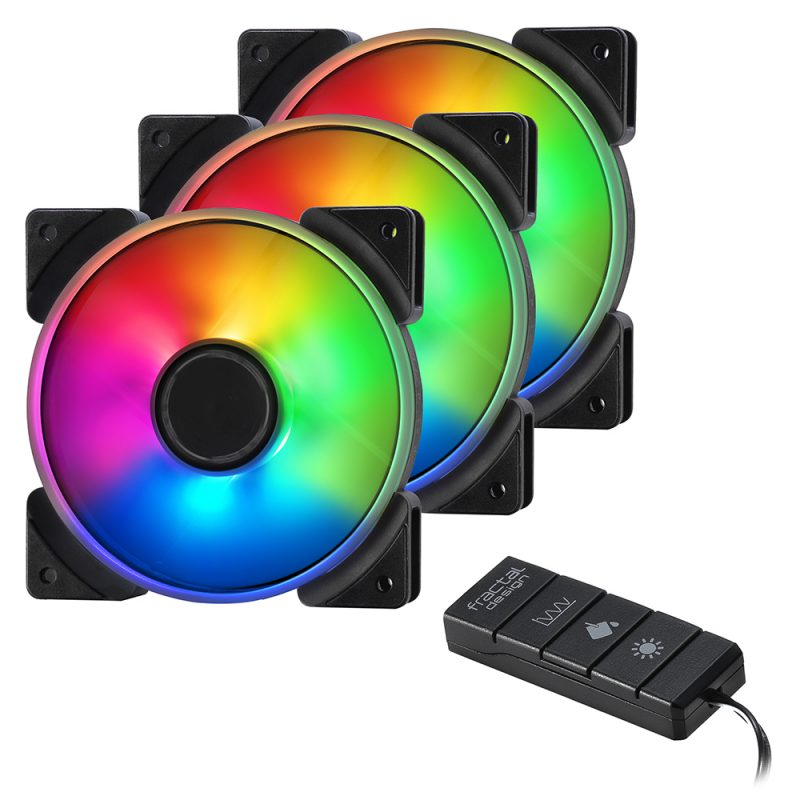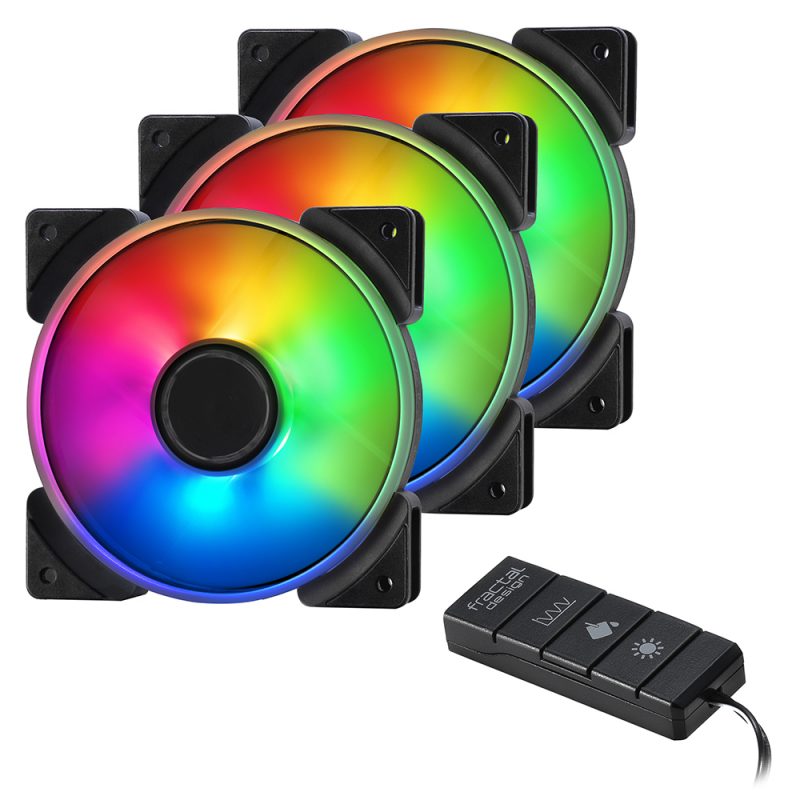 Fractal has joined the RGB club. Until now, Fractal's products have been RGBless. Fractal is releasing two new series of fans that feature RGB as well as a lighting controller. The Prisma AL series of fans feature 6 addressable RGB LEDs on the fan and they are compatible with motherboard lighting controls from Asus, MSI, Gigabyte and ASRock. The AL series fans can also be daisy-chained to make wiring a bit easier.  The SL series is LED lit in a choice of red, green, blue or white. The 6 LEDs are housed in the hub. The LED lighting controller, the Adjust R1,  is available for those that don't have LED headers on their motherboard. Presets include Preset Color, Color cycle, custom color, long rainbow, and short rainbow modes. The Adjust R1 is magnetized so that it can be easily placed on steel case panels.
Shine bright with Prisma and take control with the new Adjust R1
Sweden, February 26, 2019 – Fractal Design today announced the release of the new Prisma family of LED case fans with Adjust R1 RGB Controller accessory. Six hub-mounted LEDs work in harmony with Prisma's white semi-opaque outer ring and fan blades to produce an exceptionally uniform glow in a vibrant array of colors. Chainable RGB connections simplify wiring and premium LLS bearings ensure quiet operation with enhanced longevity.
Prisma fans come in both ARGB and solid color variations. The AL Series features addressable RGBs for full control and customization via ASUS Aura, Gigabyte Fusion, MSI Mystic Light or ASRock Polychrome, while the SL Series offers a vivid selection of solid colors with red, green, blue and white available at launch. All fans come in 120 mm and 140 mm sizes, and AL versions offer the additional choice of PWM or 3-pin connection as well as single or 3-pack bundles.
For those who prefer software-free control, the Adjust R1 RGB Controller (sold separately) lets you customize colors, adjust brightness, synchronize effects, and set color cycling modes with a variety of pulse and motion effects, all at the push of a button.
Anyone looking to add subtle or spectacular lighting and color to their PC need look no further than Prisma, available now worldwide.

Key Features
Specially designed fan blades and outer ring produce a uniform glow
LLS (Long Life Sleeve) bearings provide silent operation with a long lifespan
Trip Wire technology introduces a micro-turbulent layer for enhanced blade efficiency
Aerodynamic stator struts with embedded wiring reduce noise and turbulence
120mm and 140mm sizes available
Prima AL
Six individually addressable hub-mounted RGB LEDs
Asus AURA, Gigabyte Fusion, MSI Mystic Light, and ASRock Polychrome support
Integrated vibration-damping corners made from high-quality synthetic rubber
Chainable RGB cables simplify wiring and make the most of available connections
PWM versions allow motherboard control with a wide speed range ideal for CPU heatsinks and radiators
Black sleeved power cables offer an extra touch of style
PWM and 3-pin versions available individually or in 3-pack sets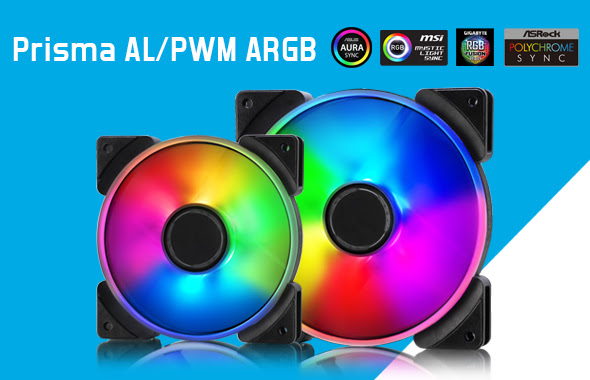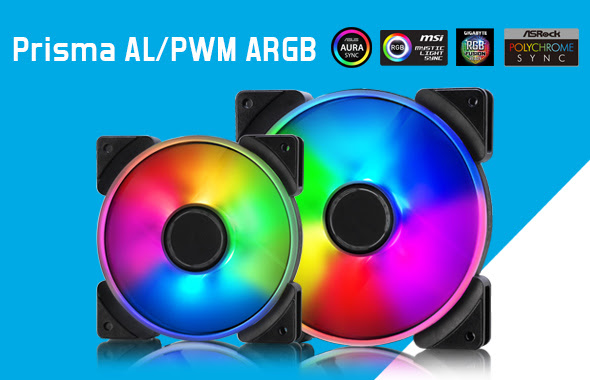 Key Features
Prisma SL
Six vibrantly colored hub-mounted LEDs
Easily concealed black stealth ribbon cable
Available colors include Red, Green, Blue, and White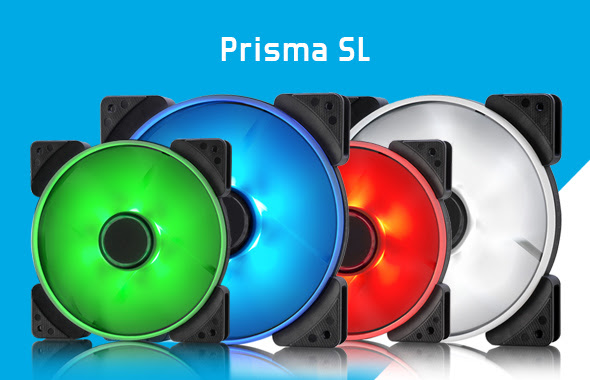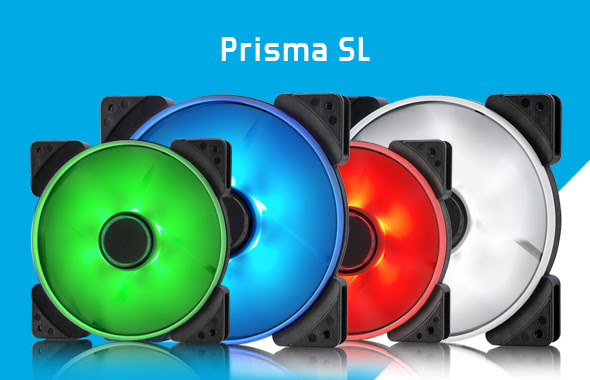 Key Features Adjust R1
Simple and intuitive controls
Compatible with standard 5V ARGB LED fans, strips, and devices
Integrated magnets for convenient placement in any steel case
Preset color, color cycle, custom color, long rainbow, and short rainbow modes
Eight color presets and five brightness levels
Six pulse and motion effects
Remembers settings when powered off
Included Y-cable and adapters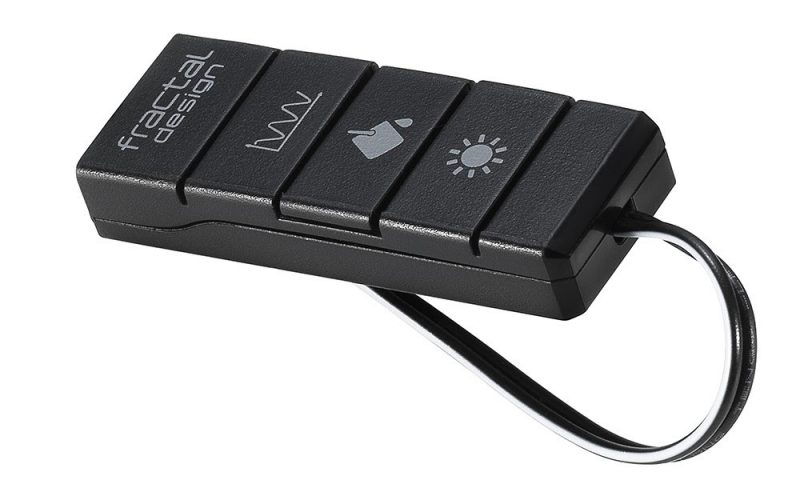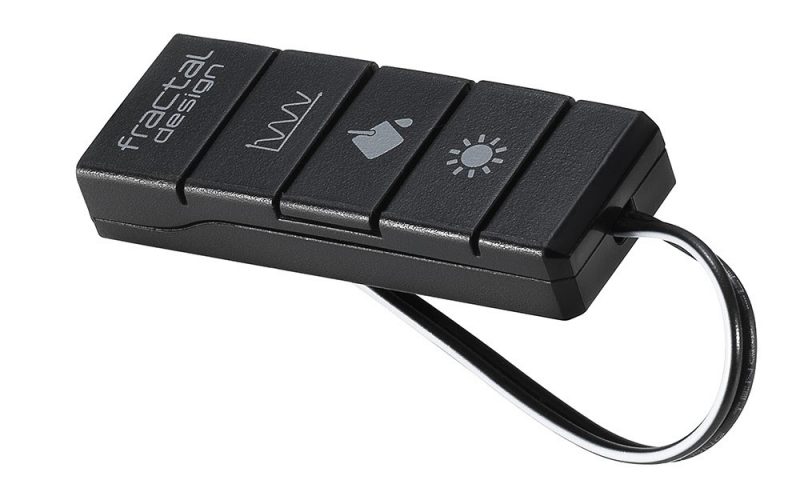 MSRP