Mouse
FUNC MS-2 Gaming Mouse Review
Article Pages:
Closer Look and Disassembly »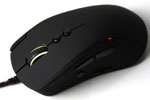 One size fits all? This is the question the guys at FUNC were asking when they were engineering their next creation. What I will be taking a look at today is one of the newest products by FUNC: the MS-2. The FUNC MS-2 is a mid-size mouse designed specifically for gamers. From the first few looks at this mouse, it is clear that it has a lot to offer to pretty much any type of gamer. Whether you are playing RPG or FPS games, the FUNC MS-2 has you covered. The FUNC MS-2 has some unique features which makes it your most valuable weapon on the field.
Technical Specifications
MCU/Processor:
MCS-51 Compatible
Main Switches:
OMRON
Sensor:
ADNS 3090 LED optical
Memory:
Onboard 512 KB
Resolution:
4000 DPI
Frames per second:
6400
Tracking speed:
1,52 m/sec (60 ips)
Max Acceleration:
20 g
Report rate:
Adjustable, up to 1000 Hz
Upgradable firmware:
Yes, via software
Connection:
USB 2.0, Gold plated (2 m braided cord)
Dimensions:
70x130x43 mm / 2.76×5.12×1.69 in
Weight:
0.145 kg / 0.32 lbs
System Requirements:
Windows® compatible
Available USB port
10 MB free space on hard drive
Packaging and First Look
The FUNC MS-2 comes in a nice little packaged box. What I really liked about the packaging here is that everything is revealed to a potential buyer. From the front of the package we can see a clear shot of the actual unit inside. From the back of the packaging box I found a detailed information on the MS-2 and all of its signature features.
There isn't much to this mouse's look but ergonomic design is what really caught my eye here. Inside the package, the FUNC MS-2 sits on a plastic pedestal and comes with an instructional manual and a software CD. The USB cord is hidden inside of the plastic case. The representation here is good and I think it makes a great impression.